2017 Season Review: Ansan Greeners FC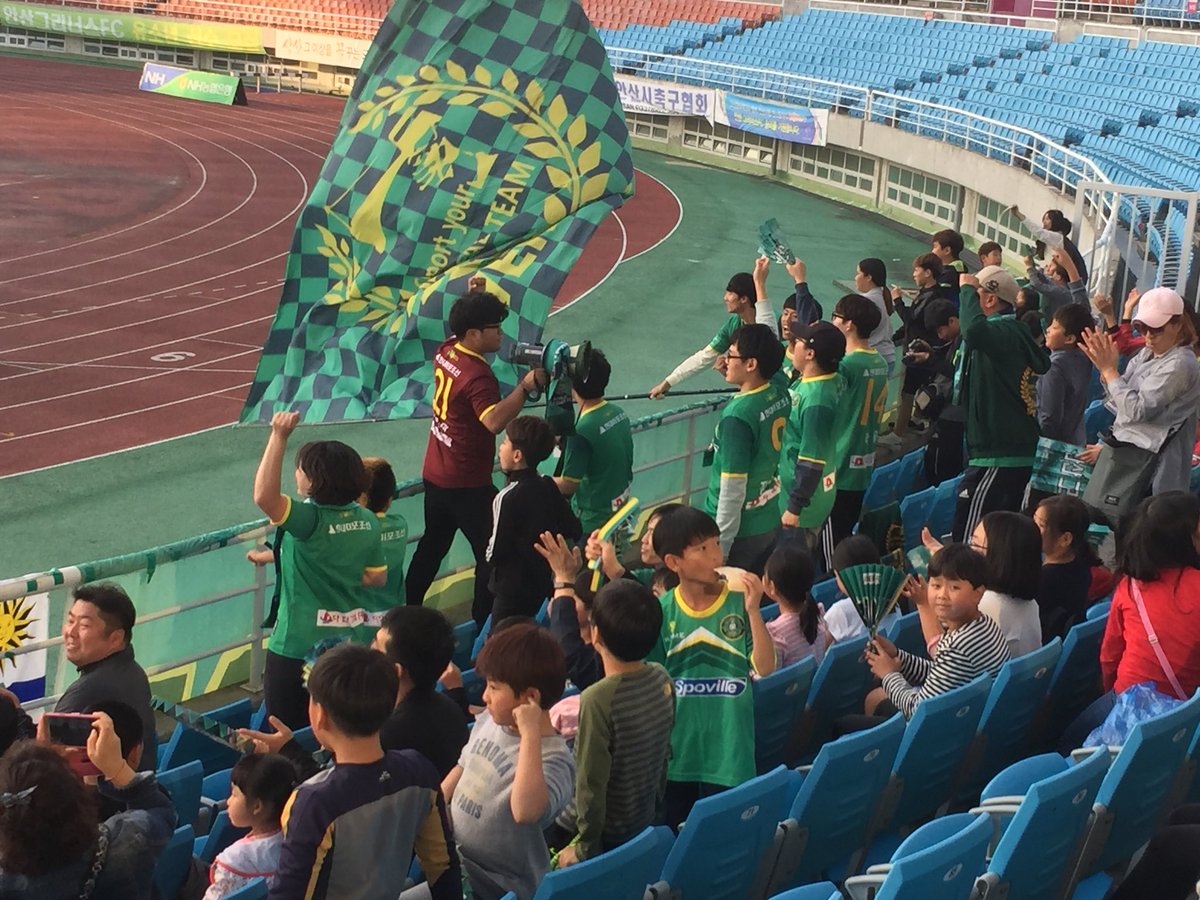 A second from bottom finish does not mask a positive start to the third Ansan project, as Ansan 3.0 establish themselves as the club that Ansan fans have craved for a decade.
(image via Ansan Foreign Supporters Club)
The Overall View
Ansan Greeners finished the season in 9th, with seven wins, 17 defeats and 12 draws, 4 ahead of bottom club Daejon. While this may have been a write-off, it has to be seen in the context of Ansan being an entirely new club. Despite lifting the Challenge trophy in the form of Mugunghwa last season, the police franchise up sticks and moved onto Asan, paving the way for the third Ansan team to be formed. Uzbek forward Nasimov was the first player to score for Ansan 3.0, and the first foreign player to do so, after Argentinean Emmanuel Frances failed to make an impact in the 2011 season, as Ansan kicked off life in their new guise with a 2-1 home win over Daejon. A 3-1 defeat away to Busan was made up for with a 1-0 home win in the first Line 4 derby of the new era, with Macedonian Luja Rotkovic netting the winner, his only goal for the club. After a defeat in Jamsil to Seoul E-land, the first game Ansan failed to score in, a seemingly favourable FA Cup draw away to Gangneung ended with a drab 0-0 draw and defeat on penalties. Ansan would then go on a run of five defeats in six, putting an end to the early season optimism before popping up with an epic 2-1 win at home to old Ansan in the form of Asan Mugunghwa. Raul Tarragona netting his first of four braces during the season. Ansan would then go on a run of four draws and a defeat before coming away with three points away at Daejon mid-June. Another winless run which included and four draws in six games ensued before a huge 4-0 victory away at Suwon, only the second time an Ansan team had won by a four goal margin in a decade of Ansan football (the other coming at Goyang in September 2016). Ansan would go on to win just two games over September and October to end up with a final total of 33 points from 38 games. Despite suffering 17 defeats, many of which came from goals conceded in the last quarter of the game, the season could be seen as something of a success. For a new club, this was always a season to go through the motions and lay down the ground work in which to build the squad and staff surrounding the new franchise. The problems are obvious and presumably fixable. The club leaked 54 league goals, but with so many coming late on, it can be seen as an issue of fortitude and experience and should be addressed by the coaching staff going into the new season. There was an over dependence on Uruguayan Forward Raul Tarragona, who netted 42% of Ansan's 36 goals, the next highest goal scorers being Han Gun-yong and Jung Kyung-ho who both found the net on three occasions. With such clear and addressable issues, the strongest and most consistent attendances ever at the Wa, and not being a million miles behind the mid-table crowd, Ansan fans have reasons to be optimistic about the Greeners' second season!
(image via Interfootball[인터풋볼])
Raul Tarragona was a shoe-in for Ansan FSC player of the season in 2017, becoming the most prolific scorer in Ansan history in a single season. Brought in from Uruguayan second tier side Rentistas, Raul took time to get going, scoring the equalising goal in a 3-3 epic at home to Ansan in April. He would not find the net for another month, before sinking Asan 2-1 with a brace mid-May. From then on he was Ansan's talisman, scoring three more braces, including a memorable double at Suwon in September. His importance cannot be underestimated, and at 30, he might look for one last shot at higher tier football, but for Ansan, his role in building this new club is essential and Ansan must persuade him to stay on.
The Last Ten Minutes Costly
Time after time Ansan conceded goals within the final quarter of the match. As an example, in the final nine games of the season, Ansan conceded five goals in the final twenty minutes in games which either ended in 1-0 defeats of in one instance a 1-1 draw. Ansan are not a free scoring side and cannot absorb this many goals. However, with games being so tight, shoring up the defence is the first necessity for the 2018 campaign.
Fanbase
Ansan's opening game drew in over 8,000 fans to see the win over Daejon, the highest for a live match at the Wa since Ansan Hallejujah took on the national team (managed by Park Ji-sung!) in 2010. The 3,000 mark was broken on two more occasions, with a season average of just under 2,000. These are great figures for a new side and hopefully they will be developed, with Anyang providing obvious inspiration with Ansan's Line 4 Derby rivals averaging over 3,000 a game. A new supporters group has adopted the new fan zone providing an atmosphere never before seen at the Wa. Other fan factions had sprung up by the season's end, interestingly heckling the main group. Obviously the citizen franchise has more pulling power, and advertising resources, than the previous church and police editions, The leap from zero away fans (flag man excepted) to a consistent group is promising.
Memorable Matches
Ansan played out a trio of three-all epics over the season, the first being at home to Suwon in April. Lee In-jae, Nasimov and Raul were on the score sheet. The next came at home to Gyeongam in June, when Ansan gave up a 3-1 lead in the last five minutes. A fine first half performance in July in Jamsil saw Ansan lead 2-0 at the break, before a calamitous fifteen minutes in the second half saw Seoul E-land take a 3-2 lead. Park Jun-hee popped up to equalise. A 4-0 win at Suwon in August showed that Ansan have potential to turn on the style, but the most memorable game might just be the first Line 4 Derby of the season back in March. It only ended 1-0 but it threw down a marker that Ansan were coming out swinging. It also mark Luke Rotkovic's only goals for the club.
TAGS
Ansan
Challenge
K League 2