FC Seoul vs. Sangju Sangmu: Preview and Prediction
(from daum.co.kr)
On Sunday at two p.m. FC Seoul play their first league game at home. Hopefully, they will play as well as they did against
Shandon Luneng Taishan FC
rather than last week's curtain opener versus Jeonbuk.
Recap- FC Seoul
I will try and keep this
brief
and include
Matthew Binns
' recap and another link for a more in-depth look. Instead, I would just like to touch on a few things I found interesting and frustrating about Seoul last Saturday. It was a great day out with wonderful weather and both sets of fans were really up for it. For Jeonbuk, it was a record setting crowd with 32,695 fans coming out.
As Matthew said in his recap above, it made for a great atmosphere and it was unfortunate that the game was a somewhat scrappy affair that produced little in the way of goals or too many clear-cut chances. Being a fan of Seoul, I really enjoyed the game and thought the chess match between the two teams was interesting. However, I could see how some neutral fans might disagree because of the aforementioned "negative" tactics mentioned in the recap.
For this, I blame Jeonbuk's coach Choi Kang-hee. I expected him to field a similar formation as he did in his two AFC Champions league games, with a slight variance on personnel. Instead, he, benched Lim Jong-eun, introduced Lee Ho as the third center back/sweeper, and started with Erik Paartalu as the defensive midfielder. This, as explained in the in-depth write-up by
Jae Chee
, resulted in the midfield being packed an neither team's attackers being able to find the requisite space.
Of course, the objective of the game is to win and for that Choi Kang-hee should be applauded. Also, for the most part, it worked out pretty well. Seoul started with gusto and had two good chances to score in the first twenty minutes, but other than that, they were subdued for most of the day. As it was pointed out in both the recap and in-depth write up, there was a lack of movement in the midfield and mobility from the forwards.
This was the Seoul of 2014 and 2015 that I had grown to loath. There was lots of standing around, little inventiveness or movement, and nothing but sideways and backwards passing. Some would argue that we should admire Seoul's possession and attempts to emulate tiki-taka, but I would argue that this was just an
onanistic
offensive display.
However, I am being unfair to Seoul. They did try and play some one-touch stuff, but nothing came off. It was combination of Jeonbuk's defense and a bad day at the office for Seoul. I created a
checklist
needed to win the championship, but it is too early for the first six to apply. However, the seventh played a significant factor in my opinion.
Kwoun Sun-tae made two great saves but maybe on another day, especially the second in the 17th minute, that would have been a goal. Dejan did well to take the ball off Choi Chun-sol and thread the needle to set up Adriano. Rather than taking a touch, he probably should have just one-timed it instead. In the image below, Adriano is in the red box and this is right when he received the pass from Dejan. I feel like this is when he should have shot, although he might have blazed it over.
(from daum.co.kr)
However, he did not and I feel as though his touch was too heavy and it allowed for the keeper to close the gap and hence, the cliche about inches applies. Here is the image after his touch.
(from daum.co.kr)
The gap between Adriano and Jeonbuk's keeper is much narrower and it is why Kwoun is able to make the save. Prior to this game, Adriano's form was sensational and probably against most teams he scores this goal. That is why I say luck is such an important factor.
If he scores that, maybe the game becomes more open Seoul find more space between the lines. However, Jeonbuk seem to be his kryptonite and Seoul, especially in the second half, offered little as Jeonbuk sucked the life out of the game. Choi Yong-soo tried to do something about this by introducing Park Chu-young, but I felt as though he was the wrong choice.
As Jae Chee pointed out, the one player that could break the defense down and offer width was not even included in the substitutes. Yun Il-lok has fallen off the face of the earth for whatever reason, but I think if he was introduced, he could provide width and go at the wingbacks/full backs. With the middle being so compacted, Seoul needed to find a way to bypass that area and going wide and pressuring Jeonbuk's full-backs would have been a good option.
(from youtube.com)
Recap- Sangju Sangmu
This week's opponent is the military team Sangju Sangmu.
Two-nil winners
against Ulsan last weekend, this type of team worries me. Ulsan have been picked by some as capable of finishing in the top six and maybe even as a dark horse candidate for an ACL spot.
Seoul should have more than enough quality to see them off, but I feel they might be able to pull off an upset, especially if they set up like Jeonbuk did last weekend. It is difficult to say since it is so early and I only watched the highlights via youtube, but I feel as though this team has a bit of the "Tony Pulis" mentality. Playing in a defensively sound formation, they set up in 4-1-4-1 with two banks of four behind the ball. Offensively, they seem set up to play lots of crosses into the box and try to capitalize on set-pieces.
Their main tactic in the first half when they had the ball seemed to be to play as direct as possible. Often times, they would bypass the midfield and pump balls forward for a player to run on to or knock down for another team member to shoot from. Their striker, Park Gi-dong is 191 CMs and he caused Kim Yong-dae quite a bit of grief.
The game was deadlocked at halftime and it was not until the first minute of the second half that Sangju Sangmu scored. It was from a free kick taken by Lee Seung-ki, which Kim Yong-dae probably should have saved, but he was caught leaning the wrong way (I don't miss watching that). Kim Yong-dae's nightmare continued as in the 50th minute, under pressure from Park Gi-dong he was forced into a dribbling error (in fairness, it was a terrible back pass from the defender Kim Chi-gon,) and was not lucky that he Sangju did not put the ball in the unguarded goal. Finally, more poor defending from Kim Chi-gon led to the second goal as Kim Do-youp scored off of a rebound from his first shot.
I would say that Sangju were defensively solid until the last ten minutes when they required keeper Yang Dong-won to to tip Masuda's rocket on to the cross bar and Ulsan pushed men forward in effort to score. For Seoul, the longer the score remains tied or if god forbid, they go down a goal, the harder it will be to come back for a win.
(from trailofthelionking.com)
Head-to-Head Match-ups
Sangju have been one of the league's traditional whipping boys. In 2011, they finished 14th out of 16 teams, but I would say that this was their best season. They
started well
and after 10 games were in 4th place. Unfortunately it went to shit as they were one of the teams with many of its players caught up in the
2011 betting scandal
.
In 2012, after relegation was instituted, Sangju Sangmu successfully completed being demoted. The season was 44 games, but after playing 30 games, they
withdrew
from the league. After a successful 2013 season in the Challenge, they were promoted to the Classic but at the end of 2014 suffered a demotion back to the lower league. I would say that is the epitome of a yo-yo team.
If you want to look at their history for the last five years, here is a link of the
K-League standings
. I
ranked
them as being the 14th best team out of 16 teams that have played in the top tier of the K-League, which demonstrates how they have been pretty dismal for the last five years. They have lost slightly over half their games while only winning a little over a fifth of the ones they have played. They have the worst goals against average, 1.79 per game, of any club over the last five years and have only picked up 31% of the points available (0.92 points per game).
During
Choi Yong-soo
tenure, he has done quite well against the Phoenix. He has won five of seven games against them and averaged 2.14 points per game against them. Unfortunately, in 2014 Choi lost two out of the three games these teams played. As I mentioned above, this team was relegated in 2014, so that is just absolutely unacceptable for a team purporting to be a title contender. Here are the results of those seven games played:
| | | |
| --- | --- | --- |
| | | |
| | Sangju Sangmu vs. FC Seoul | |
| | FC Seoul vs. Sangju Sangmu | |
| | FC Seoul vs. Sangju Sangmu | |
| | Sangju Sangmu vs. FC Seoul | |
| | Sangju Sangmu vs. FC Seoul | |
| | FC Seoul vs. Sangju Sangmu | |
| | Sangju Sangmu vs. FC Seoul | |
Therefore, even though it Choi has won more often than not, all of the games except maybe the 2-0 victory in 2012 were close. Seoul have scored only four more goals than Sangju have and all of their ones, bar one, have been by a goal. I think it is fair to say that Sunday's contest will be as well.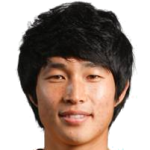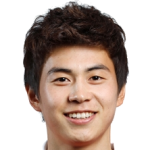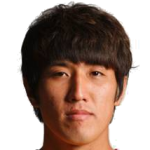 (from soccerway.com- Lee Seung-ki, Lim Sang-hyup, Park Gi-dong)
Players to Watch
Scorer of Sangju's first goal from a free kick, I believe that
Lee Seung-ki
will be the player to watch. He is the team's creator and his pedigree stands out the most. In 2011, he was the
K-League Rookie of the Year
, scoring eight goals for Gwangju but after they were relegated in 2012, he transferred to Jeonbuk in 2013. He helped the men in green win the title in 2014 and moved to Sangju in 2015 to complete his military service. Here is a
compilation
of highlights.
Another player of note, not to sound like a
John Birch Society
member, is left-winger
Lim Sang-hyub
. A speedy player who has pace and direct style, he has been one of the K-League's standout players in the past who has shown an eye for goal. As a member of Busan in 2014, he was probably the only standout in their dreadful season, being named in the league's "
Best Eleven
". Here is a compilation of his
highlights
.
Finally, I would say their striker
Park Gi-dong
will have a significant role to play if he starts. At 191 CMs, he is quite tall, so I am sure that coach Park Hang-seo will tell his wingers to pump balls into the box and play direct rather than mincing around the field trying to emulate Barcelona's tiki-taka style.
Formation and Line-up
Originally, I was going to write about how Choi would rotate his line-up since asking Dejan to play a full 90 minutes three times a week might be too much for someone of his advanced age. Park Chu-young does need to get minutes to work on his fitness and form. I also thought he might give Go Yo-han a break and bring Kim Chi-woo back into the side.
However, a friend of mine pointed out that Seoul's next game is not for another eight days, so I cannot see Choi rotating too much. I still think Dejan might start on the bench and Kim Chi-woo could get the nod, but besides that I cannot see him changing the line-up too much. This is an important game and it is paramount to get three points since a) it is essential that Seoul start the season well and b) Sangju are expected to be relegated this year, which means that Seoul must maximize their opportunities against weaker teams.
What to Expect
I think this will be a tough match because on paper, Sangju are a decent team. I feel like they are reminiscent of Seongnam FC from last year. Substitute Lee Seung-ki for Kim Do-heon, Lim Sang-hyub for Nam Jun-jae, Park Gi-dong for Hwang Eui-jo, emulate their defense and with a bit of luck, Sangju could finish in the top six. Of course, come September many of these players go back to their original teams, so a top six finish will not happen.
Right now though, after last week's victory over Ulsan, Sangju are flying high. They have a good set up and seem like they will be a solid team for now. That is I wish this game was later in the year. Maybe team spirit would be less and Seoul could get an easy victory. Unfortunately, as I have said prior, I think Seoul will have to work for all three points on Sunday.
All three goals that Seoul have conceded on defense have been on headers. Two were via corners and one was off of a cross in the box. Seoul's CBs Osmar, Kim Won-sik, and Kim Dong-woo are all tall but their wing-backs, particularly Go Yo-han, are not. The goal that Jucilei scored is an example of this weakness.
(from daum.net)
How can any one can think that Go (in black) versus Jucilei (in blue) in a battle for a jump ball is going to go in Seoul's favor? Go, at 170 CMs and 65 KGs, is giving up 15 CMs and 14 KGs to Jucelei, who is listed as being 185 CM and 79 KGs. Go did his best to hold him off, but Jucelei shifted his weight, and Go fell down on the play. Here it is from a different angle.
(from daum.net)
That is why I think Sangju could cause Seoul trouble on Sunday in the box. Park Gi-dong is big, strong in the air, and troubled Kim Yong-dae all day. Troubling Kim Yong-dae is not really a surprise, but he could do the same against Yoo Hyun, who while not being terrible has not necessarily established himself as being top notch yet either.
I expect Sanju to set up in 4-1-4-1 formation and play on defense with two banks of four. Maybe they will even have eleven men behind the ball and defend in numbers like Jeonbuk did last week. From there, they will probably try to utilize the vision of Lee Seung-ki, the speed of Lim Sang-hyub, and the height of Park Gi-dong to get a goal or two.
I feel like Seoul have to play their game, but if the midfield is too congested and there is no space to pass or move, then Choi must shift his formation. He could take a CB off or move Osmar up the field and play him as a DM. Rather than introduce another striker, he should bring on a wide player with some speed if Seoul cannot score.
However, the above paragraph is moot if Seoul score in the first half. Seoul held their own against Jeonbuk and on another day, would have gotten a result. If the midfield moves as well as it did against Shandong, then Choi should not have to change his tactics.
Unfortunately, I think Seoul will face lots of teams set up to play defensive minded, counter attacking football. I would say the majority of the teams in the K-League are structured that way and often times, the coaches favor safety over adventure. If Seoul want to win the league, then I think Choi is going to have to come up with a Plan B at some point. If Seoul struggle on Sunday, then hopefully we will see him roll it out.
However, even though I have hyped up Sangju quite a bit, I think Seoul have more than enough in the tank to take all three points. Adriano is on fire right now and you can see how much he enjoys playing with Dejan. Shin Jin-ho, Takahagi, and Ju Se-jong have brought something the midfield has been lacking since Ha Dae-sung left and I think that is why the results have been so good. Finally, they have not lost to Sangju at home.
The game will be tough, but I think Seoul will score a couple of goals, concede one, sweat for a bit, and then get one in the final ten minutes to wrap up all three points.
Prediction
FC Seoul 3-1 Sangju Sangmu
TAGS
Classic
FC Seoul
K League 1
K-League Classic