How Essential is it to Start Well?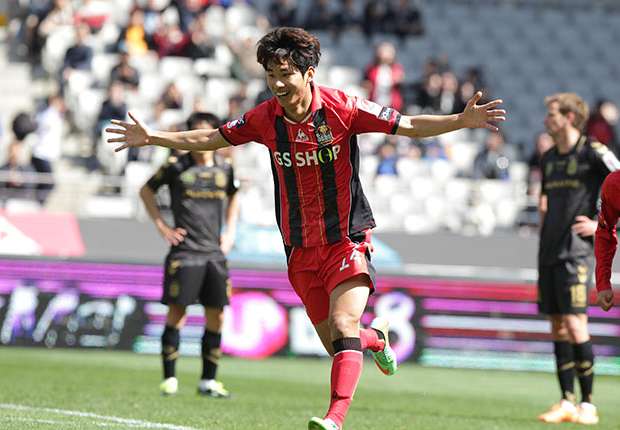 (from kleagueunited.com)
It's not how you start, but how you finish. This old adage is often bantered about in sports when a powerhouse gets off to a slow start. For the last three years, I have had this in the back of my mind every time FC Seoul has stuttered coming out of the gate. However, is there any truth to it? I was curious to see what difference a good start makes. To do so, I visited soccerway.com and looked at the first ten games of the season for each team from 2011 until 2015.
How Essential is it to Start Well?
The hallmark of pretty much every Choi Yong-soo season is a terrible start followed by a strong finish that always falls short in the end. Every year, without fail, it seems as though Seoul win only one or two of their first ten games and dig such a deep hole for themselves that they are out of contention before the end of May. Because of this propensity to shit the bed so early in the season, it ends up being a case of Seoul fighting it out for the final ACL spot rather than challenging for the title.
That is my belief. Is it true? Of course, but I figured I would see by compiling the data and answering the questions below.
Best League Starts After 10 Games- 2011 to 2015
Pohang seem to come out of the gate quite well. They have been the league leader in three out of the five years. In particular, their start in 2013 was quite impressive as they only dropped two points.
Pohang may have only won the league once, but their good starts have ensured that they were in the championship round at the end each season. Only twice, in 2012 and 2015, have they gotten off to what could be considered poor starts by collecting 14 out of the 30 points available. Nonetheless, Pohang still managed to finish in the upper half of the table.
Therefore, even though only two out of five teams that were leading the league after ten games have gone on to become champions, a good start has ensured that the team will at least be able to compete in the championship round of the post split. Obviously, even being in second increases your chances of winning the title or at least finishing in the top half of the table to qualify for the championship round.
How the Second Place Team Did After 10 Games- 2011 to 2015
Jeonbuk have gone on to win the league twice while being in second place. Ulsan in 2012 and Suwon in 2013 tailed off after starting so well, but they still managed to qualify for the championship round and have a shot at an ACL spot. Other than 2012, the league winner has been in the top two every year.
It is when a team is third or lower, things begin to falter.
How the Third Place Team Did After 10 Games- 2011 to 2015
Only one team, Jeonbuk in 2013, finished high in the table. Jeju Utd., the perennial third place team after ten games, usually finishes quite low in the championship round of the split. However, in 2011 and 2013, they finished ninth, which is a substantial drop-off. I think it is fair to say that like Pohang, Jeju Utd. start well but unlike the Steelers, the Tangerines do not finish well.
In the K-League, a good start matters. Teams that are in first or second usually finish quite high in the table. The lowest a team has ever been and still won the title is fourth place (FC Seoul 2012). In 2013, Ulsan sat in 7th place and they nearly won the title, but it was not meant to be.
How Far Behind Can a Team Be?
Since only two out of the five teams that were in first finished the season as champions, I was curious to see how far behind in points the eventual champions were in the first ten games.
League Winners and Their Position After 10 Games- 2011 to 2015
FC Seoul, at 4 points, had the largest deficit of any champion after ten games at four points. The other two years, in 2011 and 2014, the eventual champion was only two points behind. That is less than a game to make up.
So, more important than league position, I would say a team needs to be no further than six points at the most behind the top team. Last year is a great example.
2015 League Table After 10 Games
Suwon sat in second place after ten games with 17 points. The ninth place team, Gwangju was five points behind Suwon at 12 points. However, because Jeonbuk had opened up an eight point lead, the race was pretty much over before the end of May. Sure, Suwon had their chances and shot themselves in the foot, but it does not seem like Jeonbuk falters when at the top.
The one exception isUlsan in 2013. They almost overcame a 13 point deficit and really should have won the league. Generally though, if you start out like shit, then you can forget about winning the league.
How Doomed is a Team by a Poor Start?
I was also curious if a bad start meant relegation for a team. So here are the five worst teams after ten games for the last five years. The "Final" column is how they finished at the end of the season.
Worst League Starts After 10 Games- 2011 to 2015
The worst start ever is by the team that had the

worst season

ever. Gangwon only collected two points in their first ten games and would only go on to win a total of three games all season. Also, they only netted 15 goals total that year. They were the epitome of wretchedness and damn lucky that the K-League did not have the relegation system that year or else they would have been dropped.
Daejeon in 2012 started out terribly, but somehow miraculously beat the drop as Gwangju and Sangju Sangmu were relegated that year. Sangju Sangmu with drew from the league after 30 games and Gwangju FC started well enough, sitting in 10th place, but really went shit in the last 34 games by collecting less than point per contest. It is no wonder they spent 2013 in the Challenge.
Neither Daegu FC in 2013 and Daejeon Citizen 2015 could overcome their terrible starts and were relegated respectively. Incheon in 2014 finished in 10th, which is the highest of any team that was in the last place after the first ten games, but since there were only twelve teams in the league that is not very impressive. In other words, at four points, Incheon Utd. finished just above the cut-off.
So, to answer the question, a team is not doomed by a poor start, but they should expect to be in a relegation fight all year.
Which Teams Finished Their Season the Best?
I was curious which team did the best after ten games. Here are the top ten teams that collected the most points after ten games.
Best Finishes After Ten Games- 2011 to 2015
The best finish is FC Seoul in 2012. They averaged over two points a game, which is pretty impressive. Jeonbuk, at 2.2 points per game in 2011 and 2.18 points per game in 2014, are probably the best finishers in the game since both season they ended as champions.
FC Seoul and Pohang have more spots in the top ten, at three apiece, but I would rate Seoul's finishes higher because their average points are greater. I guess, unsurprisingly, the

three best teams

in the K-League in the last five years have been the best finishers.
Which Teams Started Well but Sh*t the Bed?
Finally, I was curious to see what teams made great starts in their first ten games and then faltered.
Worst Finishes After Ten Games- 2011 to 2015
Both Jeju United and Sangju Sangmu started strongly in 2011, with each being at third and fourth in the table respectively. However, Jeju only averaged 1.1 points per game in their last twenty games and Sangju Sangmu was even worse, averaging less than a point per game. Of course, for Sangju Sangmu, there were extenuating circumstances as some of their players were implicated in the betting scandal that plagued the league in 2011.
In 2013, Jeju Utd. started well but then went to shit like they did in 2011. Last year, Jeonnam were quite high after ten games and for awhile, had a Leicester City feel to them until they faded pretty badly. Besides that, there was not much variation in the table of teams starting well and falling hard afterwards.
To win the league, a team should be no more than four to six points behind the league leader after the game. That could change of course, but much of that is down to the league leader faltering. Outside of Pohang in 2013, that has not happened.
If a team averages below 1.5 points a game after 10 games, I think it is safe to say that they will not win the title. They could make the top six, as FC Seoul have shown year in and year out, but not will not be in the title running, especially come post-split. Unfortunately, too many of those contests ended up in draws to make up ground (especially in the last two years). Here is a table comparing pre- and post-splits.
In 2012 and 2013, there were many more games in the post-split, so this allowed for teams to make up ground. In 2014 and 2015 however, each team only plays five times. Theoretically, teams could make up ground on their rivals but unfortunately, a team is just as likely to draw as they are to win or lose. Therefore it is unlikely that a team in second, who is behind by more than six points, will catch the league leaders, especially if it is Jeonbuk.
TAGS
Classic
FC Seoul
K League 1
K-League Classic