It's a Slow News Day. Let's Ask a Question- Is Yoon Il-lok off to Porto?
The K-League transfer window is closed now, but that does not mean other countries are finished doing their business, so more players might be on the move. One of those players could be Yun Il-lok. I saw on twitter that, according to the Korean media, FC Porto are interested in him (h/t Nicole Chung @0Nicole0_). It is, of course, possible that Porto could sign Yun Il-lok, but I cannot see this transfer happening for a couple of reasons.
First, Porto seems like a team that it is above his level. By no means am I saying that he could not play for Porto. He has shown brief flashes of quality.
One example was his performance against Jeonbuk on the road last August. He scored both goals in that game, the last one being in the 94th minute and Seoul won a game that they should not have. He was absolutely brilliant that day.
Even better though, was his goal against Kawasaki Frontale in the ACL. That one came out of nothing. He pressed the defender, stole the ball, and scored the winning goal in the 93rd minute. Again, Seoul had no business winning that game. However, these moments of brilliance have been too few and far between, especially this year.
When I say that Porto seem like a team above his level, I am referring to the fact that they play in Europe. Again, my apologies for any disparaging comments made about the football in the K-League, but I do not think it can be argued that the level of play in Asia or Korea is better than that in Europe. There is a reason why all players aspire to wear the jersey of European giants such as Real Madrid, Barcelona, and Bayern Munich to name a few.
Porto is not on the same level with the above three, but they are still quite a prestigious team. They are one of the big three in the Portuguese league and have won the Champion's League twice. Last year, they made it to the quarterfinals and almost shocked Bayern Munich, but lost 6-1 in the second leg.
Of course, there are many Koreans who went to Europe and have done well. Three FC Seoul players spring immediately to mind. Lee Chung-yong transferred to Bolton in 2009 and was considered to be a rising star until he suffered a serious injury. Now though, he plays in the Premier League with Crystal Palace. Ki Sung-yueng transferred to Celtic in 2009 and after a couple of good seasons, moved to Swansea and is probably the EPL's top Korean player. Park Chu-young moved to Monaco in 2008 and did well enough to get a high profile transfer to Arsenal. Unfortunately, we all know how that worked out. Still, it is good to have him back and scoring goals for Seoul.
I would argue that the all three of these players had one thing in common besides lots of talent. They were in quite good form when they made their move and/or were playing a lot of first team football. Yun Il-lok has not been in good form this season, scoring only one goal, and he has not played much of late in the league. He started the FA Cup match against Pohang but was subbed off in the 62nd minute for Yun Ju-tae.
Also, those three players were on teams that were good but not great, so they had opportunities to play rather than just sit the bench. Bolton was in the Premier League until 2012, but they were never in the elite. They had good players, but not many were going to the upper tier clubs that play in the Champions League. Celtic are a Scottish League power and made the prelims of the Champion's League in 2010, but looking at the roster that year there are not many names that jump out at me, especially in the midfield. When Park transferred to Monaco, they were a bit of a mess and struggled to achieve a mid-table finish. Other than Freddy Adu, I cannot think of anyone else on the Monaco roster that was a household name.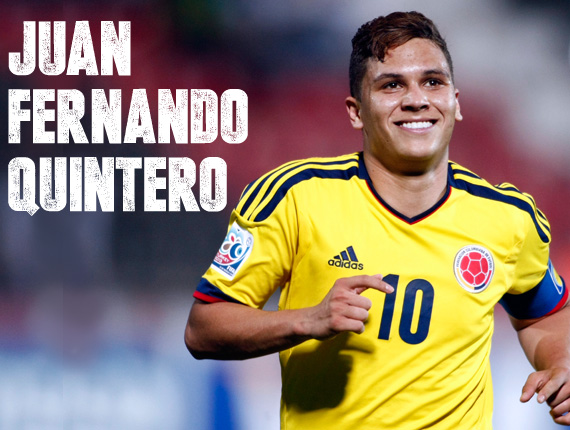 (Quintero- www.goal.com; Christian Tello- footballerpics.com)
If Yun Il-lok went to Porto, I do not know if he would have a similar opportunity to play. Porto has some damn good players on their roster. For example, their keeper is Iker Casillas and in defense they have Bruno Martins Indi who played for the Dutch in the World Cup. Up front, he would have to compete against the Columbian Quintero or Spaniard Christian Tello who use to play for Barcelona for playing time.
While Yun Il-lok is very talented, I cannot see him beating out either Quintero nor Tello on a weekly basis for a starting spot. If he did move, I feel his experience would be similar to that of Jung Jo-gook's. Off the back of a great 2010 season, he moved to Auxerre where he didn't play that much for three years.
(from www.ligue1.com)
I feel like this a rumor started by his agent. I am assuming he has an agent since all professional players do, right? I feel like his agent is agitating to get Yun a big money move and decided that teams like Barcelona and AC Milan were too unrealistic. Instead, he or she chose Porto because Porto is big enough to gain attention from a lot of clubs but still small enough for it to be a plausible rumor.
The second reason I cannot see this happening is because, as I have mentioned above, is Yun's form this year. Simply put, it has not been very good. He has only has two goals to his name and unlike Osmar, Park Chu-young, or Go Yo-han, he is not an automatic choice for every game.
Yun's struggles this year remind me of another former FC Seoul player. If you have been following the K-League for awhile, then you might remember him. If you just started, then you probably will not know who I am talking about. That is too bad, for this player and you, because at one time he was seen as an upcoming star and even had ten appearances for the Korean National team. Now though, his tale is similar to a VH1
Behind the Music
episode.
(from FCSeoul.com)
His name is Lee Seung-ryeol and he was affectionately nicknamed Peter Pan by FC Seoul fans. Lee made his debut for Seoul in 2008 and started out brightly, winning the K-League Rookie of the Year (wikipedia.org). He helped Seoul to make it all the way to the League final, which they unfortunately lost to Suwon.
In 2009, Seoul was a little less exciting as they finished third and seemed rather uninspired under Senol Gunes than the year before. However, Lee picked up where he had left off the year before. He scored five league goals that year, but I felt as though only Dejan and him stood out that year.
(www.supermayden.net)
It was 2010 that was his best year. Lee scored seven goals and helped Seoul win the championship. He played for the national team eight times, scoring three goals. In sum, Lee had a great year winning the league and deserved his World Cup spot in 2010.
From there, it is like he fell off a cliff. Lee endured a difficult start to 2011, but so did the rest of the team. A starter in the team's first game against Suwon, Seoul was dominated and lucky to only lose 2-0. After that, he made an appearance as a sub in the next three games but then did not play in games five through seven. Lee managed to only played in 18 games, starting six and making an appearance as a sub in 12, and scored just once that year (soccerway.com). Compared to 2010, when he started 19 games and was a sub in only six, this was a year for him to forget.
Afterwards, Lee transferred to Gamba Osaka, but things did not go well for him. He only played in eight games that year and transferred mid-season to Ulsan. Lee won a Champion's League medal that year but wasn't retained and he signed with Seongnam for the 2013 season. He appeared in 23 games for them and then transferred to Jeonbuk in 2014, but has played very little since then.
The reason I mention Lee Seung-ryeol is because I am beginning to believe that Yun Il-lok is treading a similar career path. Generally, I hate reading articles where player X and is compared to player Y since no two players are the same. However, I do feel as though in this case there are many similarities.
| Lee Seung-ryeol: League Career (Wikipedia) | | | |
| --- | --- | --- | --- |
| Year | Team | Apps. | Goals |
| 2008-2011 | FC Seoul | 82 | 16 |
| 2012 | Gamba Osaka | 8 | 0 |
| 2012 | Ulsan Hyundai | 14 | 2 |
| 2013 | Seognam | 23 | 2 |
| 2014 | Jeonbuk | 9 | 0 |
| 2015 | Jeonbuk | 2 | 0 |
| | | | |
| Lee Seung-ryeol: International Career (Soccerway.com) | | | |
| Year | Competition | Apps. | Goals |
| 2009 | U20 World Cup | 4 | 0 |
| 2010 | Friendlies | 6 | 1 |
| 2010 | East Asian Cup | 3 | 2 |
| 2010 | World Cup | 1 | 0 |
| | | | |
| | | | |
| Yun Il-lok: League Career (Soccerway.com) | | | |
| Year | Team | Apps. | Goals |
| 2011 | Gyeongnam | 21 | 4 |
| 2012 | Gyeongnam | 42 | 6 |
| 2013 | FC Seoul | 29 | 2 |
| 2014 | FC Seoul | 27 | 7 |
| 2015 | FC Seoul | 13 | 1 |
| | | | |
| Yun Il-lok: International Career (Soccerway.com) | | | |
| Year | Competition | Apps. | Goals |
| 2011 | U20 World Cup | 4 | 0 |
| 2013 | Friendlies | 5 | 0 |
| 2013 | East Asian Cup | 3 | 1 |
| 2014 | Asian Games | 2 | 0 |
For instance, they both play the same position. Also, both started brightly and are/were full of promise. Neither player has lit up the K-League but both have done well enough to be selected for the national team. Lee Seung-ryeol has played in six friendly matches for Korea and Yun Il-lok has played in five and each has played in the East Asian Cup
Unlike Lee Seung-ryeol, Yun Il-lok made his debut with Gyeongnam in 2011. Just like Lee, Yun started brightly and he became a full time starter in 2012. Yun had a great season that year, scoring six goals, and made the jump to FC Seoul in 2013. Yun didn't score as many goals as he did the year before, but he added a bit of speed to a team that was getting old.
(from FCSeoul.com)
In 2014, I feel as though he became Seoul's best attacking player. Yun scored seven goals that year and helped them win a couple of games that I mentioned above that they had no business doing so. On the basis of this form, he was selected to play for Korea's national team in the Asia Games held in Incheon last year. Unfortunately, Yun injured ligaments in his right knee in a game against Saudi Arabia (
http://www.incheon2014.kr/Sports/Biographies/Athletes_Profile/?ParticCode=5123128&lang=en
). Even though his season was cut short, I would still say he was one of the few Seoul players that did well last year.
Unfortunately, Yun's season in 2015 has not been so great. As I mentioned prior, he has scored scored two goals, but only one of those has been in the league. Also, his playing time has dwindled as the year has progressed.
In the first twelve league games, Yun started eight and was a substitute in one. I guess Choi Yong-soo has lost patience with him since then. In the next eleven league games, Yun has only started three and made one appearance as a substitute, which means he did not appear in seven games. This is quite disappointing considering Seoul needs his speed and skill offensively as the team struggle's, well documented here, to score goals has been a problem all year.
Therefore, based on Yun's form this season, I find it surprising that Porto would consider signing him. He has one goal in thirteen league games and since June, has featured in only four out of eleven league games. However, it does seem that Yun has improved in the last month and is beginning to find some for.
Yun did play well in the beginning of July. Against Jeju, he was unlucky not to score and looked like the Yun Il-lok of old. He finally got his first league goal in the next game- a brilliant header to level against Gwangju. He started against Seongnam on the road and Pohang in a crucial FA Cup tie. Obviously, he is still an important player and I believe that he will recapture his form.
Yet, based on these stats, I cannot imagine Porto going in for him unless they getting Yun for really cheap. Maybe Porto wants the publicity that comes along with signing a player from Asia. I just can't imagine Yun making the jump to Europe just yet, especially since, in my opinion, he has not really proved himself in the K-League yet.
The only way I see this happening is if Porto buy him and then loan him right back out
.
I think rather than worrying about getting a big transfer, Yun and his agent should focus on doing well at Seoul. If they do, then Yun will obviously be scooped up since the K-League's best players always leave for somewhere else such as China, Japan, the Middle East, or even Europe. If Yun does not do well over there, then he can always come back and play in the K-League. However, if Yun leaves too early and/or is not ready, then his career could stall out like Lee Seung-ryeol's has unfortunately.
TAGS
Classic
FC Seoul
K League 1