Preview: Jeonnam Dragons v Pohang Steelers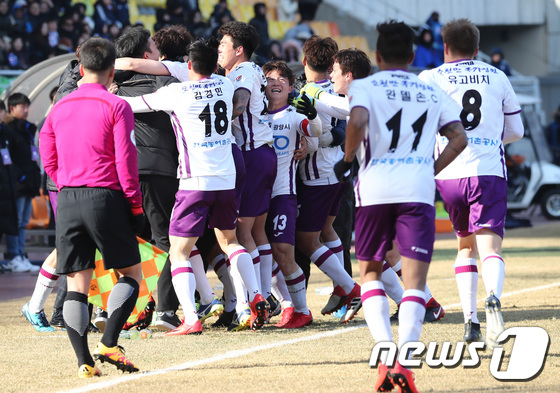 Gwangyang Stadium hosts the first Posco derby of 2018 this Sunday at 2pm as the Jeonnam Dragons welcome early pacesetters the Pohang Steelers into town. Can Jeonnam make the most of home advantage and maintain their 100% record under new head coach Yoo Sang-chul or will perennial party poopers Pohang plunder 'Dragon Dungeon' once again? Aodan Halligan previews this weekend's game...
(image via news1.kr)
The Dragons Last Time Out
The First Half
A new-look Jeonnam Dragons' side entered Suwon World Cup Stadium for the first K-League game of the season on March 1st as heavy underdogs. After all, not only were they about to play their first ever competitive game under new head coach Yoo Sang-chul, they were also visiting a team who had three competitive games under their belt - including two Asian Champions League ties. Yet, one couldn't help but notice how focused Jeonnam looked as they started their warm-up and pre-match training drills in the freezing sunshine.
And the Dragons had to be focused from the word go as the Suwon Bluewings started off very strongly, putting the Dragons rearguard under pressure in the first few minutes of the game - Waguininho's high right-wing cross almost setting up Dejan Damjanovic for the easiest of headers.
Fortunately for the Dragons, the delivery was a little too high and keeper Lee Ho-seung grabbed the ball just above the big Montenegrin's head.
The Dragons, who were pressing off the ball all over the field, then started creating some opportunities of their own. Wanderson missed the first of these after being found in acres of space by the penalty spot following Lee Seul-chan's brilliant right-wing cross. But the Brazilian left winger was caught in two minds whether to head or kick the ball - and in the end did neither, really.
Damjanovic then nearly made the most of some hesitancy in the center of Jeonnam's defence, but his low left-footed effort was easily saved by Lee Ho-seung.
Minutes later the 36-year-old Montenegrin was a menace once more, this time outfoxing Jeonnam's new central defender Yang Jun-ah with a clever back-heel. But the defender recovered well and stayed tight as the striker's left-foot shot flew just over the bar.
Shortly afterwards, Jeonnam's new number seven, ex Busan Ipark player Park Jung-tae, almost marked his return to the Dragons with an assist. The 28-year-old dribbled past a few defenders on the right wing and sent in a beautiful cross to Wanderson in the penalty box, but the Brazilian dithered once more and the defense eventually cleared.
Jeonnam continued to grow in confidence and looked very dangerous from crosses on a number of occasions; yet it was Han Chan-hee's effort from outside the box that came closest to breaking the deadlock. Unfortunately for him, and the visitors, it flew just over the bar. Thus, the teams went in scoreless at half time.
The Second Half
The Dragons continued to press Suwon off the ball in the second half and 28-year-old Croatian midfielder Vedran Jugovic was particularly impressive in this regard.
Jeonnam kept creating chances from corners and crosses, too, but they had to wait till the 70th minute to make the breakthrough - Wanderson's free-kick taking a wicked deflection of Bluewing's star Lee Gi-Jae. 1-0 Jeonnam.
Wanderson celebrating his goal versus Suwon


(image via sporbiz.co.kr)
Suwon enjoyed their best spell of the game after that and Lee Gi-jae made up for the earlier error in the 84th minute - his left-foot strike from the left-hand side of the penalty box beating keeper Lee Ho-seung at the near post via a deflection off Dragons' right back Lee Seul-chan. 1-1.
And Suwon almost turned the tie on its head a few moments later. Yun Yong-ho started the move off by playing a beautiful one-two before dribbling into the penalty box and drilling the ball towards the right corner of the net, but Dragons' keeper Lee Ho-seung made a crucial save - parrying the ball out to his left. However, when the ball fell to Lim Sang-hyub just outside the six-yard box, he looked certain to score.
The substitute slipped just as he was about to pull the trigger, though, and the ball then fell to Damjanovic, but his goal-bound effort was brilliantly blocked by a combination of Yang Jun-ah and Choi Jae-hyun. The Dragons had just about survived.
In the 90th minute, Choi Jae-hyun defied Damjanovic once again - this time out-jumping him for a Dragons' corner, which had been whipped in beautifully from the right by Wanderson. The left back then glanced a header into the roof of the net.
2-1 Jeonnam.
Wanderson still had time to make a mess of another opportunity - this time a two-on-one breakaway - but the Dragons didn't really care as the ref whistled for full time immediately after and all the visiting players and supporters went wild.
The Numbers Game
Surprisingly, the home team only shaded the possession battle at Suwon World Cup stadium (54% to 46%) and were also caught offside more (4-1). However, the visitors won more corner kicks (5-4), took more shots (15-10), had more shots on target (7-5) and - more importantly - scored more goals.
Full Time: Suwon 1 Jeonnam 2. (Highlights of the game can be seen
here
)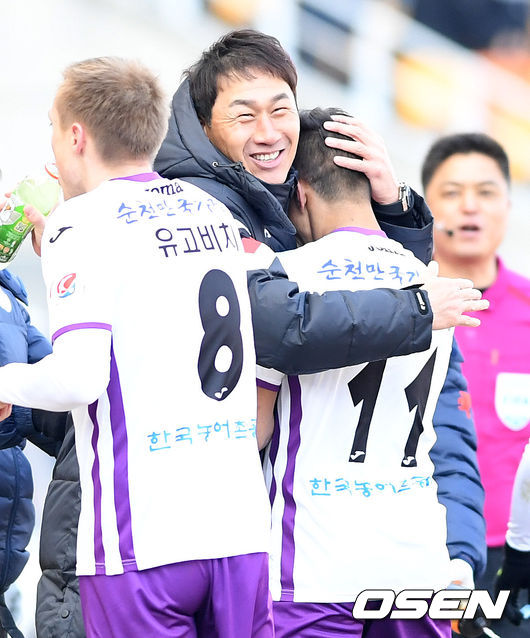 New Dragons coach Yoo Sang-chul all smiles at Suwon World Cup Stadium last week


(image via osen.mt.co.kr)
The Adversary
The Pohang Steelers in action versus Daegu last week
Even though the Steelers lost a couple of influential players preseason, they've started the new season in fine form and currently sit on top of K-League 1 via goal difference, courtesy of a three nil victory over Daegu last Sunday.
The Steelers put on quite an opening-day show for their supporters and were particularly lethal on the counter.
Pohang won the possession battle against Daegu (57% to 43%), yet they didn't create many shooting chances. Nevertheless, the Steelers were very efficient in front of goal - scoring three goals from just five shots (a 60% shot conversion rate). Thus, the Dragons' defenders will have to be on their toes.
(image via ph.kyongbuk.co.kr)
Player to Watch
When star striker Yang Dong-hyun (so often the scourge of Jeonnam last year) left the Steelers at the end of last season, many people wondered where the goals would come from. But thanks to last weekend's Steelers' game, now everybody should know.
New 32-year-old Brazilan striker Leo Gamalho (pictured above) helped himself to a brace on his debut and looks a real handful for K-League defenders. The six-foot-two inch striker, holds the ball up really well, is strong in the air and is a clinical finisher.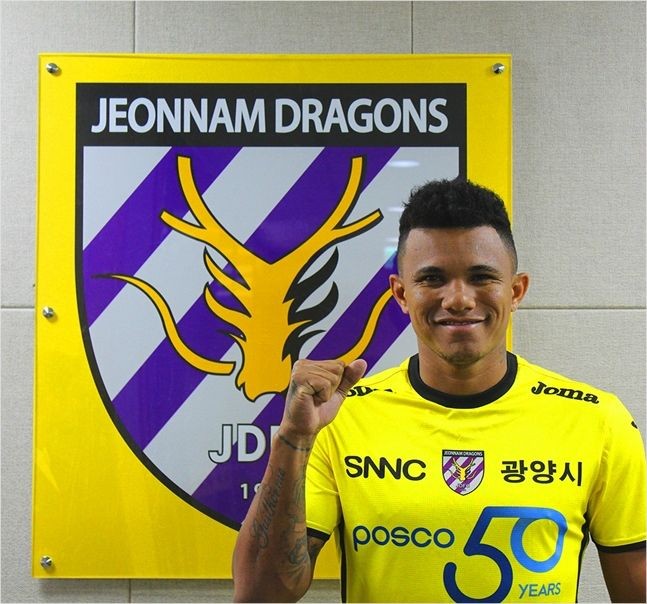 Wanderson de Macedo Costa
(image via dragons.co.kr)
Dragons' Team News
Yoo Sang-chul may not wish to alter his first eleven after last week's excellent result, yet new Brazilian signing Wanderson de Macedo Costa (pictured above) will surely figure in his plans this time round. The 25-year-old ex Gwangju star wasn't registered in time to feature in last week's match, but should spice up Jeonnam's attack this weekend.
Of course, his namesake, 28-year-old ex Pohang player Carvalho Oliveira Wanderson, played a part in both goals scored by Jeonnam in Suwon, got himself into some great positions throughout the game and was voted into the K-League 1 team of the week. So most Dragons' supporters are salivating at the prospect of two Brazilian Wandersons hooking up this Sunday.
Jeonnam's new center-back Ka Sol-hyeon also made it into the K-League 1 team of the week after excelling beside Yang Jun-ah at Suwon, so thankfully Australian center-back Tomislav Mrcela's ('Tommy') absence wasn't really felt. Tommy's expected to miss a few more games with injury.
And 26-year-old midfielder Kim Young-uk also missed the Suwon game through injury and will probably not return until next week's home game against Gyeongnam. However, Park Jung-tae proved to be an able deputy for the energetic and skillful midfielder last week and thus should make the starting eleven once again.
Prediction
Both teams have made excellent starts to the new season and will be full of confidence heading into this fixture so it should be a good game. Pohang were quick and efficient in round one, whereas Jeonnam were dogged and persistent.
Logic probably points to a draw, but as I mentioned in my season
preview
a few weeks ago, I fancy the Dragons to ruffle a few feathers this season and think they'll be far harder to beat than last year. Last week's performance has only strengthened that belief and if Wanderson de Macedo Costa can make his debut, Jeonnam should convert more of their efforts on goal than last time out - when they scored two goals from 15 shots (a shot conversation rate of 7.5%) - and ultimately prove to be too strong for Pohang.
Jeonnam 3 Pohang 1.
TAGS
Jeonnam
K League 1