2018 Season Preview: Jeonnam Dragons
After last season's relegation scare, the Jeonnam Dragons parted company with head coach Noh Sang-rae and replaced him with Korean soccer legend Yoo Sang-chul (above). Can the 2002 World Cup semi-finalist address Jeonnam's shortcomings and get the Dragons firing properly again this year?
(image via dragons.co.kr)
Last Season
W-8-D-9-L-19, 10th place in K-League Classic.
What Happened?
Hopes were high heading into last season after a fifth place finish in 2016, but ultimately 2017 proved to be a disappointing year for the Jeonnam Dragons - culminating in a 15 game winless run. (Still, at least now I know how it must feel to be a Sunderland fan!)
It began terribly, too, with coach Noh Sang-rae's stubborn persistence with a three-man defense resulting in five consecutive defeats in March and April. But a switch to 4-3-3 -Eureka!- reaped immediate dividends as the Dragons recorded their first victory of the season away to Incheon and started a run of four consecutive victories - their best streak of the season.
In May, the Dragons became more inconsistent with defeats followed by victories and it wasn't until June that they achieved their first draw. Coincidentally, they went on to tie four of the next five games in June and July (consistently, inconsistent).
The Dragons last victory of the season came as early as August 2nd and it preceded the aforementioned vile victory-less streak that was more often than not accompanied by tripe football. Most other clubs would have dispensed with their head coach during such a depressing period, but the Dragons let Noh work on until the final game of the season on November 18th. And despite some highs, particularly in 2016, Noh's Dragons coaching career finished - rather fittingly - with a one-nil defeat away to Daegu.
Notable Moves in the Transfer Market
Can't Believe We've Got Wanderson!
Ex Pohang Steelers left-back, Wanderson, has been acquired on loan from Atletico Goianiense to add a bit of Samba steel to the Dragons' defense - the leakiest rearguard in the K-League in 2017. The 28-year-old Brazilian is pacy, an excellent dribbler and comfortable with either foot. He'll no doubt provide competition for 24-year-old Korean star Lee Seul-chan and could conceivably be used further up the pitch, too. I don't know whether it's due to the air in Jeonnam or the team's jersey color, but Brazilians always play well down here. (And by the way you can watch Wanderson in action for the Steelers in the video above.)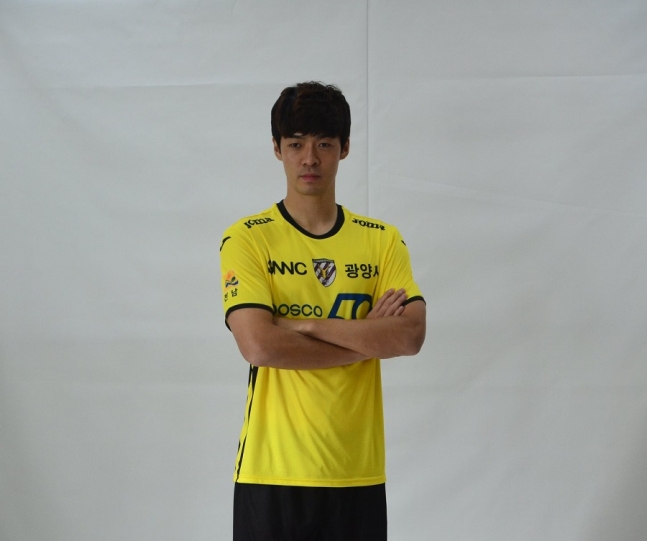 Ha Tae-goon

(image via dragons.co.kr)
Welcome back Ha Tae-goon!
The Dragons have brought 30-year-old ex Suwon Bluewings star, Ha Tae-goon (pictured above), back to the K-League. Although the six-foot-two Korean attacker isn't exactly a prolific goalscorer, he should be eager to impress after spending the last few years in China and will add some much needed height to the Dragon's firepower after the departure of 31-year-old Hungarian striker Robert Feczesin ('Fec').
Farewell Fearsome Forward Robert Feczesin!
The Dragons decided not to renew Fec's contract this year and thus will have to rely on last season's top scorer, Jair, even more. However, considering the Dragons had no real problems finding the back of the net last season, it could prove a shrewd move as it seems a waste to have two out of a maximum three non-Asian players up top while goals are leaking in at the other end.
Nevertheless, Dragons' fans will miss Fec for his goals (he scored 10 last season) and that wonderful celebration. All the best... (And feck I'll miss you!)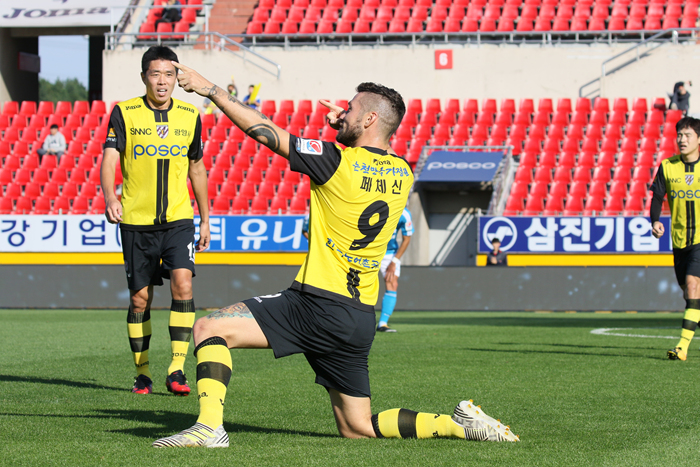 Robert Feczesin celebrating after scoring against Pohang.

(image via dragons.co.kr)
The Dragons need to sort out a few things this season.
1. Defense
What can I say that hasn't already been said? Ok, I suppose I could be a little more specific: The Dragons conceded 59 goals in 33 games last season (1.79 goals per game) and kept only a handful of clean sheets (six, to be precise). So, basically, on average, Jeonnam had to score at least two goals per game to draw or win. And while the Dragons managed to plunder a respectable 48 at the other end, that desperate defense cost them too many points over the season. New head-coach Yoo Sang-chul needs to sort this out immediately.
2. Tactics
Another glaring weakness last season was the lack of tactical solutions coming from the bench. Hopefully, Yoo Sang-chul will have more tactical weapons up his sleeve than Jonathan Wilson's soccer tactics bible -
Inverting the Pyramid
(although, come to think of it, that book could have come in handy for his predecessor at times). Too often last season, Dragons' coach Noh Sang-rae was either outfoxed by his opposite number on the bench or too slow to take advantage of opportunities. I mean, when the opposition is down to nine men and you have a two-man advantage in a huge relegation six-pointer, you don't avoid the wings and just lump the ball into the box from the halfway line now do you? And don't get me started on set-pieces....
3. Communication
But perhaps Noh Sang-rae's problems were all down to communication? The Dragons seemed to suggest this after his replacement was installed last December by saying that they had been "looking for a young and energetic coach who could communicate" with their players.
Key Player
Yoo Sang-chul
Need to break from the mold on this one as the key player for Jeonnam this year isn't actually a
player
- it's the head coach, Yoo Sang-chul. Yip, the Dragons roster is strong on paper once again with some of the young stars like Han Chan-hee and Choi Jae-hyun a year older and wiser and stars like Lee Hoseong, Jair and Vedran Jugovic reliable as ever. So if Yoo Sang-chul gets the players organized properly, he'll turn them into a proper team (unlike last season when a few individuals stood out).
So over to you now Yoo, no pressure...
Biggest Question
Can Yoo Sang-chul make a name for himself as a coach?
"We selected Yoo because we need a leader with pro football leadership experience," the Jeonnam Dragons stated after they'd appointed Yoo as their new coach last December.
And Yoo Sang-chul undoubtedly made a name for himself as a leader on the field. The powerful central midfielder scored a goal for South Korea against Belgium and impressed in the 1998 World Cup. In fact, he was offered a trial with Barcelona after his performances in France that
summer
, but missed out on that opportunity as he'd already been sold to Japanese club Yokohama Marinos by his Korean club Ulsan Hyundai. (Gosh, why didn't they wait until after the World Cup?)
The star went on to shine even more brightly in the 2002 World Cup in South Korea and Japan - where he scored, dragged Korea into the semi-final and even made it to 2002 World Cup All Star Team. Impressive!
But Yoo's a relatively inexperienced head coach, boasting just two positions so far - a two year stint with a struggling Daejon Citizens side in 2011 and 2012 and a three year spell at the University of Ulsan. Yet, one can't help but feel that he's served his apprenticeship and the time is nigh for him to prosper.
So can he finally make a name for himself in the dugout?
Reason to Watch
The Dragons were a very entertaining side to watch last season for most (especially neutrals) due to that messy marriage of a dodgy defense and an attacking setup (they practically guaranteed goals). And according to club sources, they've been working on forward play a lot pre-season so they should be exciting on the front foot once again. Hopefully, they'll install a few brand-new, seriously-strong padlocks on the back door in 2018, though, to achieve a better balance between offense and defense.
TAGS
Jeonnam
K League 1