Preview: Ulsan Hyundai vs Jeonnam Dragons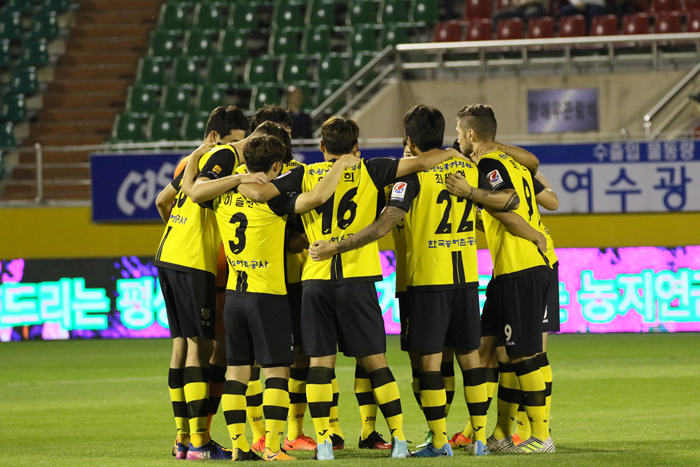 Coming off of consecutive ties, the Jeonnam Dragons will look to improve on their form when they travel to Ulsan for a 6pm kickoff Saturday September 23rd. Although the Dragons have had success against Ulsan this season, a win this week will be a tall order as Ulsan will surely be motivated by Jeonbuk's midweek blunder, which has brought them back into the title race.
(image via dragons.co.kr)

Last Two Outings (Alex Meyer)
The Dragons picked up two points in their last two games. A 3-3 rollercoaster away at Gangwon Saturday September 16th and a 0-0 midweek sleeper at home to Incheon on Wednesday.
First, the very entertaining and dramatic match away last Saturday at Gagwon. Although there weren't goals in the 1st half, it was still quite entertaining with both teams creating chances and squandering opportunities to break the deadlock.
The second half was an entirely different story. Jeonnam
came out on a mission looking focused, determined and on their game. The scoring opened up for the Dragons minutes into the half, when #28 Tomi Mrcela scored his second of the season (both at Gangwon) in the 47th minute. Jair got back on the scoring sheet with a lovely finish, collecting a 30 yard pass in stride, shielding off the defender and slotting away his 16
th
of the season.
With 30 minutes remaining there was little doubt the Dragons were on their way to a victory. But as reported last week, Gagwon like to score late, and they found the back the net in the 62nd minute, scored the equalizer in the 68th minute and took the lead in the 84
th
minute
.
The Dragons defense, which had looked strong in the first half, regressed back to the mean and had it not been for a last minute header from #19 Yong-Joon Heo in the 94
th
minute, the Dragons would have had one long bus ride home (Gangwon V Jeonnam highlights can be seen here).
The Wednesday night game was a defensive surprise. The Dragons collected their first clean sheet in a long time but unfortunately they couldn't penetrate Incheon's defense leading to a scoreless draw. The game was not without chances though.
Wesselly, ex-Dragon, had a one on one with the keeper midway through the 2nd half and any placement on the ball would have found the back of the net. However, it seemed as if too much time got to him and he blasted it right at the keeper.
The Dragons also had a few decent chances. Late in the game a lovely cross was played to the back post where Feczesin and Jugovic found themselves. Unfortunately greed or a lack of communication led to a blown chance as Fec went for a very optimistic header whereas Jugovic was in a much stronger position to break the tie.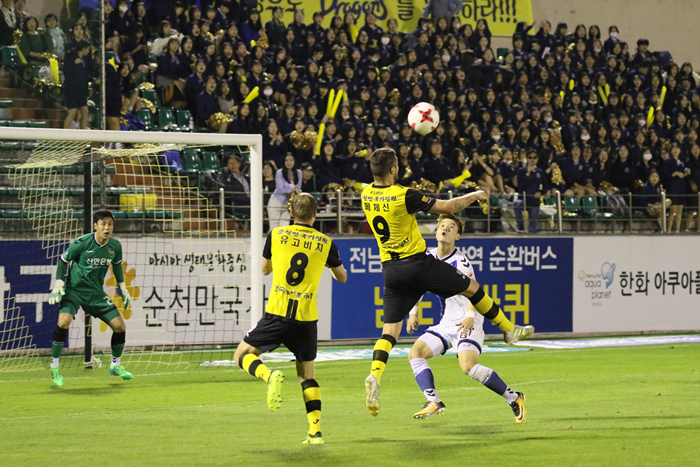 Feczesin (number 9) and Jugovic (number 8) going for the same ball against Incheon on Wednesday
(image via dragons.co.kr)
Although there weren't any goals, it was positive to see a clean sheet and very encouraging to see Jugovic looking close to 100%, causing the opposition headaches both defensively and offensively. (Highlights of the Jeonnam v Incheon game can be seen here.)
Ulsan Hyundai
The Adversary (Aodan Halligan)
Ulsan Hyundai are third in the K-League Classic, just six points behind league-leaders Jeonbuk FC and four points clear of the Suwon Bluewings in fourth. 'The tigers' returned to winning ways midweek after a hard-fought 3-2 victory over Daegu FC.
Home Comforts
Consisting of nine wins, five draws and just two losses, Ulsan Hyundai's home record is up there with the best. In fact, they've picked up 32 points from a possible 48 - the joint highest total in the Classic. At Ulsan Munsu Football Stadium, Ulsan average two points per game, have scored 22 goals (1.4 per game) and conceded just 14 (0.88 per game).In addition, they haven't tasted defeat at home since June 17th and are undefeated in their last eight Classic games there.

Thus, another victory over Ulsan could be hard to come by for the Dragons, especially when you consider their away record - just two wins on the road all season (and none since June 24th).
Previous Meetings this Season
Ulsan and Jeonnam have met twice so far this season, with home advantage proving key on both occasions. The Dragons bossed the first encounter on April 22nd in Gwangyang, trashing Ulsan 5-0 in what was undoubtedly their best performance of the season. Ulsan emerged victorious at Munsu Football Stadium on May 20th after a much tighter affair, defeating the Dragons one-nil. And the scorer of that goal is this week's
Player to Watch
...
Ulsan's Croatian forward Mislav Oršić (in blue)
(via uhfc.tv)
Player to Watch
Every time Jeonnam line up against Ulsan, one man scares Dragons' fans more than anyone else: ex Dragons' player,

Mislav

Oršić (above). The 24-year-old Croatian attacker has been unplayable at times this season and is capable of killing even the best teams on the counter. What's more, he scored the only goal of the game the last time the teams met and Jeonnam's 34-year-old right back and captain Choi Hyo-jin, who was rested against Incheon midweek, may struggle to keep up with the pacey winger. Hopefully, under-pressure Dragons' manager Noh Sang-rae has something up his sleeve.
Prediction
Aodan:
League position alone suggests Ulsan are strong favorites for this one and when you factor in their home record and the Dragons woeful form - eight games since their last win - it's hard to predict anything but a home win. However, I fancy the Dragons, who helped themselves to three road goals against Gangwon last weekend, to score as lately Ulsan have been a lot more porous at the back.
And since Ulsan's achilles heel all season has been scoring goals, I think the Dragons can upset the odds and secure a share of the spoils.
Ulsan 1 Jeonnam 1.
Alex:
3-1 Ulsan.
TAGS
Classic
Jeonnam
K League 1