Preview: Gangwon FC v Jeonnam Dragons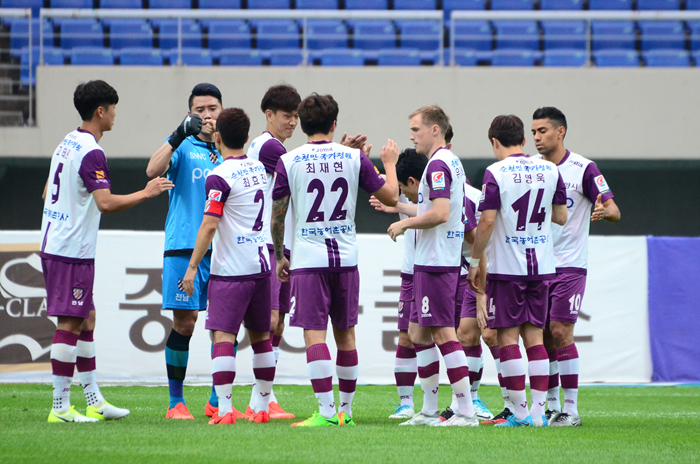 Winless in their last five matches, the Jeonnam Dragons will be hoping to stop the rot as they head to Alpensia Ski Jumping Stadium to take on Gangwon FC in round 29 of the K-League Classic. A victory for Gangwon, meanwhile, who suffered
a heartbreaking 4-3 defeat to league-leaders Jeonbuk last time out,
can help cement their grip on sixth spot before the table splits into two. Can the Dragons secure a rare away victory and put some pressure on Gangwon in the battle for a top-half finish? Or will Gangwon return to winning ways? Jeonnam columnists Aodan Halligan and Alex Meyer preview this Saturday afternoon's game.
(image via dragons.co.kr)
The Dragons: Last Time Out (Aodan Halligan)
Form and Team News
The Jeonnam Dragons headed to Suwon World Cup Stadium last Saturday without a win in four, whereas the Suwon Bluewings were appearing in front of their own fans after two disastrous home defeats in a row that have seemingly put paid to their title hopes.
Nevertheless, Suwon's loftier league position allied to their superiority in the previous two head to heads, prompted the bookies to make them strong favorites for the game (even without injured K-League top-scorer, 27-year-old Brazilian striker, Jonathan).
The Dragons, couldn't find room in their first eleven for 26-year-old Australian center-back Tomislav Mr

čela

('Tommy') or 28-year-old Croatian midfielder Vedran

Jugovi

ć

, although both men did make the bench (the latter making it into the squad for the first time in several weeks after a lengthy injury layoff).
Suwon's Super Start
Jeonnam, who've conceded more goals than any other team in the league, are even more exposed without those two players and it took Suwon just 13 minutes to terrorize them once more - left-winger Kim Min-woo doing most of the damage after ghosting past Jeonnam center-back Go Tae-won (courtesy of a beautiful piece of chest control a couple of meters outside the penalty area).
The 27-year-old Korean then advanced into the box before using his left foot to slip in an inch-perfect through ball to his 31-year-old teammate, Santos Junior. And the Brazilian finished the move superbly, blasting a half-volley in off the post with the outside of his right boot.
One-nil Suwon.
Things went from bad to worse for the Dragons just four minutes later and Santos Junior was in the thick of things once again. This time, though, the Brazilian played a supporting role, slipping the ball through to 21-year-old midfielder, Yoon Yong-ho. The Korean, despite the attention of four Dragons defenders, scored with an audacious chipped effort from the edge of the penalty box, sending the crowd into raptures (the stadium announcer nearly lost his marbles).
Just then, Dragons' coach Noh Sang-rae, must have been wondering why the Bluewings always seem to score worldies against his team, even though seconds after instant replays suggested Yong's strike may have taken a slight deflection. But
, Suwon couldn't care less: two-nil the Bluewings.
The game was effectively over after 26 minutes when Santos Junior and Kim Min-woo combined yet again to put the Dragons to the sword. The former had gotten the ball rolling by slicing open the Dragons defense with a chipped pass over the top. Kim Min-woo then lobbed Dragons' keeper Lee Ho-seung from inside the left side of the penalty box with his left peg.
Though Kim's effort crashed off the upright, Korean striker Park Gi-dong was left with an empty net (even Alex would have scored), and t
he
28-year-old
bundled the ball over the line.
Three-nil Suwon.
More Red Card Woe for Jeonnam
Dragons' defender Go Tae-won, who had been chasing shadows all day, was sent for an early shower (with a little help from VAR) in the 48th minute when he picked up his first red card of the season after tugging Damir Sovsic's arm as he burst through on goal.
However, the Dragons' best chance of the game came shortly after that from a quick counter after Jair had stolen the ball in midfield. The Brazilian then played a quick one-two before bearing down on goal, but Suwon's keeper Shin Hwa-yong got down quickly to keep Jeonnam's 29-year-old attacker at bay.
Surprisingly, despite the numerical advantage,
Suwon couldn't add to their total
(Tommy's introduction in the 54th minute certainly helped the Dragons close the back door). Nonetheless,
the Bluewings beat Jeonnam comfortably once more and increased their chances of finishing in the top four (and securing an Asian Champions League place).
Full-time score: Suwon 3 Jeonnam nil. (Highlights of the game can be seen here.)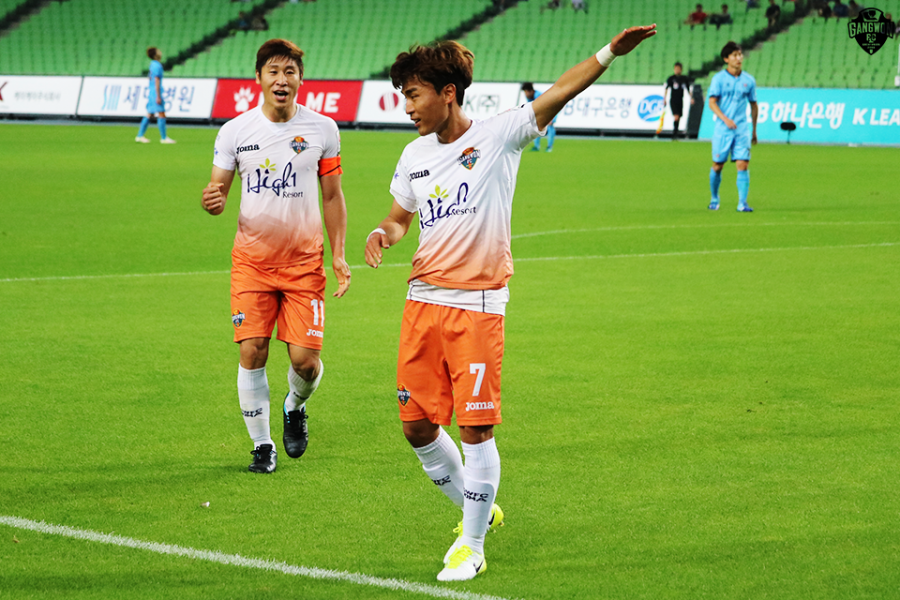 Gangwon FC
(image via gangwon-fc.com)
Scouting the Opposition (Alex Meyer)
Gangwon have been the team that have surprised me the most this year. And although they have regressed from their high form in the early summer, they've been in the top 6 pretty much all season. Though they do have the most unique home advantage in all of football, they are much stronger on the road - which bodes well for the Dragons. With only 4 wins at home all season and having not won at home since July 9

th

, this could be the weekend where the Dragons get back on track (but I'm definitely not holding my breath).
Gangwon's struggles at home are directly correlated to their lack of scoring at home. Their paucity of home goals, 16, dwarfs in comparison to their 28 road goals. This aberration is also positive for the Dragons, seeing they've made it a habit of allowing other teams to score with ease on them.
It will be intriguing to see who prevails, a team who can't score at home or a team who can't defend anywhere. I do expect a close game but a goal will come and Gangwon will score in the last 20, as 40% of their goals come in the last 30. Will that be the difference? Probably because although they can't score at home, they can defend, averaging just 1.3 goals per game. Not good news for the Dragons, as they can't keep a clean sheet anywhere and they also can't seem to score of late.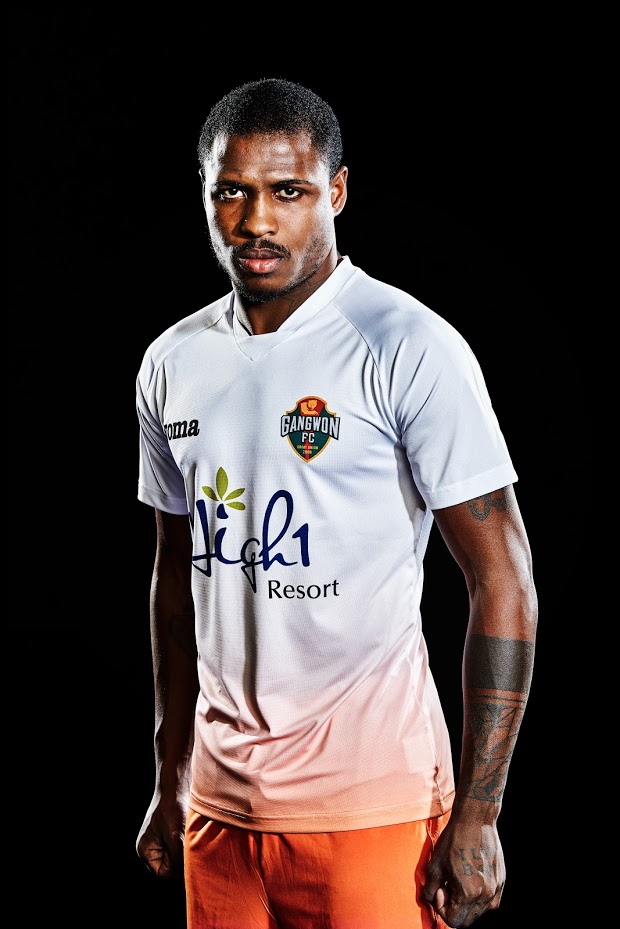 Diego
(image via gangwon-fc.com)
Player to Watch
#10 Diego Mauricio (above), an explosive player with the speed to beat you down the side and skill to dribble you in circles; he has had a great first year in the K-League. And through my Portuguese translation app he conveyed to me that he has really settled into the league well and is becoming more comfortable. Sitting on 11 goals, he's playing the perfect defense to add to that total.
Predictions
Aodan: Tommy will start in central defense this week as Go Tae-won is suspended and Vedran
Jugovi
ć
should feature, too. However, the latter, who hasn't played since August 2nd, probably won't play the full 90 minutes.
Nevertheless, both should add some steel to the Dragons's rearguard. Will that be enough?
I don't think so, to be honest, so I'm going to go for a home victory.
Gangwon 3 Jeonnam 1.
Alex:
Hard game to predict as both teams are very inconsistent and you never know what you'll get from week to week. On top of that, who knows who the Dragons' coach will put on the field? How he's still making these decisions is beyond logic - let's just hope the Dragons give the supporters a reason to show up and watch when they return home.
Gangwon 1 Jeonnam 0.
TAGS
Classic
Jeonnam
K League 1