Writers' Chat: Jeonnam Dragons Vs Jeonbuk Hyundai Motors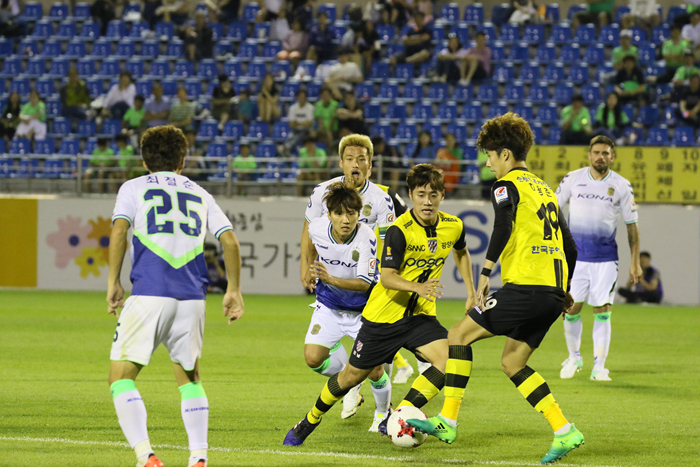 Gwanyang city is the venue for the third Jeolla derby of the season as the Jeonnam Dragons take on league-leaders

Jeonbuk Hyundai Motors this Saturday

evening

. Will Jeonnam restore some pride after their

embarrassing

cup exit in midweek ? Or will Jeonbuk bounce back from their

surprise

home defeat to Ulsan last weekend and earn derby bragging rights for the third time this season? Jeonnam columnist Aodan Halligan sits down with Jeonbuk columnist Matthew Binns to discuss the big game.
(image via dragons.co.kr)
Aodan Asks, Matthew Answers
Aodan Halligan: It was a disappointing result for league-leaders Jeonbuk Motors last Sunday - losing 1-0 at home to third-placed Ulsan Hyundai. But it was like their 2-1 away to Jeju United a few weeks back, in the sense that, had they won it, they would have put a lot of daylight between themselves and the chasing back. Thus, do you think motivation has been a problem for this Jeonbuk team at times this season? Are they their own worst enemy, if you like?
Matthew Binns: I think both of them were very different losses, with perhaps the Jeju one being more unfortunate given the second half performance. In regards to last Saturday's defeat to Ulsan however, the fault can be laid at the feet of the manager's tactical choices, opting for a two-striker formation that has only delivered once this season; against a ten-man FC Seoul. Jeonbuk do not possess pace with any of the strikers, so to sacrifice a creative midfielder to accommodate both Lee Dong-gook and Kim Shin-wook seemed a misjudgment, especially given the five man midfield that has often proven successful, especially in dismantling this Ulsan side by four goals to nil just one month earlier.
Manager Choi Kang-hee does have a precedent of changing winning formulas when a routine victory would kill off opponents. You only need to look as far as the bizarre team selections and shapes against Sangju Sangmu, Jeju United and Ulsan Hyundai in the final six games of last season. Instead of focusing to ensure they got over the line as champions despite the nine point deduction, they instead dropped seven points to these sides because of his tactics, making what should have been a final day victory parade into a crucial title decider to FC Seoul, which he ultimately lost. Given his success, and the lofty league position Jeonbuk have held throughout every recent season, he undoubtedly knows how to win the K League, and arguably might be the "best" manager in the league currently at doing it, but it is decisions like these where I feel that criticism can be levelled at him most.
AH: Jeonbuk have only lost five times in the league so far his season; however, four of these defeats have come against top-six rivals. Does this offer the other teams a glimmer of hope for when the table splits into two later this year? And do you think the approaches taken by Jeju and Ulsan (who've taken a combined total of 11 points off Jeonbuk this season) could work for others?
MB: I think it's a matter of perspective. Jeonbuk have dropped eleven points as you mention, but also won eight matches out of twelve, with a number of resounding scores in there to boot. Alternatively, before losing to Ulsan, Jeonbuk had dropped marginally more points to lower half teams, namely nine points to the current bottom three of Gwangju, Incheon and Daegu who looked to frustrate them with mostly compact, defensive displays.
Jeju's 4-0 is obviously the most eye-catching defeat, but three of Jeonbuk's back four were unable to play in that game, not to mention the manager fielded an unfamiliar 3-5-2 that could not master how to arrest Jeju's counter attacking. However, Jeju's first half in their 2-1 victory is probably more useful for opposition scouts as Jeonbuk played close to a preferred eleven yet appeared shell shocked by the islanders intensity and forward movement for the opening forty five minutes. Given the talent in the Jeonbuk squad, plus their high pressing, counter-attacking strategy, it is understandable why many teams set up not to be caught, often suffering larger defeats when they try to chase the game by being coaxed into attacking. However, if a team does have the players at their disposal, playing Jeonbuk at their own game and attacking quickly could be very plausible. It is why, as a Jeonbuk supporter, I am anxious about the title race coming down to a head to head with this current Suwon side, who are looking increasingly terrifying in the final third. Choi Kang-hee should be taking every opportunity to extend his side's lead and not let this situation transpire, as I fear that if it does, it may not end well for the North Jeolla side.
AH: Ulsan Hyundai's 24-year old Croatian attacker (and ex Jeonnam Dragons player) Mislav Oršić caused Jeonbuk all sorts of problems down the left wing last weekend. In fact, right-back Choi Chul-soon and right midfielder Han Gyo-won couldn't get near him at times. Do you think the Dragons could profit down the same side through the likes of 28-year-old Brazilian number 10, Jair, or was that just a once off? Are there any other areas the Dragons should target?
MB: It was surprising to see Oršić cause such an issue given that he had been fairly anonymous in the previous two meetings of these sides. Choi Chul-soon is not a player who is fooled often, you need only look at his performance in both legs of the AFC Champions League final to see the kind of display he is capable of. That said, Choi Kang-hee did purchase Lee Yong for that right back position, and unfortunately Lee has been out for a while with injury. Han Kyo-won has also only just returned from six months civil service and, while he should be very familiar with Choi Chul-soon behind him, may still be a bit rusty. Ultimately though, Oršić is a quality player and Jeonbuk is not the first team he will make a fool of, and certainly not the last.
In terms of targeting the right side, well it is certainly weaker than the left, and maybe the most questionable part of the team with the number of players who have rotated to fill in there, but only marginally. As mentioned above, it will depend on the tactics the manager employs. A single striker formation, with enough talented bodies in midfield then Jeonnam may very well be too concerned about nullifying threats rather than exploiting.
AH: Jeonbuk defeated Jeonnam in a very evenly-contested Jeolla derby in the first match of the season. But, the second Jeolla derby was a more one-sided affair, resulting in a 3-0 victory for Jeonbuk. Two very different victories, but two victories for Jeonbuk, nonetheless. How do you see the third Jeolla derby going?
MB: I do believe Jeonnam have quality in attack to test Jeonbuk and I am quite the fan of Jair. However, I have expected him to cause damage against Jeonbuk in each Jeolla Derby since his arrival, yet he has often failed to make an impact on each occasion. Perhaps this time I will be proved wrong, but I do expect Choi Kang-hee to field a full strength side in the most successful formation here given the visitors' recent defeat. This, combined with the hosts coming off the back of a midweek FA Cup game should mean bragging rights for this Jeolla Derby will remain with Jeonbuk.
Matthew's Predicted Score: Jeonnam Dragons 1-2 Jeonbuk Hyundai Motors
Matthew Asks, Aodan Answers
Matthew Binns: Jeonnam really have been quite reliable in guaranteeing their fans goals this season, drawing a blank on just four occasions and bagging 42 goals for the campaign. Yet, they have also conceded the most this season, ensuring they still have negative goal difference. Just what is going wrong with that defence?
Aodan Halligan:
I'm afraid the buck stops with manager Noh Sang-rae on this one. I mean, as you correctly pointed out, 42 goals in 25 games (1.68 per game) is an impressive goals scored tally, but to concede 43 goals (1.72 per game) in those games is absolute madness. Of course, with so many goals on offer each week, the Dragons have been a joy to watch this year, yet they've thrown away a lot of points and should be much higher up the table.
What's more, a lot of the goals Jeonnam have been
conceding
have been from crosses and set-pieces. For instance, Daegu helped themselves to two goals from corners last month, and FC Seoul had joy from a corner-kick against the Dragons at a game we covered recently, too. And in the last Jeolla derby, two of Jeonbuk's goals came after high crosses into the box. Pohang also scored after whipping in a free-kick into the Dragons' penalty box last Sunday and from a cross against the Dragons last month. In short, Jeonnam can't deal with high balls into the box.
Though some may argue that Jeonnam's six-foot-four-inch Australian center-back

Tomislav Mrčela was injured or suspended for most of those games, you have to work on crosses and set-pieces on the training ground. It's bad

organization

and is really killing the team's chances of enjoying a

successful

season.
MB: Jeonnam players have seen three red cards in the last four matches, with latest culprit Kim Young-wook being suspended for this weekend's derby. With Kim being the joint second leading assist maker in the league at present, who will step up to fill the void left by him against Jeonbuk?
AH: To be honest, I think
Vedran Jugovi
ć
will be a bigger loss this weekend. The injured 27-year-old Croatian midfielder has been fantastic recently and is a great shield for the back four. His absence was felt against Busan IPark on Wednesday and will be again against Jeonbuk.
However, Kim Young-wook has also been sensational and will be missed for his dribbling and passing. Actually, he reminds me a bit of one of Manchester City's new signings - Bernardo Silva. He can beat men with pace and is able to slice open defenses with his inch-perfect though balls. Plus, he's not easily pushed off the ball.
Jeonnam have a couple of replacement options, although it depends on what way manager Noh Sang-rae wants them to line up. For example, Kim Young-wook often plays in the right of a midfield three and 23-year-old Korean midfielder Choi Jae-hyun excels there and has several assists to his name, too. Kim Young-wook has also been played centrally in a number 10 role and 20-year-old Han Chan-hee also thrives in that position. As mentioned earlier, going forward hasn't been a problem so Jeonnam should be well-covered.
MB: With an FA Cup quarter final midweek, not to mention the recent heavy summer schedule for all K League sides, do you think tiredness could be a factor for the Dragons this Saturday?
Yes, it could be a big problem as Jeonnam don't have as good a bench as some of the other teams and have struggled with squad rotation this year. And considering both their inconsistency this season and their history, I think the cup quarter final against Busan IPark on Wednesday was more important than this Saturday's derby.
Why? Well, with Gangwon winning last weekend, and the gap to the top-six increasing, the cup represented Jeonnam's best shot at glory this year. In addition, they've won the KFA cup three times and were at home against a team from a division below so they had to go all out for the victory.
O
f course, Jeonnam won't want to lose a league game, especially a derby against K-League giants Jeonbuk, but due to a combination of injuries, suspensions and limited rest time, I'm not sure the bench is deep enough to cope. On Wednesday, for example, manager
Noh Sang-rae decided to rest his

strike-force (among others)

so top-scorers
Jair
and 3
1-year-old Hungarian striker
Róbert
Feczesin didn't start and Jeonnam were beaten 3-1 by Busan and knocked out of the cup.
And even if both Jair and
Feczesin
score hat-tricks against Jeonbuk on Saturday, I think it was a crazy decision to drop both as had Jeonnam started their best eleven, they could be in the last four of the cup and two victories away from silverware. No wonder, Noh Sang-rae's first comment after the game was " I apologize to the fans". But his team selection was inexcusable, in my opinion.
MB: How do you envisage this season's third Jeolla Derby panning out?
AH:

I

think the Dragons will be weary of being caught out early again like in the last Jeolla derby. That game was effectively over after 35 minutes and it was quite embarrassing for the Dragons in front of their own fans. But even so, the squad will be stretched, confidence will be low after the Busan IPark defeat midweek and Jeonbuk have won their last three games on the road. So, it's going to be a tall order for Jeonnam to get anything from this game.
Aodan
's Predicted Score:
Jeonnam Dragons 1-4 Jeonbuk Hyundai Motors
TAGS
Classic
Jeonbuk
Jeonnam
K League 1