Preview: Gwangju FC v Jeonnam Dragons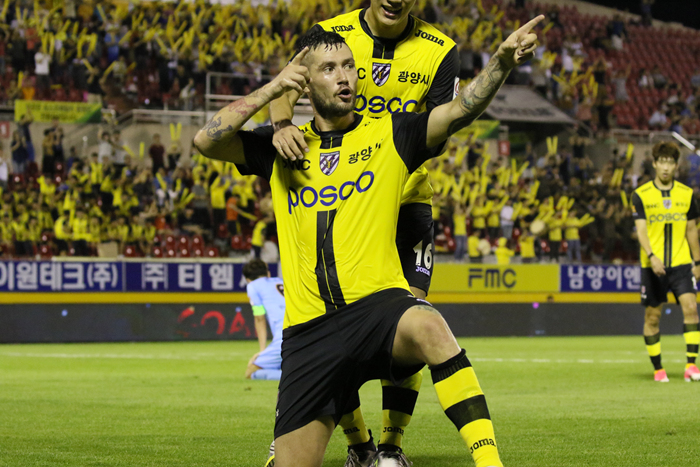 This Saturday the Jeonnam Dragons head to Gwangju to face F.C. - the lonely 12th place team - for the third time this season. Although the Dragons have gotten the better of them in both matches so far, outscoring them 7 to 1, we should be in for a compelling game. The Dragons are looking to get back on track after a midweek thrashing and Gwangju are in dire straits to pick up some much needed points.

Last time out (Alex Meyer)
It's all about perspective and had you been watching the Jeonnam Dragons vs. the Suwon Bluewings through the eyes of a Bluewings' supporter you were well entertained and pleased. Watching the game as a Dragons' supporter you could only pray for that second half to end. Albeit, the Dragons couldn't have asked for a better start, with a lovely header from R. Feczesin making it 1-0, but that was about all the offence the Dragons would produce. Suwon were all over the Dragons and it was only a matter of time before they made the breakthrough, Ki-Hun Yeom's beautiful free kick leveling the scores in the 43rd minute.
In the second half, Suwon came out flying and any beliefs that the Dragons could hold out and possibly even steal one were dashed in the 66th with a shot from distance from Johnathan that somehow found the back of the net, as Lee
Ho-Seung
uncharacteristically made a total mess of it.
Any life the Dragons had left slipped away pretty quickly and it was as if Johnathan wanted to make a point he could score without luck, finishing his hat-rick with the goal of the year. He is a joy to watch and Suwon looked liked the strongest side in the league for the last 45.
The Dragons rested a few key players and overall they looked a step slow. This is very understandable considering this was their 8th game in 32 days. Both teams started as you would expect with this schedule in the dead of summer but Suwon was buoyed, possibly by the home crowd, a world class free kick before half-time, or Johnathan's brilliance on the night. Whatever it was, they were the better team and deserved the win.
Both teams play under the same conditions, and practically have the same schedule, so no excuses but this is a fundamental problem with the league. They should not be asking these players to play this amount of games in the hottest and most humid time of the year. Smaller market clubs that can't afford a deep bench are going to get hammered. We saw it all around the league.
Moving on, positive takeaways from the game include Tomi coming back and looking like he's getting back into game shape. Also Feczesin continued his run of production and I don't see that stopping, and finally I can't see Lee
Ho-Seung
having another stinker like that between the posts. Gwangju has looked tough but is a good match up for the Dragons to wash Wednesday's nasty taste away.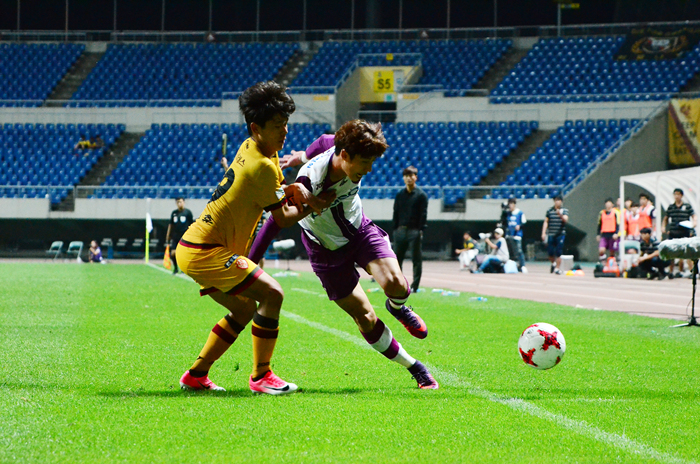 The Adversary (Aodan Halligan)
Gwangju FC are Feeling the Heat
Gwangju FC continue to prop up the table in the K-League Classic and were resoundingly beaten 3-1 by ten-man Jeonbuk Motors midweek.
However, league-leaders Jeonbuk are rarely beaten on their own turf. In fact, they've only lost one league game at home all season (versus Jeju United all the way back in week two). What's more, touching on what Alex mentioned earlier, in general, all the contenders for Asian Champions League (ACL) spots in the K-League rotate their first eleven more successfully than the other sides. One only has to view the results from midweek to notice this.
On Wednesday, the top four, Jeonbuk, Jeju, Ulsan and Suwon, all won (most of them handsomely), even though they had only a few days rest. Of course, these teams don't win all the time when the games come thick and fast; however, they've much better resources than other teams and most of their squads were built with two campaigns in mind.
Despite retaining their 4-5-1 formation, Jeonbuk made four changes to their team for the Gwangju game and picked up their second successive win.
Gwangju, meanwhile, made five changes to their lineup and decided to switch from a 4-3-3 formation to a 3-4-3. The tweaks allowed them to shade
possession
(51%-49%), but they were second best on the day.
And with Daegu finally finding form, Gwangju FC need to start winning soon if they are to avoid the drop as they've only registered three wins in the league all season and have lost their last three games in a row. Encouragingly, though, all three of their victories have come at home.
Can they can secure a fourth one this Saturday?
Offensive Blues?
Gwangju's biggest problem has been scoring goals and they're the league's least prolific team with only 17 goals scored all season, which works out at 0.81 goals scored per game.
On the plus side, they should fancy their chances of hitting the back of the net against the league's most porous defense: Jeonnam. The Dragons have conceded 40 goals from 22 games (1.81 per game).

Gwangju's Home Form
Gwangju have won three, lost three and drawn four of their 10 home games. So they've picked up 13 points from a total of 30 at home. In addition, they've scored 10 goals in those games (an average of one per game) and conceded 13 (1.3 per game).
Jeonnam's Away Day Struggles Offer Hope
The Jeonnam Dragons, meanwhile, have won two, drawn three and lost six of their away games, picking up just nine points from a possible 33. The Dragons have scored 12 (1.09 per game) and conceded 18 (1.5 per game) on the road.
Gwangju have the artillery to hurt Jeonnam. In fact, their set-pieces caused Jeonbuk all sorts of problems on Wednesday night - and Jeonnam really struggle with these.
Therefore, if Gwangju can get their free-kick specialist Niall McGinn (below) heavily involved against the Dragons on Saturday, their fortunes could change.
Gwangju FC's new signing, Northern Ireland forward and former Celtic and Aberdeen star, Niall McGinn, who's only been used sparingly so far (he didn't make it on till the 81st minute against Jeonbuk in midweek), surely must be set for more action this weekend.
And The 30-year-old midfielder, who celebrated his birthday on Thursday, is a fantastic dribbler and a set-piece specialist. (By the way,
Belated Happy Birthday Niall!)
Furthermore, he's lethal with both feet, inside and outside the box, and very strong in the air.
In short, if McGinn's fit enough to start a K-League match for the first time this weekend, Gwangju could excel.
Niall McGinn's best goals for Aberdeen
Predictions
Aodan: I've more questions than answers this week, to be honest! Of course, the Dragons rotated their squad once more midweek, but this time it didn't have the desired effect and we were easily beaten by Suwon - ending our seven-game unbeaten run. What effect will this have on us?
Furthermore, having been rested midweek, our top performers this season, Jair and Jugovic, will be fresh this weekend. Plus, the Dragons have a good record against Gwangju this season, winning both games. So can Jeonnam's J-team drive us to another victory?
Or will Niall McGinn finally make his full debut and inspire Gwangju to put us to the sword?
Since I can't really answer any of these questions, I'm going to go for a score draw. Gwangju 2 Jeonnam Dragons 2.
Alex: Dragons get a big win, 3-1, behind rested Jair and the lot.
TAGS
Classic
Jeonnam
K League 1