Writer's Chat: FC Seoul vs. Buriram Untied AFC Preview
On Wednesday night, Buriram United travel from Thailand to take on Seoul in fifth game of the AFC Champions League. Buriram United have not fared well so far, losing all four games while failing to score.
At this point, Buriram United have little chance to qualify and are playing for pride.
FC Seoul, on the other hand, top their group and have scored the most goals (14) in the AFC Champions League so far. If they win this encounter, they will go to the round of 16 and most likely top their group. K-League's John Emanuelson had a chat with thai-fussball.com's Sven about Buriram's polarizing effect and struggles this year.
John Asks, Sven Answers
John Emanuelson:
From what I have briefly read, "the club polarizes fans." Why is that?
(Buriram United owner Newin Chidchob- from en.wikipedia.org)
Sven: It's either you hate or love them. And mostly people who are from Buriram or have anything to do with Buriram love them, while others dislike them. This comes with the owner Newin Chidchob, who surely does a lot for the province, and how he behaves on and off the pitch. In addition, the presidents wife can be seen among the main cheering fans with a megaphone in each hand.
JE: Buriram's campaign in the AFC Champions League has been nothing short of a disaster so far. They sit last in the group with no wins, no goals scored, and 14 conceded. What happened and why have they done so poorly so far?
S: Honestly, Buriram's performance so far is a surprise to many. Or let's say the results. For us it was pretty clear that they wouldn't fight for the first place in Group F, but to be in the hunt for second place should have been possible. In comparison to previous years, Buriram have been handed a tough Group this time. But because of this, they now have a name in the Champions League with opposing players and teams know Buriram much better now. On the other hand, they lost their prolific striker, Diogo, early in the season. He was a major key to the success of Buriram last year when he scored 33 goals out of 98 for Buriram in the league. Within the short period of time, it hasn't been easy to find any decent replacement for Diogo.
JE: Is there any chance that Buriram will get a point against Seoul, let alone all three?
S: No, none. We think FC Seoul are just too strong this season.
JE:
Buriram seem to be doing a bit better in the Thai League. However, their leading scorer is Andres Tunez, a CB from Venezuela. Is that an indication that the team is having problems in attack?
(Andres Tunez, Buriram's leading scorer- from alchetron.com)
S: Yes of course. Like I said before, they are really missing Diogo. He is the centre of the game and attack of Buriram. The game is focused and built pretty much around him. Although it seems Buriram have changed its tactics a bit and they try to rely on Tunez after standards and crosses where he is able to create chances with headers. Although it has to be said, that Tunez scored two of his goals from the spot this season
JE: One of their new signings this year was Kaio from Brazil. He has a long,yet undistinguished history in the K-League. How has he been doing for Buriram in the Thai League?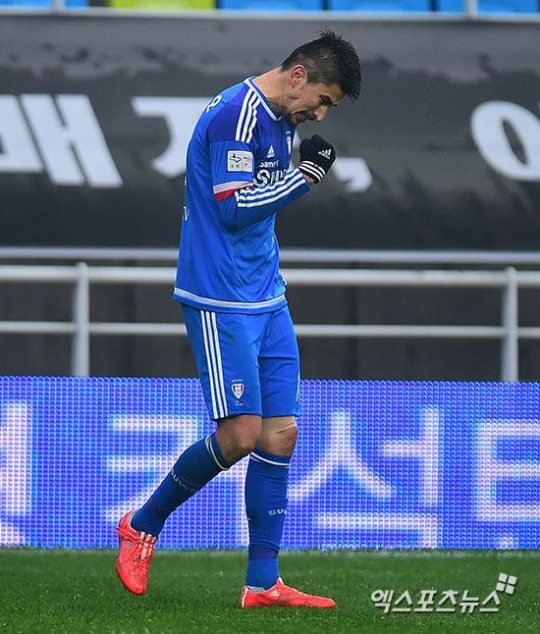 (Kaio with Jeonbuk (theworldgame.sbs.com.au), Suwon Samsung (twobe1.com), and Buriram United (buriramtimes.com))
S: Obviously Kaio should have formed a duo with Diogo, but we know the latter is out with injury now and both didn't have the time to gel on the pitch. With Diogo out, Kaio could have step in and fill Diogo's place, but it seems he can't so far. He started eight games so far domestically and in Champions League combined, but has found the back of the net only once (early April against Pattaya United in the league).

Sven Asks, John Emanuelson Answers
Sven: What is the Seoul's secret this Champions League season? They seem to be really strong and are on fire.

John Emanuelson: Nothing much really. They have better players this year, especially their forwards and in the midfield. There is only so much you can do when your strike force consists of
Kim Hyun-sung, Jung Jo-gook, Yun Il-lok, and Everton, all who featured for Seoul in the Champions League last year. I feel as though Seoul were quite lucky to qualify for the knockout rounds as they struggled to score goals, knocking in an anemic 5 goals in 6 games.
Seoul hit the jackpot last year with their acquisition of Adriano. I still cannot believe that Daejeon let him go so easily. I was skeptical of Dejan's return initially,
but he has been great as Seoul's
deep-lying forward
(more on that below). These two players in attack are a significant upgrade on the four I mentioned above.
In midfield, Takahagi was a mid-season acquisition like Adriano, but took longer to settle in. He had his moments, yet struggled to integrate himself into the team. This year, that has not been a problem and his defensive work rate and passing have been great. Ju Se-jong is Seoul's midfield anchor and in my opinion, will be the most successful transfer in the K-League this year. Shin Jin-ho, who will be leaving soon, has good vision, is able to take spot kicks, and covers quite a bit of distance. He will be missed.
I think the upgrade in these two areas is why Seoul is on fire in the Champions League. Their striker Adriano, has been in great form, and they have one of the best midfields in Asia right now.
S: How is Osmar doing at Seoul so far?
(Osmar with Buriram United (zimbio.com) and with FC Seoul (fiasports.com)
JE: One word describes him- indispensable. He is Seoul's captain and he has played every minute of every K-League and Champions League game this season and last. I really would say that he is the most important player on the team and he does so much for Seoul that tends to go unnoticed.
Last year, he was primarily the defensive midfielder, but often took turns trading with Park Yong-woo and playing sweeper. This year, he has been stationed on the left of Seoul's three man defense, but he often pushes up into the opponents half when Seoul need another man on the ball. He has not been afraid to have a crack on the goal to keep defenses honest or make a run into the box to try and draw a defender out and create space for another Seoul player.
S:
How important is the return of Dejan Damjanović for Seoul?
(The legend Dejan- from youtube.com)
JE: As I mentioned above, his return has been a big reason why Seoul have been so potent in attack. When he played for Seoul in his last couple of years, he often played high up the pitch, but now he drops deeper and helps create for others. His ability to dribble and take on other players creates openings for Seoul to attack that were often lacking last year. Oh, it helps that he can score goals, but what I really enjoy the most is how
aggressively he presses in the beginning of games.
S: It seems the Champions League is taken serious and as an important trophy among Korean clubs. Why is that?
At the risk of practicing armchair psychology and offending people, I would say the reasons for why the Korean clubs take the trophy seriously are complex and involve years of history.
I think the reason that Korean clubs have had so much success in the Champions League is because they have taken it seriously when others have not.
S: Seoul has the highest average attendance in Korea. Is FC Seoul the most famous club in Korea or is it because Seoul is the capital?

JE: I think much of that comes down to Seoul being the capital. There are ten million citizens in the Seoul Metropolitan Area, so they have a bit of an advantage in that respect. When Seoul, as with pretty much any team, are good then they are well-supported. Even when they are not great, like the last two years, they still draw decent crowds. Also, FC Seoul usually travels very well, especially in comparison to other teams in the league.
As far as being the most famous club, I would say they are probably the most
infamous
. Originally, FC Seoul were known as the LG Cheetahs and were based in Seoul u
ntil 1996. As part of the KFA's
decentralization
policy, the LG Cheetahs were required to leave Seoul and they chose to relocate to Anyang. While being based in Anyang, they started to attract a following. However, in 2004 the Seoul city government and the KFA wanted someone to play in Seoul World Cup Stadium. Creating a new club was out of the question because the franchise fees were too much, so they set out to attract one of the former Seoul clubs to move back.
Obviously, Anyang fans were upset and I can understand. I think it is disgraceful when American billionaire sports owners move franchises to another area because taxpayers will not build a new stadium for them. I think there is a special place in hell for Clay Bennet and I will always think of the Oklahoma City Thunder as the Seattle SuperSonics.
However, I do think there were some mitigating circumstances in this instance (they did start out in Seoul), but many Korean football fans will disagree and often use Seoul's relocation as a reason to condemn them.
In my opinion, the most famous club until recently would be the Suwon Samsung Bluewings. Up until 2015, they were usually number one or two and averaged over 17,000 fans. For whatever reason, there was a bit of a drop-off last year but they still finished in third place. They have one of the largest supporter's groups and have been quite successful over the last 20 years. Finally, being associated with Samsung, which is probably Korea's most successful chaebol, does not hurt.
Curious on how other teams are doing in their Champions League campaign, then check here and you can see predictions here.
TAGS
ACL
AFC
FC Seoul