From Here to Eternity: FC Seoul's Last Five ACL Appearances
(from kleagueunited.com)
The AFC Champions League (ACL) is back in action on Tuesday and I was curious about how Seoul have done recently. In the time I have lived in Korea, this year feels as though it is Seoul's best qualifying campaign in the ACL. Not only have the won their first three games, but they have done so by large margins (6-0, 4-1, 4-1). Is it the best though?
To answer this question, I have decided to look at their history since 2009, which was the first year that I went to an ACL game. Since then, Seoul have qualified in 2011, 2013, 2014, and 2015. Using wikipedia as my guide, I have included how Seoul did in the group stage, the results against group opponents along with video if possible, and how they fared afterwards. The title is there to tell you that it will take a long time to read.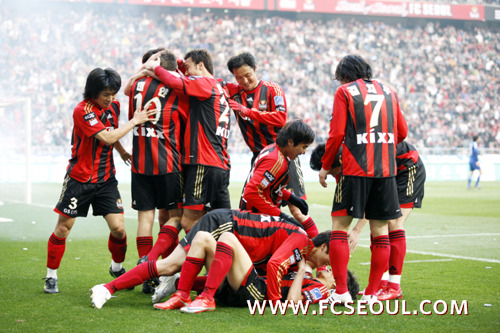 (www.fcseoul.com)
2009
By virtue of finishing in second place in the league in 2008, Seoul automatically qualified and did not have to participate in the play-off. From the looks of it though, no Korean teams had to compete in the play-off that year. Here is the table of the group and results of each game Seoul played in:
2009 AFC Champions League- Group Stage
I cannot find any video of Seoul's home win versus Sriwijaya, their draw at home against Shandong Luneng, or their victory over Kashima Antlers in the round of 16. When I go to Seoul's website, they are no longer available and a search of YouTube and Google fails to turn anything up. The video for the other games though ranges from adequate to poor and can be difficult to watch. It feels like we have come a long way technologically in seven years.
Seoul came in second that year, five points behind a dominant Gamba Osaka team that had won the ACL the year prior. Seoul got off to a great start against the Indonesian team Sriwijaya, but lost their next two games and dropped points at home against Shandong. With only four points in four games, it seemed as though Seoul would fail to get out of their group. However, Seoul won their next two games and had a bit of help as well. In a what felt like a must-win game against Gamba Osaka, Kim Han-yoon scored in the 91st minute while Sriwijaya recorded their
only win
in the group against Shandong Luneng. I would not say it was a miracle that they finished in second place, but after drawing against Shandong at home, it seemed as though Seoul had shot themselves in the foot.
In the knockout stages, the round of 16 was only one game that year. Seoul traveled to Japan to take on Kashima Antlers and after the game finished 2-2, they won on penalties. After that, Seoul traveled to Qatar to take on Umm-Salal in the quarter finals. In the first game, they had a 2-0 lead, but eventually lost that game
3-2
. On the return leg in Seoul, Umm-Salal scored first but
Dejan
tied the game immediately. Unfortunately, there was to be no break through for Seoul and they were eliminated from the tournament with Pohang going on
(from wikipedia.org- 2009 AFC Champions League Knockout Stages)
(blog.naver.com)
2011
Seoul missed out on the 2010 tournament, but did qualify for the 2011 ACL because they won the K-League the year before. Again, they were automatic entrants and did not have to compete in the play-off. Here is the table of the group and results of each game Seoul played in:
2011 AFC Champions League- Group Stage
There is no video for either of Seoul's matches against Hangzhou Greentown. Also, I could not find any video of Seoul's match against Kashima Antlers in the round of 16. However, Seoul did much better in their group in 2011.
They actually won their group and other than a 2-0 home loss to Nagoya Grampus, there were no major bumps that year. Once again, Seoul played Kashima Antlers, but this time it was at home. They won the fixture 3-0 but as with 2009, they were knocked out in the quarter finals by Al-Ittihad.
The first leg was in Saudi and after going down
2-0
, Seoul grabbed a lifeline as Choi Tae-uk scored in the 83rd minute. Unfortunately, Seoul then conceded the third goal in the 92nd minute and would have to score at least twice at home on the return leg. Seoul did score a goal via
Molina
, but it was not until the 85th minute, which was far too late. Jeonbuk would go on to lose via penalties to Qatari Side Al-Sadd in the final.
(from wikipedia.org 2011 AFC Champions League Knock-out Stage)




(youtube.com)
2013
As with 2010, Seoul missed out on the tourney in 2012, but because they won the league that year they automatically qualified for 2013. Here is the table of the group and results of each game Seoul played in:
2013 AFC Champions League- Group Stage
Besides a road loss to Vegalta Sendai, Seoul had little difficulty in the group. They destroyed Jiangsu at home, 5-1 and on the road, 2-0. They drew against Buriram on the road and at home, but the home draw was one where Choi Yong-soo rested most of his first team since qualification was already guaranteed.
In the knockout stages, Seoul made it all the way to the final, so this has been the best year for them in this competition. The round of 16 became a two-leg fixture and after drawing their game
0-0
versus Beijing Guoan away, Seoul came back from a goal down to win the game
3-1
at home. The quarter-final against Al-Ahli lacked the goals, but not the drama. Dejan scored a vital away goal in Saudi Arabia and the game finished
1-1
. After a tense 90 minutes at World Cup Stadium, Dejan scored in the 90th minute and Seoul won that game
1-0
for an aggregate of 2-1. Having finally made it past the quarter-finals, Seoul faced Esteghlal. Having handled their business at home, winning
2-0
, Seoul traveled to Iran and managed to draw
2-2
with Ha Dae-sung scoring one of the
best goals
I have ever seen.
Unfortunately, Seoul lost the final to Guangzhou Evergrande on the away goals rule (
2-2
,
1-1
). There are many more important things to feel aggrieved about, but how the hell can you decide a champion based on a tie? On my deathbed, with tubes sticking out of me and my catheter full of piss, bile, or whatever else comes out of my body, I will still rant and rave about this result. How can a championship be decided via a draw?
Play some extra-time or have some penalty kicks. Just do not decide that it is over because another team scored on the road. It is an antiquated way to decide a game anyways since the rule was implemented during a time when air travel costs were higher, air routes not as many, and team budgets not as large. In this modern age and with Korea and China being so close together, there is really no reason why the game had to end in a draw.
(from wikipedia.org 2013 AFCChampions League Knockout Stage)
(youtube.com)
2014
Seoul got the fourth ACL spot since Pohang won the league and the FA Cup. Here is the table of the group and results of each game Seoul played in:
2014 AFC Champions League- Group Stage
| | |
| --- | --- |
| | |
| Central Coast Mariners (H) | |
| | |
| | |
| | |
| Central Coast Mariners (A) | |
| | |
For the third year running, they won their group. Unlike 2011 and 2013, this year was a bit more difficult. Seoul got off to a good start again, winning 2-0 against Central Coast Mariners. From there, they earned a point on the road in Beijing, but lost on the road to Sanfrecce Hiroshima. In the return leg against the Japanese side, I would say that Seoul were quite fortunate to get a draw since they were awarded a couple of dubious penalties. An own goal by John Hutchinson in the 92nd minute gifted Seoul with an important road win in Australia and Seoul won the last group game at home against Beijing.
In the knockout stages, Seoul shocked Kawasaki Frontale on the road with Yun Il-lok (1:27) scoring a brilliant goal in the
93rd minute
. In Seoul, Escudero scored in the 8th minute and Seoul then doggedly held on to lose
2-1
but win on the away goal rules that I railed against above. From there, Seoul and Pohang met up to play out some of the most
boring
football ever over 210 plus agonizingly long and eternal minutes (to be fair, I didn't watch either game, I am just basing these judgments on the season itself). After both legs finished 0-0, but Yun Sang-hun was the hero as he
saved three penalties
.
Finally, after getting by what in my opinion were two much tougher teams, Seoul was knocked out by the Western Sydney Wanderers. A recurring problem in 2014, Seoul
failed
to find the back of the net in either
fixture
and Western Sydney went on to become the ACL champions as they beat Al-Hilal by the scintillating score of 1-0 over two legs.
(from wikipedia.org 2014 AFC Champions League Knockout Stage)
(jsoccer.com)
2015
Somehow, by some miracle, Seoul were fortunate to qualify for the ACL as Pohang choked the year before. Unfortunately, because they claimed the fourth spot, Seoul would have to face Hanoi T&T in a play-off. However, they won that game 7-0.
2015 AFC Champions League- Group Stage
| | |
| --- | --- |
| | |
| | |
| | |
| Western Sydney Wanderers (A) | |
| Western Sydney Wanderers (H) | |
| | |
| | |
Just like 2009, Seoul struggled in this group and were quite fortuitous to finish in second place. For the first time since I have followed Seoul they lost their opening fixture, albeit on the road to powerhouse Guangzhou Evergrande. From there they beat Kashima Antlers at home but failed to win their next three games. Needing a victory on the road against Kashima Antlers, the improbable happened as Molina scored the winning goal in the final minute, with a poor touch but great luck, to help Seoul advanced to the knockout stage for fifth time in a row.
In the knockout stages, Seoul's luck failed to hold. They were absolutely
eviscerated
by Gamba Osaka with the
aggregate
score of 6-3 being much closer than the contest really was. This was the first year that Korean teams did poorly in the ACL with only Jeonbuk escaping the round of 16. However, they came up against Gamba Osaka next and were cruelly eliminated Yonekura goal in the 93rd minute. Guangzhou Evergrande went on to win their second ACL in a pulsating two-legged final by the aggregate score of 1-0.
(from wikipedia.org 2015 AFC Champions League Bracket)
(youtube.com)
Conclusion


So who is the best? Here is a table of the results. I based it on how far in the tournament the team advanced, position in the group, and goals for average.
Obviously, the 2013 team is the best. They got all the way to final and lost on a tie. They averaged slightly less than two goals a game and had quite a few memorable moments. The fact that Dejan and Kim Yong-dae were named to the starting eleven of the "
Dream Team
" and Ha Dae-sung and Kim Jin-kyu were included as members of the bench demonstrates how great this team was.
In my opinion, the 2011 team is better, but I put the 2014 team above them because they reached the semis. The team in 2014 were quite shit at times though. In the knockout stage, they failed to score in four of six games and if it was not for a Kim Chi-woo's left foot and a moment of brilliance from Yun Il-lok, they probably would not have advanced past the last 16 since Kawasaki Frontale were a much better team than Seoul. That being said, Seoul really should have beaten Western Sydney and went on to lift the cup.
The same could be said of the 2011 team as well. They did quite well in the group and easily beat Kashima Antlers. If it not for some madcap defending, then maybe they could have gotten past Al-Ittihad in the quarter finals. That loss sort of summarized the team however. They consistently underachieved that year.
In 2009, Seoul scored fourteen goals in their group, which seems like quite a bit. However, nine of those came against Sriwijaya, so I would say their GF is quite inflated. Take away the two games against Sriwijaya and they have a negative goal differential. Also, the fact that they blew a two goal lead to Umm-salal drops them lower on the list as well.
Finally, the team in 2015 is the worst one. They averaged less than a goal a game, were shut out in three of the six group games, and quite fortunate to have advanced to the round of 16. It was not the strength of the team so much but the weakness of the group that allowed them to face Gamba Osaka. In those two legs, they lost 6-3 but it probably should have been 26-3.
This years team has started the best in the competition. They have played three times and won all three games, scoring fourteen and conceding two. If they continue like this, it will be their best result in the group stage. In the knock-out stage, however it becomes a crap shoot. Maybe, if time permits, I might look at potential match-ups for Seoul next week after this round of games plays out. I will include links below of match preview for 2016, recaps, and video highlights.
Buriram United vs. FC Seoul Preview,
Recap
,
Highlights
Sanfrecce Hiroshima vs. FC Seoul Preview
,
Recap
,
Highlights
Shandong Luneng Preview vs. FC Seoul
,
Recap
,
Highlights
FC Seoul vs. Shandong Luneng Preview
TAGS
ACL
AFC
FC Seoul