AFC Preview: Buriram United vs. FC Seoul
(That collar is hideous- from FCSeoul.com)
On the 23rd of February FC Seoul will be off to holiday in Thailand. Unfortunately, it will be interrupted by a football match against Thai champions Buriram United. This fixture interests me for a couple of reasons.
(from www.zicasso.com)
High Hopes
First, in the last three years Seoul has won this game, with two of them being quite handily, which just served to raise expectations. In 2013 they beat Jiangsu Sainty 5-1. That game was Yun Il-lok's debut and he netted a brace. Ah, there were such high hopes and then Seoul spluttered out of the gate failing to win any of their first eight games.
The next year, they played Central Coast Mariners and won 2-0. Osmar scored a penalty on his debut and Yun Il-lok got a second. Once again, belief was raised and subsequently destroyed as Seoul won only twice in their first ten games (I think).
Last year, Seoul faced Ha Noi T&T and destroyed them 7-0. Granted, this was probably the easiest opposition that they faced in the last three years, but that was still quite a score line. Unlike 2013 and 2014, it was not a surprise that Seoul started slowly for the third year in a row, so therefore nothing was dashed and there was no disappointment.
Unlike the last three years, this year's start the ACL qualification is a bit more difficult. The three prior games were all at home, which obviously gave Seoul an advantage. This year they start on the road at the Osmar's former club and the current Thai Premier League champions, Buriram United.
(from www.applike.org)
Buriram United Crush it in Thailand
I really do not know much about Buriram United but when I did my Asian backpacking trip from March 2012 until May 2012, they were in the news. Back then, they had a player named
Frank Acheampong
who was their driving force. I guess he was good enough to parlay his time in Thailand into a move to the Belgian Pro League with Anderlect.
From what I remember reading in Thailand,
Buriram United
's success has only come recently.
They have a short history
They were founded in 1970 but,
and they did not reach the top until 2004-2005. Their first title was won in 2008. They won it again in 2011 and after finishing in 2nd in 2012, have been the reigning champion for the last three years.
They are the richest club in the Thai Premier League. Likewise, they are the most successful club as well, having claimed some prestigious scalps in the ACL. In 2012, they beat both Kashiwa Reysol and Guangzhou Evergrande, making them the first "Thai and South East Asian Club"to earn a victory against sides from Japan and China.
Buriram did even better in
2013
, making it to the quarter finals before losing to Iranian team Esteghal. That year they were in the same group as FC Seoul and Buriram finished in second place. In the first contest between these teams, it was a scintillating 0-0 draw. The second one was a bit better, ending at 2-2, with Seoul being unable to hold a lead after going up 1-0 and 2-1.
Unfortunately, the last two years were not as kind to Buriram as they failed to get out of the group stage both years. In 2014, they finished third in their group. Last year, they were level on points with the Gamba Osaka and Seongnam, but through some odd calculus they did not make into the knockout rounds.
Currently, only two players on Buriram United play for the Thai national football team. They are the captain, Theerathon Bunmathon, and Narubadin Weerawanodom and each is a defender. However, Koravit Namwiset and Adul Lahsoh have been called up over the last year as well.
Brazilian Diogo leads the line for them and with 33 goals last year, he was the leading scorer in the Thai Premier League. He also scored four goals in the AFC Champions League last year, netting against Seongnam on the road and recording a hat-trick against Guangzhou R&F. I am sure that Choi Yong-soo will instruct his men to mark Diogo tightly since he is Buriram's main threat.
Also, Buriram have recently signed Kaio and Andre Moritz. Kaio has plied his trade in the K-League with Jeonbuk and Suwon for the last two years, but was generally a disappointment for fans of the later team. Andre Moritz was a member of Pohang Steelers last year and rarely played. He had an unsuccessful loan spell with Mumbia City and was returned after a game,
having fallen out with player-manager Nicolas Anelka
. Granted, Anelka seems like a massive prick, so I could see why they did not get along.
Line-up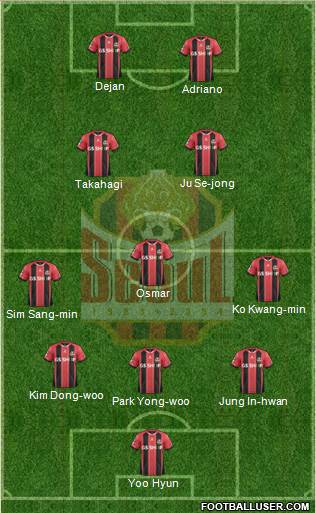 (Predicted Line-up: Kim Nam-chun might start in place of Jung In-hwan)
Prediction
Just like the last two matches that Buriram and FC Seoul contested in 2013, I expect that it will end in a draw. I think Choi Yong-soo will instruct his team, especially in the first half, to remain compact, keep their shape, and play on the counter. If it remains 0-0, he might tell his team to go for it in the second half.
For Choi, I am sure he sees it as essential that he gets at least a point on the road. With games against Japanese Champion Sanfreece Hiroshima and Chinese team Shandong Luneng, it is vital that Seoul get something from this contest. Unlike in years past, this is not an easy group and there are no give-me games. I think Seoul will struggle against the Sanfreece Hiroshima and I do not foresee them winning on the road in China. Therefore, I think this is Seoul's best chance to gain three points on the road.
However, I cannot see Choi breaking his pattern of caution when he plays away from Seoul, which means that this will probably play out in a stalemate. FC Seoul will most likely concede the first goal and from there, will have to fight back to tie the score. From there, it would not surprise me if the honors ended evenly.
Final Score: 1-1
TAGS
ACL
AFC
Classic
FC Seoul
Korean National Football Team