2016 Season Preview: Ulsan Hyundai - Getting back on the right track
Tim Lee here. I'll be covering Ulsan Hyundai this season for K League United, and I covered (not very well) the KFA Cup last season for this site. Although my true K League allegiances lie with Daejeon Citizen, I couldn't pass up the opportunity to write for this website that I've been keenly following. You can read more of my musings over at taegukwarriors.com or @korfan12 on Twitter.
Ulsan Hyundai aren't just any other mid-table side. They've hoisted the K League crown on two occasions in their team history, in 1996 and 2005, and memorably were crowned champions of the Asian Champions League in 2012, in a team that included budding star Lee Keun-ho and then-captain Kwak Tae-hwi. However, Ulsan's maddening inconsistency has seen them fail to cement any spot on the league table, or even be able to participate in two consecutive ACL campaigns. I'm not an Ulsan fan per se, but a true K League fan can't help but wonder what manager Yoon Jung-hwan will get out of this interesting mix of players and how high they climb in this season's table.
2015 Season
It was a tough 2015 for the K League's youngest manager
It was a pretty pathetic season for Ulsan, one that was without a doubt below expectations. Perhaps they were too unrealistic. Fans and observers were keen on tagging this team as one that would be rejuvenated from their dull 2014 campaign. A new manager who had worked wonders in Japan. A national-team caliber target forward to overpower opposing defences, complimented with promising fullbacks who were looked upon favorably by the new national team boss. I and many others jumped the gun. Ulsan were far from impressive. Kim Shin-wook fell sharply into a rut form-wise, unable to dig himself out of it under the end of the season (he ended up finishing top scorer, but that was mostly because he was beating up weaker teams in the Relegation Group). The long ball tactic simply didn't work, but Yoon Jung-hwan stuck with it (instead of turning to the more mobile Yang Dong-hyun). Djeparov got injured, so there goes any plan B. From round 18 to 31, Ulsan were on thin ice, skating just above the relegation zone. It was only after the split came into play that they found form against the bottom half to ultimately end the season on top of the bottom section of the split.
Ivan Kovacec is Ulsan's key player this season (Photo: KFA)
Key Player
Ivan Kovacec. It's hard to pick out one key player in particular for Ulsan this season, because quite simply two things need to happen for their success – a new playing style that isn't so reliant on 50/50s, and simply players need to step up. Yoon Jung-hwan picked up a gem of a player later on in the season, however, and that comes in the form of Ivan Kovacec. The robust Croatian forward was a shot in the arm to Ulsan in the back 19 of the season, picked up in the summer window. 6 ft 2 and hard to knock off of the ball, but able to run well with the ball at his feet, unafraid to take on defenders (he attempted 58 dribbles in half a season alone, with a league 2nd best success rate of 70%), possessing a dangerous shot and an eye for a pass, Kovacec had it all! He bagged 6 goals and 6 assists in 17 appearances for an out-of-form Ulsan squad. One could even argue he provided the boost needed to salvage Kim Shin-wook's otherwise awful season. This year, the number #44, who will likely resume his left midfield role, will need to be that dangerous influence to allow Yoon to pursue a game plan that isn't so reliant on hopeless target man football, and must form a good chemistry with Lee Jeong-hyeop in order to ensure Ulsan's place among the top teams in Korea this season.
Lee Jeonghyeop will hope to revive his KNT career at Ulsan (Photo: Reuters)
KNT Player to Watch
Well, there's only one, really – though hopefully Seo Myeong-won will have a KNT future, and Jeong Dong-ho's been looked at before – Lee Jeong-hyeop, the "Gunderella". In case you lived under a rock during the 2015 Asian Cup, here's a primer on this surprise influence. The 24 year old began his professional career at Busan I'Park in 2013. He opted to complete his military service earlier than most – just 22 years old – meaning he could play for military club Sangju Sangmu. But he failed to really make any name for himself and went through Korean youth ranks completely ignored. No one even noticed when he was called up for Uli Stielike's Jeju-do winter training camp in late 2014. Eyebrows were really raised when this totally unknown soldier was surprisingly included in South Korea's 2015 AFC Asian Cup squad. Lee made his mark at his first time of asking, however, scoring against Saudi Arabia in a pre-tournament friendly, deflecting the winner vs. Australia in the group stage and nodding in the first goal against Iraq in the semi-final.
Although he's since slipped off of the KNT scene (his last callup was in September, and he had to withdraw due to injury), success at Ulsan could see his international career revived, with his chances greatly increased because of his previous exploits. However, one does ask if Lee does have anything particularly special about himself – and the answer is difficult. He has excellent work rate, but that's about it. He's a still a rough product and this season will certainly be a trial by fire for him to nail down the elements of his game that are lacking – especially the ability to make effective runs, something that very few KNT strikers have been able to comprehend over the years.
Transfer Window
There's been a lot of activity from Ulsan. Kim Shin-wook and Yang Dong-hyun, the team's two strikers last season, have been sent on their way out of the Munsu Stadium. The Wookie was swept up by Jeonbuk's massive spending spree, while Yang was sent off to fellow east coast side Pohang. Everton Santos never clicked in the K League, so off he goes back to Brazil, while Server Djeparov is returning to native pastures in Tashkent. Cho Young-cheol's off to become a soldier for 18 months, and Kim Seung-gyu joined the goalkeeper exodus and hopped across the Sea of Japan/East Sea/take your pick to continue his career at Vissel Kobe. Finally, Rim Chang-woo took the money and has joined Al Wahda in Saudi Arabia.
The speedy Kim In-sung could be Ulsan's starting right midfielder
But Ulsan are far from doomed, as many of those players underperformed last season and the turnover seems quite positive. Kim Yong-dae, one of the K League's most established goalkeepers, will guard the sticks for Ulsan this season. The veteran keeper may be approaching his waning years but his 394 career starts adds plenty of experience to the side. The aforementioned Lee Jeong-hyeop comes in on loan from Busan, and Seo Jung-jin, who played up top for Suwon Bluewings after Jong De-se left last year, should get starts as well, also in on loan. Bernardo could be an interesting Brazilian number 10, and will likely take free kicks with his commanding right boot for the Tigers this season, while Lee Ki-je is a fullback option from the Newcastle Jets. However, I am most excited for Seo Myeong-won and Kim In-sung – I wouldn't have agreed to cover Ulsan for KLU had they not signed for the Horang-i. Kim In-sung boasts ridiculous pace and bursts of speed, and had a breakout year at Incheon United. If he can refine his game to make more of those runs, he should be a starter at right midfield. Seo Myeong-won has more work to do because pre-season friendlies indicate that the Super Rookie isn't as high in the pecking order. But if the 20 year old winger can replicate some of his 2014 form, he will offer a dose of creativity and agility off of the bench.
Expectations & Prediction
This season, I refuse, by experience, to set the bar too high for Ulsan. They are a good club, with good players, and a manager with a proven record. They've got a lot of turnover, and a team to build, but have done well, ensuring veteran presence but keeping a future by signing younger players. I don't think they'll click too early because of the new batch of players, but I feel comfortable giving them the 4th place pick and hopefully an ACL spot. Pohang have to juggle two competitions and Jeonnam have lost Lee Jongho, and I think ultimately Ulsan can rise above the fray (though honestly, predicting the mid table is hard this year, Seongnam, Incheon, Jeju, Jeonnam, Pohang, Ulsan – all factors!). However, if they end up finishing 5th or 6th, it's nothing to cry about – it's all about getting back on the right track this year after an abysmal 2015. Prediction – 4th.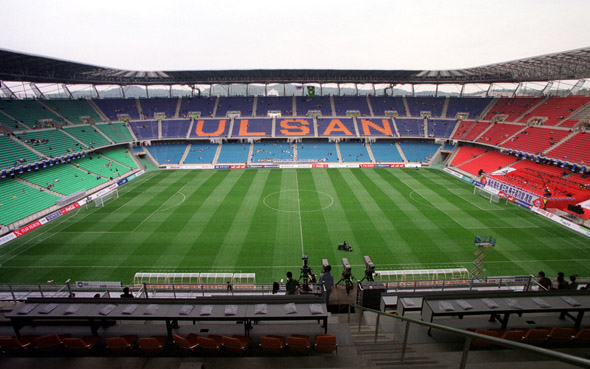 Ulsan Munsu World Cup Stadium, home of the Horang-i
TAGS
Classic
K League 1
K-League Classic
Ulsan