Seongnam FC vs. FC Seoul: Preview and Prediction
(from modernseoul.org)
Seoul travel to Tancheon Sports Complex on Wednesday to take on Seongnam FC. Both are in the top six, so obviously this is an important match for each team. Seoul currently sit in fourth place, two spots above Seongnam.
However, only two points separate the teams, so if Seongnam win, they leap frog Seoul into fifth at least. If Pohang and Jeonnam both lose as well, then Seongnam could be sitting at third place by the end of the night. That is quite an accomplishment for a team that nobody fancied to do anything this year and who were considered fortunate NOT to be relegated last year and achieve a place in the AFC Champion's League via the FA Cup trophy.
On the other hand, if Seoul wins, then that puts some more distance between themselves and the pretenders desiring to finish in the top six. Even more importantly, it allows them to stay in the race for the coveted third spot that allows automatic entry into the Asian Champion's League. Right now, Seoul is tied with Jeonnam, who are in third, on points. Unfortunately, Jeonnam's goal differential of +2 is better than Seoul's +1.
In other words, this is another massive game for Seoul. Drawing at home on Sunday after last Wednesday's result was a case of two points loss rather than one point gained. It allowed Seoul to jump over Pohang in the standings, but it was a game that they really should have won. Instead, they are in fourth place, one point ahead of Pohang and two ahead of Seongnam.
With Pohang visiting on Saturday, a win in both games would accomplish two things. First, it would give Seoul a strong foothold in the race for third and second, it would send a message to the league that Seoul is still one of the top teams. Right now, in my opinion, they are living on their reputation rather than results.
(from kleague.com)
2015 Season- Seongnam FC
Seongnam, once a traditional K-League powerhouse, has not been in contention for a Champion's League spot since 2010. That year, when the league still had a play-off to decide who was the champion, they finished in fifth place, but they were knocked out in the second round by Jeonbuk. However, they were the AFC Champion's League winners, beating Zob Ahan 3-1 in the final.
Since then, times have been hard for Seongnam in the league. Here are the results for the last four years:
Year
League Finish
2011 10th place (out of 16 teams)
2012 12th place (out of 16 teams)
2013 8th place (out of 14 teams)
2014 9th place (out of 12 teams- but only four points away from Gyeongnam, who were relegated)
Still, Seongnam has gotten some love via the FA Cup. In 2011,
because they beat Suwon in the FA Cup Final 1-0 off a Cho Dong-geon goal, Seongnam qualified for the fourth AFC CL spot. In 2014, Seongnam was able to claim a PK shootout win against Seoul, thereby claiming the fourth AFC CL spot again.
However, this season, Seongnam might not have to depend on the FA Cup to get back into the AFC Champion's League. Currently, they sit in 6th place, but they are only two points away from third. How have they done it?
In my opinion, they did it by being as mediocre consistent as the three teams ahead of them. Here is the table:
# Team MP W D L Points F A
3 Jeonnam 20 8 7 5 31 26 24
4 Seoul 20
8 7 5 31 22 21
5 Pohang 20
8 6 6 30 25 21
6 Seongnam 20
7 8 5 30 24 22
As you can see, there is not much separating those four teams. They are pretty even on wins, draws, losses, goals scored, and goals allowed. What unites these teams is their consistent lack-of-consistency. They win, they lose, they draw and the cycle goes on.
Seongnam, in their last ten games, has won five, drawn two, and lost three. In fact, they have a three game winning streak, but it is against the three worst teams in the league. They beat Busan and Ulsan on the road and disposed of Daejeon at home.
What jumps out at me though is the period from April 15th until May 10th. In that period, they drew five straight games. Looking at the table, they have eight draws this year. I think one can say that Seongnam, while they do not win, are tough to beat.
Looking at their home record, I feel this holds true. They have won four at home, drawn four, and lost two. They average a goal at home, but give up less than a goal. In other words, Seoul, who also do not win but are tough to beat, will struggle again to score goals.
(from kleague.com)
Seoul vs. Gwangju- Recap
I am not sure what else I can say about Seoul at this point. They started horribly, rebounded for a bit, tapered off, and are now I am not sure if they are getting better or worse. Seoul has occasional moments of greatness, but far too often those are book-ended by periods ennui and mediocrity. Their substandard offense, whereby what passes for attacking play is sideways passing for a bit followed up by kicking it back to a defender or goalie, is covered up by their defense.
However, this defense is not nearly as stout as last year. Defenders make far too many mistakes and are often beaten by pace and/or balls over the top. Instead, they are let off by the opposition attackers' inability to convert chances into goals. Therefore, because I sound like a broken record, I am just going to recap their last game. Here is the video.
Choi Yong-soo went with the same formation that he utilized in the Jeju game, 4-3-3. The same players started, except that Kim Chi Woo was back in the side for Shim Sang-min and Go Yo- han started instead of Lee Sang-hyeob. Gwangju, according to www.kleague.com, set out in a 4-2-3-1 formation.
Seoul started well, going at the Gwangju defense. Everton had two good shots on goal, but they were from acute angles, and did not trouble the keeper. However, disaster struck in the 25th minute as Gwangju scored against the run-of-play.
Molina was stripped in midfield by Song Seung-min and Gwangju broke towards Seoul's goal. Seoul had the numbers to defend though, so there was no reason for Kim Dong-woo to foul Joo Hyeon-woo when he was put through into the box by Song Seung-min's ball. In my opinion, it was not a foul and I thought that Joo dove, but Kim should know that you can put your hand on the player's shoulder, so I can see why the ref whistled for a penalty. Lee Jong-min disposed of the PK coolly and Gwangju was up 1-0.
Seoul countered with a wonderful goal six minutes later. From a set piece, Gwangju did well to clear, but the ball fell to Go Yo-han, who put a dangerous, looping ball back into the box. Kim Dong-woo went to score, but the keeper beat him to the ball and punched it away. Yun Il-lok, who finally scored his first goal for Seoul this year, had the presence of mind to head it back towards the goal and it caught the keeper off his line. It is about goddamn time that he scored. Still, it was a great goal and it is nice to see Yun rounding into a bit of form finally.
Neither team scored again. Gwangju had a chance at the end of the first half, but couldn't capitalize. From there, they were happy to sit back, soak up pressure, and play for the draw and that is what they did in the second hand.
Seoul pushed for the win in the second half, but were unlucky. Yun Il-lok was brilliant in the second half. Park Chu-young probably still wonders how he did not score on Sunday after his wonderful through ball. The only critique I would have of him is that he should have scored in the 38th minute in the second half. Besides that, I can see why he was the man of the match according to the K-League website.
Seoul was decent and unlucky not to come away with all three points, so maybe there is an element of karma involved in this draw. Seoul, earlier this year, snatched quite a few points while playing poorly. Maybe this is their luck evening out.
On a positive note, depending on how you feel about the man, Choi Yong-soo is staying on as Seoul's coach. Say what you want about him, but he did write the ship in 2011 after a disastrous start and reached a Champion's League final. Also, one must appreciate his loyalty to the club, something that is far too infrequent these days.
(from FCSeoul.com)
Head-to-Head Match-ups
(http://www.soccerpunter.com/soccer-statistics/Korea-Republic/K-League-Cup-2011/head_to_head_statistics/all/1381_FC_Seoul/1379_Seongnam_FC)
Team
Win
Draw
Loss
Goals Scored
Goals Against
Seoul 12 10 11 1.27 1.03
Seongnam 11 10 12 1.03 1.27
06/14/2012 Seoul 1-0 Seongnam
08/11/2012 Seongnam 2-3 Seoul
04/27/2013 Seongnam 2-1 Seoul
07/07/2013 Seoul 3-0 Seongnam
03/15/2014 Seongnam 0-0 Seoul
05/08/2014 Seoul 1-0 Seongnam
09/10/2014 Seongnam 1-2 Seoul
05/02/2015 Seoul 1-1 Seongnam
It is hard to believe, but at one time Seongnam were the most successful club in the K-League. They have won the title seven times, which is a record, and were quite dominant in the early 2000s. However, they have fallen on hard times and have not won the league since 2006.
Since 2012, these teams have played eight times in the league. Seoul has dominated this match-up, winning five times, drawing twice, and only losing once. However, Seongnam made Seoul work for each of their results last year.
The first game finished scoreless, the second game was won in the 85th minute by a Park Hee-seong scissors kick goal, and the third game was won in stoppage time by a Koh Myong-jin goal. I expect the same for Seoul on the road tonight.
(from www.climbing.com)
Last Match
I described the contest as being limp and flaccid, like a 90 year old man's penis and it was. The game finished one-all, but Seoul was lucky to get a point. They were played off the pitch by Seongnam. Outside of an early goal from Kim Hyun-sung, Seoul offered nothing going forward and were a disaster in the back.
Defensively, Seoul was in shambles. Cha Du-ri allowed the ball to bounce for Nam Jun-jae to tie the game. Lee Woong-hee was terrible with his passing and looked to be trying to give Seongnam the ball back every single time. That could have been because he was playing with Kim Nam-chun and felt unsure of his partner's skill level.
Keeper Yoon Sang-hun failed to inspire confidence as well. His distribution, especially his kicking, was horrendous. One time, Seoul shifted all of their players to the left, but he sent it to the center and gave the ball back. Was that planned? I don't know, but it was a nothing short of a disaster.
In sum, I expected Seoul to win, but Seoul was lucky not to lose. In the second half, they were picked up apart by Kim
Do-heon, but could not find a way to score.
The less I say about the last match the better since it still makes me apoplectic to think about how shitty Seoul played that day.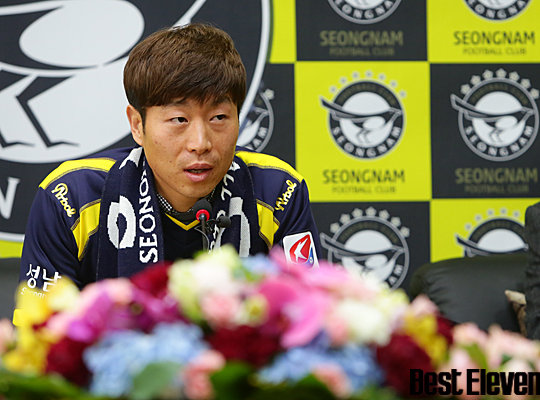 (from www.forums.bigsoccer.com)
Players to Watch
First, I would have to list Kim Do-heon. Known as the Asian Paul Scholes, he is their best player. He has six goals and five assists and he he has the ability to pick apart defenses. I feel this is the player that Seoul should have tried to sign before the season started.
Next, Hwang Eui-jo is their leading scorer with seven goals. His form has been quite good as of late. He has scored five of his seven in the last month and he gave Lee Woong-hee fits with his speed last time. I expect that Seongnam's manager Kim Hak-beom will instruct their players to attack Lee Woong-hee and to try and play Hwang through so that he can use his speed.
Finally, Nam Jun-jae is someone they should watch out for if he starts. He scored last time and dominated in his match up against Cha Du-ri. Again, if Ko Kwang-min starts, I expect that Seongnam will attempt to replicate what Suwon did two weeks ago and attack Seoul's right side since Ko Kwang-min is not a natural defender and Lee Woong-hee lacks pace.
Line-up
I have no idea what to expect, but the manager seems to be a creature of habit. He went with a 4-3-3 the last two times out and it seems to be working better offensively, so I expect that he will do the same this time. However, it would not surprise me if they go 3-5-2 since it is a road game.
As far as personnel, I think it will be similar to the last two weeks. Maybe Molina will get a rest since he has played 90 minutes last Wednesday and on Sunday, but then again, maybe not. I expect to see Yun Il-lok start again since his form has been pretty good as of late and Everton will play on the right side, but be subbed off sometime before 60 minutes.
Prediction
If I was a professional gambler, I would have no thumbs at this point. I am terrible at making predictions and very rarely, do I get the score, let alone the result, correct. That being said, I think this will be a tight, tense affair with Seoul scoring a goal at the end. Part of me wants to predict a loss or tie since every time I do, Seoul wins, but that would be superstitious so I will not.
Final score: Seongnam 1-2 Seoul (somehow, they get a late goal in the 85th minute to win)
TAGS
Classic
FC Seoul
K League 1