FC Seoul vs. Pohang Steelers: A Preview, Quick Recap, and Prediction
(m.spokesman.com)
Pohang comes to World Cup Stadium on Saturday to take on FC Seoul. As I have written 172 times before, this is quite an important contest for both teams. While Pohang sits in 6th place, they are only two points behind Seoul, who are in third place. Therefore, if they get a result against Seoul and Jeonnam and Incheon both lose, they could be in third by the end of the weekend.
On the other hand, if Seoul wins, then this will put some distance between the two rivals. Five points is not a lot, but that is a good lead over a rival right now. As I have said before, no one can seem to separate themselves from the pack and the only consistent thing about Seoul, Jeonnam, Incheon, Pohang, Seongnam, and Jeju is their inconsistency. They win, they lose, they draw, repeat. When they are expected to win, they lose and vice versa.
So, Wednesday's results were quite good for Seoul. Pohang lost at home to Jeju, Jeonnam lost on the road to Suwon, and Seoul got a point against Seongnam on the road. That being, Seoul's result, while good enough to catapult them into third a point above Jeonnam, was still disappointing.
Seoul vs. Seongnam- Recap
Seoul is absolutely maddening. How can they play so well against Jeju last week but be such shit against Seongnam Wednesday. Why are they so terrible on the road anyways?
Also, what cascades through Choi Yong-soo's mind? Why didn't Yun Ju-tae start next to Kim Hyun-sung rather than Yun Il-lok? Yun Il-lok, in my opinion, plays better as a winger in a 4-3-3 rather than as the second forward in a 3-5-2, yet he was the second forward in the game and was not as nearly as good. Also, why wasn't Yun Ju-tae on the bench at all? This would have been a good game to give him a start.
Anways, Choi decided to forego the 4-3-3 he had played in the last two games and instead, set out in a 3-5-2. Park Chu-young, Everton, Molina, Kim Chi-woo, Ko Kwang-min, and Kim Dong-woo were rotated out and in their places were Kim Hyun-sung, Koh Myong-jin, Park Yong-woo, Shim Sang-min, Cha Du-ri, and Kim Nam-chun. It was understandable why Choi switched his system and rotated his players. Of course, Seoul wanted to play it safe away and shore up their defense, hence the formation switch. Likewise, this was their fourth game in two weeks, so I also understand why he switched out so many players.
However, Seoul was absolute dross in the first half. They offered nothing going forward and let Seongnam take the game to them. Seoul only had 2 chances on goal whereas Seongnam had
75
many more.
The second half was slightly better. Seoul came out with a bit more energy and they finally scored when, after a pandemonium in the box, Park Chu-young was able to pounce on the ball and put it into the back of the net. He beat the goal keeper and hit it with the outside of his boot and the ball looped over a player. It was a good goal for him.
I am not sure if it is good or scary, but Seoul cannot seem to function without Park Chu-young on the pitch at this point. He is their best striker and it seems as though the team plays with more confidence when he is on the pitch. Of course, what I just said is probably bullshit. I doubt the team perks up when they realize that Park is about to make his entrance. There are probably other factors.
One thing I am not happy about, but I did call it, was Seongnam's goal. In the first half, Lee Woong-hee was almost beaten by Nam Jun-jae, but was let off the hook. This time Hwang Eui-jo made no mistakes and duly punished Seoul.
In the 82nd minute, a great ball over the top beat Lee Woong-hee and his partner Park Yong-woo and Hwang hammered his finish into the top corner. It was shitty defense, but a great goal. He is now second in the league with eight goals.
He is only 22, so I am sure that he will be leaving for some more glamorous and wealthy location, which is too bad for Seongnam and the K-League.
(en.wikipedia.org)
Pohang- 2015 Season
Pohang's season mirrors Seoul's quite a bit. They have not really found any form. Their only winning streak has been two games in April and two in June. Besides that it has been loss, draw, win, loss, draw, win. The pattern might vary a bit, but not by too much.
Pohang's recent form has been terrible. They have not won in three games and have lost their last two, both at home, to Suwon and Jeju. Bad luck is obviously a factor, but for a team expected to challenge for the K-League Championship, this is unacceptable.
Therefore, I would say that their season has been rather frustrating so far. Since winning the K-League on the final kick of the game against Ulsan in 2013, Pohang has experienced nothing but misfortune. They were knocked out of both the FA Cup and the AFC Champion's League by FC Seoul last year. Even worse, they lost the fourth spot to Seoul as a monumental collapse of biblical proportions allowed Seoul to claim that spot and for Choi to probably save his job.
That is why, form not withstanding, I think Pohang will be up for this contest. One should never discount revenge as being a great motivating factor when teams play one another. Likewise, this game will probably go a long ways towards defining their season and whether or not they are contenders or pretenders.
Head-to-Head Match-ups
(http://www.soccerpunter.com/soccer-statistics/Korea-Republic/K-League-Cup-2011/head_to_head_statistics/all/1381_FC_Seoul/1379_Pohang Steelers)
Team
Win
Draw
Loss
Goals Scored
Goals Against
Seoul 19 10 12 1.73 1.44
Pohang 12 10 19 1.44 1.73
05/05/2012 Seoul 2-1 Pohang
06/17/2012 Pohang 1-0 Seoul
09/22/2012 Seoul 3-2 Pohang
11/29/2012 Pohang 5-0 Seoul
03/02/2013 Seoul 2-2 Pohang
07/03/2013 Pohang 1-0 Seoul
09/11/2013 Seoul 2-0 Pohang
11/27/2013 Pohang 3-1 Seoul
04/20/2014 Seoul 0-1 Pohang
07/09/2014 Pohang 0-0 Seoul
09/07/2014 Pohang 0-1 Seoul
11/26/2014 Seoul 0-0 Pohang
03/22/2015 Pohang 2-1 Seoul
Looking at the statistics, it is suprising to see that Seoul has done as well against Pohang as they have. I feel like Pohang beats Seoul just as often as Seoul beat them, so the disparity in wins and losses cannot be true. However, I am going to go with what the website said anyways.
Looking at all of their games in the league since 2012, Pohang has gotten the better of this match-up recently. Seoul has only won four times compared to Pohang's six and has been outscored 18 to 12. However, one of those games Pohang won 5-0, which was when Seoul had wrapped up the title and played a young team that day. Throw out that game and the scoreline is a more respectable 13 for Pohang in 12 games and 12 for Seoul in 12 games.
I think if one wants an indication of how tomorrow's game will go, it is instructive to look at the 2014 results. The two teams played four times in the league and a total of two goals were scored. The FA Cup finished two all but no goals were scored in a 180 minutes in the two AFC legs. That is six goals in seven games, but four of them finished 0-0. I wouldn't be surprised if that is tomorrow's scoreline as well.
(www.steelers.co.kr)
Last Match
Last time these two teams met, Seoul was off to its customary shit start, having lost their first two games. Confidence was quite low and the team did not play very well that game. I actually traveled to watch the game, but drank a bit too much soju, so my memory is somewhat clouded.
I remember not being surprised when Kim Seung-dae scored Pohang's first goal. They had been threatening all half. I remember feeling dispirited when Kim Seung-dae got a second. I remember Yun Ju-tae's goal though, which was quite good. The link up between Molina and him was brilliant. Outside of that, it was a long bus ride back to Seoul.
Watching the replay of the goal, Kim Seung-dae made a great run into space, but it was the ball over the top of the defense that beat them. I don't know who was marking him, Kim Dong-woo maybe, but that player should have done a better job. I am quite sure that Pohang will try and utilize this tactic again in Saturday's meet up.
The first goal can be put down to a good run and a great pass, but the second one cannot. The epitome of egregiousness, it demonstrates everything that is wrong with Seoul's midfield. Lee Sang-hyeob tries to play the ball out of midfield and lazily passes to Koh Myong-jin. The ball is intercepted and Kim Seung-dae was put through for an easy goal.
Both goals typified Seoul's season at that point. They were the result of mental mistakes on offense and switching off on defense. After that, Pohang went into a shell and just decided to defend their lead.
(www.kleague.com)
Players to Watch
The first is Kim Seung-dae of course. He was brilliant against Seoul last time out and the defense did a poor job of tracking his runs. He has four goals and an assist, but he hasn't scored since the end of May. Still, the memories of being torched in March must remain with Kim Dong-woo.
Next is Son Joon-ho. The midfielder has played the most out of all the outfield players on their team this year. As their leading scorer with seven, he has a quarter of the team's goals. Lastly, he has chipped in with four assists as well.
Looking at that the statistics, I would say their midfield is where their strength lies. Seoul's defense is going to have to do a better job against Pohang than they did last time out.
Line-up
Last game, Seoul set out in a 3-5-2. The two games before, in a 4-3-3. I think this time, Seoul will go back to a 4-3-3. Choi usually goes with what works and the 3-5-2 did not in Seongnam. I think he will rotate again and go with creativity. That is why I think Molina and Park Chu-young will start again.
Cha Du-ri made his first start in what seemed to be ages, but I think Ko Kwang-min will play Saturday instead. It would not surprise me if Choi chooses to start Everton as well, which means someone in midfield will have to sit.
(
Note: I just saw that Park Chu-young has a knee injury and will not play (H/T Nicole Chung via Twitter). In that case, I think it will be Kim Hyun-sung who starts again. If so, then Choi will probably play with three in the backs.
That being said, I am not going to change my formation though because who knows, maybe Park will recover miraculously before then. Also, I am lazy and I really do hope that Choi will stick with a 4-3-3 since I hate 3-5-2.
)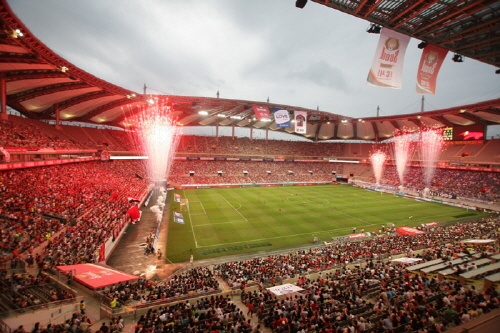 www.asiae.com
Prediction
I think this is going to be a scrappy game with a lot of fouling. Neither team can afford to lose, so I think both coaches will play it safe. They will instruct their players to defend in numbers, focus on having the team remain compact and keeping their shape and finally, nicking a goal on the counter.
Pohang is a good road team. They have won four, drawn four, and lost two. If they traveled every weekend, they would probably be the league leaders.
Seoul usually does well at home, results wise. They have won, drawn five, and lost once. However, Seoul has not won at home in over a month and has only scored twice in their last five games at home.
Therefore, based on the stats and how Seoul has played at World Cup Stadium this last month, I am not filled with confidence. They have had trouble creating chances and scoring. This is why I think Pohang will steal the game at the end like they did last year when Kim Seung-dae scored in the 77th minute.
Final score: Seoul 0-1 Pohang
TAGS
Classic
FC Seoul
K League 1