Jeju United FC vs. FC Seoul: Preview and Prediction
english.jeju.go.kr
FC Seoul fly down to Korea's Hawaii to take on Jeju United. This the cliched six pointer for both teams since Seoul sit at 5th, two points above Jeju, who are in sixth. Based on past history, Seoul should get a result, but this year they have been terrible traveling, so I am not optimistic.
Seoul vs. Jeju United- 2015

(http://fcstats.com/club,statistics,jeju-united,1599.php)/
(
http://uk.soccerway.com/teams/korea-republic/fc-seoul/1381/)

Looking at the statistics, these two teams are polar opposites. Seoul cannot score goals while Jeju United leak them. This year Seoul has only scored 17 goals in 19 games while Jeju United has scored 27 goals in 19 games. Conversely, Seoul has one of the best defenses in the league, conceding 18 goals compared to Jeju's defense, which is tied with Busan and Jeonnam at 23 goals. This tally is only bettered by one team, Daejeon, who has allowed 31 goals already.
However, both teams share a commonality in that they play well at home, yet neither travels very well.
In the eight games that Jeju United has played at home, they have won six, drawn one, and lost one. They have scored twenty goals at home, but have given up eleven.
It is on the road is where Jeju has been terrible. They have only won once, last week at Busan 3-1, drawn three, and lost six. Unlike at home, Jeju struggle to score on the road having only netted seven goals while conceding twelve.
In the nine games that FC Seoul has played on the road, they have won three, drawn two, and lost four. They have scored eleven but allowed fifteen. At home, Seoul has been much better winning four, drawing five, and losing only once. They have only scored eight, but have been quite stingy, just letting in three.
What is most important, in my opinion, how they have played in their last three games. Jeju has scored eight and but given up seven, while Seoul has allowed two goals but has not scored in over 270 minutes since their dramatic win in Daejeon mid-June. I would say that form favors Jeju slightly.
(www.fcseoul.com)
Head-to-Head Match-ups
(http://www.soccerpunter.com/soccer-statistics/Korea-Republic/K-League-Cup-2011/head_to_head_statistics/all/1381_FC_Seoul/1382_Jeju United FC)

Team
Win
Draw
Loss
Goals Scored
Goals Against
Seoul 19 9 1 1.79 0.83
Jeju 1 9 19 0.83 1.79
04/21/2012 Seoul 1-1 Jeju
07/28/2012 Jeju 3-3 Seoul
10/21/2012 Jeju 1-2 Seoul
11/21/2012 Seoul 1-0 Jeju
05/26/2013 Jeju 4-4 Seoul
07/31/2013 Seoul 1-0 Jeju
03/26/2014 Seoul 2-0 Jeju
07/19/2014 Jeju 1-1 Seoul
08/31/2014 Seoul 0-0 Jeju
11/30/2014 Jeju 1-2 Seoul
04/04/2015 Seoul 1-0 Jeju
I guess one could say that this match up has been a bit lopsided for Seoul as the results have pretty much gone their way over the years.
Last Match
When Jeju played Seoul last time on April 4th, Seoul had been quite terrible. They had lost there first three games and really needed a win. Jeju, on the other hand, had thumped Daejeon the week before 5-0.
Seoul were dreadful that first half and it was through good fortune that Jeju did not score. I really thought Ricardo Lopes would get on the scoresheet. Kim Hyung-sung started for Seoul that day, but was subbed off at half-time as Park Chu-young made his debut.
Seoul was much better in the second half, dominating the visitors but unable to breach the defense until the 89th minute. It was off of a free kick. Molina lofted the ball into the box, it hit a Jeju player on the back of the head, hit the post, and Everton nipped into knock the rebound into the back of the net before the goalie could smother the ball. Seoul won 1-0, a common theme these last two years.
Player to Watch
With Kang Soo-il suspended for 15 games because of aggressive mustache cream, Brazillian Ricardo Lopes is most likely the biggest threat. He has scored three of his five goals this month and one of his strikes against Suwon two weeks ago was spectacular. It demonstrated everything that Seoul are missing in the striking department right now. Go to the 4:10 mark to see it.
Also, Yoon Bit-garam is another player that Seoul must watch out for. Tipped for greatness in 2010, winning K-League Rookie of the Year and being included in the best 11, Yoon's star was shining brightly. However, from what I have read, because of his attitude he never did make the leap.
Here is an interesting article about him (
http://www.taegukwarriors.com/the-fallen-stars-yoon-bitgaram/) that I found in a Google search.
Still, he has talent and he has been chosen for the K-League All-Star team this year. His stats are alright, three goals and two assists to his name, but players that can pass and have vision are always able to open up Seoul's back line with a ball over the top at least once. I expect that this will happen at least once tonight.
One player Seoul should target is Jeju's goalkeeper, Kim Ho-jun. A former FC Seoul player, he has been known to make the odd error or two and he might be due one again. I think Choi Soo-yong's desperation to become Asia's Tony Pulis might work to his advantage. He should have his team focus on winning set pieces and pumping balls into the box. For once, this strategy might work.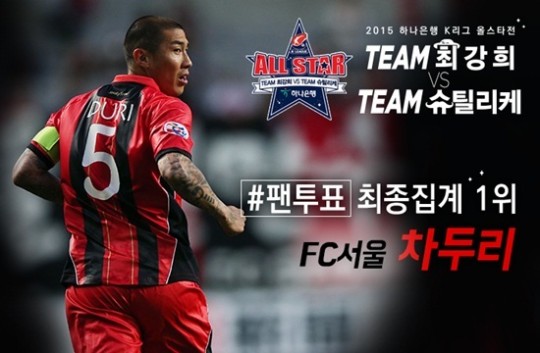 http://news.naver.com/sports/index.nhn?category=soccer&ctg=news&mod=read&oid=311&aid=0000489416&redirect=true
Line-up
Choi Soo-yong is a creature of habit, so I can't expect that there will be that many changes in the line-up. From what I have seen on the K-League United Twitter feed (H/T Nicole Chung
@
0Nicole0_
)
, Jung Jo-gook has been suspended for three games due to elbowing a Suwon player last Saturday.
Kim Yong-dae started the Super Match and I did not see Yoon Sang-hun anywhere. Instead, it was Yang Han-bin who was warming up with the subs. I am not sure if Yoon Sang-hun is injured or was caught smoking in the locker room, so if anyone knows, please shoot me a message.
However, I did see Cha Du-ri warming up with the subs. I think that he will be back in the line-up tonight for Ko Kwang-min.
Prediction
Normally, as a rule, I try not to predict that Seoul will lose, but I can't imagine them getting a victory tonight. Even though Seoul has past history on their side, their form has been woeful. They have not scored in their last three games and in the Super Match, I never thought they were going to.
I think Jeju gets their second ever victory tonight as the long trip and the let down from Saturday will be too much.
Final Score: FC Seoul 1-2 Jeju United FC
TAGS
Classic
FC Seoul
K League 1