Seoul 0-0 Suwon: A Super Match Recap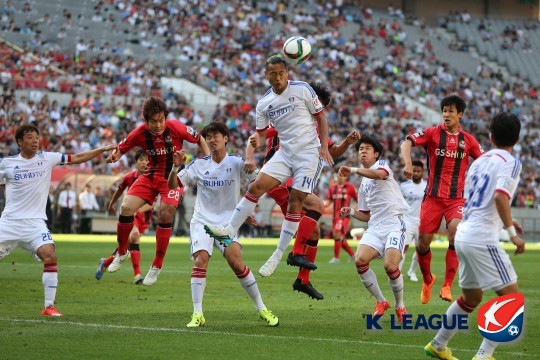 www.asiae.co.kr
Saturday was a great day. The weather was really nice and quite a few fans turned out for the Super Match. I would say that got around 40 thousand, maybe more. It was a good crowd and I really enjoyed myself.
However, the same could not really be said of the game itself. Some would choose to describe it as cagey, but I think most would say it was boring. I enjoyed it,but any non-Seoul fan would have changed the channel or went for more beer, especially in the first half. I imagine that Choi Soo-yong's game day brief was this:
For the first seventy minutes, keep your shape and try not to venture beyond the halfway line. Let's play for set pieces and bore the shit out of the opposition. Once seventy minutes hits, bring on Molina and go for a goal.
That is precisely how the game went. Neither team did anything of note in the first half. Seoul had most of the possession as Suwon seemed quite happy to sit back and let Seoul come at them The person I was sitting next to remarked that it seemed as though Suwon had finished playing a game earlier in the day. The tactic Suwon employed was to attack Seoul's right side and go at the wing-back Ko Kwang-min and the center back Lee Woong-hee. Seoul dealt with this quite well, allowing nothing of note except for a Jong Tae-se shot straight at Kim Yong-dae.
Unfortunately, Seoul could offer nothing going forward with the ball. Ko Kwang-min, was put through in to space several times, but he did not have the speed to get down the line and cross, so he would send the ball backwards. When he did get down the line, his crosses were quite poor.
Seoul was probably most dangerous on set pieces and Kim Chi Woo put a nice cross into the box in the 40th minute that no one could meet. The first half however, was pretty uneventful. What stuck out for me was Lee Woong-hee's willingness to carry the ball with his feet and get forward on occasion. I am pretty sure he was given the hair dryer treatment at halftime by Choi because he stopped doing that in the second half.
The second half was much better. In the ninth minute Kim Chi Woo played a fantastic ball over the top for Jung Jo-gook to run onto, but his volley missed badly. In fairness, it was a tough angle to score from. In the 18th minute, Park Chu-young did well to turn his defender, but his left foot shot was straight at Jung Sung-ryong.
Suwon was a completely different team. Seo Jung-won must have realized that his attacking quartet of Yeom Ki-hun, Santos, Lee Sang-ho, and Jong Tae-se was better than anything Seoul could offer and that this is a game they could definitely win. For much of the second half they had the better chances.
Santos and Jong Tae-se combined well in the 14th minute, but Santos shot was well over the bar. Yeom Ki-hun must still wonder how he didn't put his header on target in the 21st minute. It was only Kim Yong-dae's quick reactions to punch away Shin Se-gye's wonderful volley off of a corner clearance in the 23rd minute that prevented the Suwon player from having the goal of the season.
In the 31st minute, I thought that Suwon had finally scored. It was off of a free kick. They played it short to Kwon Chang-hoon and his low, left foot strike grazed the bar and the bottom of the net. After that, Seoul began to play better. Molina and Park Chu-young had good chances from outside the box, but that fact that the Seoul keeper, again, was man of the match says it all.
Seoul will not win the title this year. They cannot seem to scores goals this year. This is the third league game that they have failed to find the back of the net. Choi has to find a way to fix the offense and soon, or the fans are going to turn on him again.
It's one thing to play dull football if you getting results and doing well. Then people will be patient and laud you for your pragmatism. However, no one wants to watch a team that is as boring as hell, especially if they aren't winning. Seoul, for a long time, played great, attacking football. Dejan and Ha Dae-sun have left, but Koh Myong-jin, Go Yo-han, and Yun Il-lok remain from those days. Why the offense has deserted them is beyond me.
TAGS
Classic
FC Seoul
K League 1