Busan IPark vs. FC Seoul Preview and Prediction
This weekend FC Seoul travel down south to take on Busan IPark. This has always been a difficult fixture for them I do not see this changing at all this weekend. First, let's have a look at the head to head stats courtesy of Fussball Datenbank (http://fussball.wettpoint.com/en/h2h/200367-201602.html).
| | | |
| --- | --- | --- |
| | | |
| | | |
| | | |
| | | |
| | | |
Molina's scorpion kick- probably one of the best goals I have ever seen in person.
Seoul have a sizable advantage in wins, but in the last two seasons each has won twice, lost twice, and drawn once in the league. In the FA Cup, Busan beat Seoul 3-2 in 2013, but Seoul won 2-1 over two legs in extra time in Busan in 2014. Therefore, the table seems to be deceiving with regards to predicting this game's result.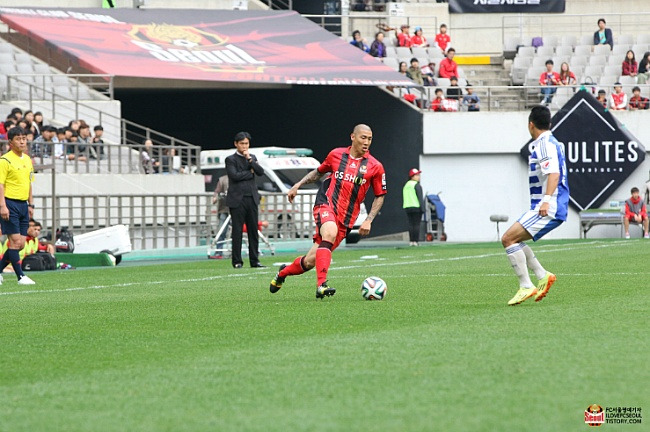 A nadir in 2014- Seoul lost 1-0 at home with Osmar and Kim Jin Gyu missing penalties.
Next, let's look at the form for their season. In the table, Seoul sits 10th and Busan sits 11th, so again this is a massive game for both teams. Each needs three points to arrest their current slides down the table. Seoul have started the season better than Busan, but Busan have played better of late.
Busan had lost five games in a row, but they seem to have had a turn in form. They got a draw against the third place team, Ulsan, at Munsu Stadium and defeated Pohang on Tuesday at the Steel Yard. That is two massive results for a team sitting at the wrong end of the table.
Seoul, on the other hand, has drawn one a piece with both Gwangju and Seongnam. Even more alarmingly, they were outplayed by both teams. With the exception of Tuesday's AFC win, this season has been one of dog shit with each fixture becoming worse than the prior.
There is always the beach and nightlife to look forward to.
In the last two weeks I have said that it was important for Seoul to win these games to climb the table. I have predicted success in both games only to find disappointment. Therefore, I cannot in good faith predict that Seoul will win this weekend. I think having traveled to Japan and back and with the scintillating win against Kashima, the players will be physically and emotionally drained. If Seoul is lucky, they will come away with a draw. However, I think Choi forgets to stick the horseshoe up his ass this weekend.
Prediction: Busan wins 2-0.
TAGS
Classic
FC Seoul
K League 1