2018 Season Preview: Ansan Greeners FC
Ansan 3.0 gear up for their second season in the K2. After a 9th placed finish last season, this year will tell if the project has the credentials to be a true K league competitor.
2017 Season
9th W 7 D 12 L 17
The newest franchise to occupy the Wa Stadium, Ansan Greeners settled well into Korea's second tier. This was essentially the Ulsan team that had dominated the National League for years, and their move and rebranding to Ansan ensured a stable footing for the fledgling side. After a strong start, results declined, albeit with some notable wins over Line 4 derby rivals Anyang and a 4-0 romp away to city rivals Suwon. Nevertheless, Ansan finished with a points total in sight of mid-table and in terms of bedding in a brand new side, the season can be seen as a success. 2018, will be much more telling of where the project is going.
Notable Moves
There has been a big turnover in peripheral players, but mainly Ansan have looked to the National League to bolster the squad.

Jeong Kiwoon
Jeong Kiwoon scoring for Suwon [image via Daum.net]
A possible new fan favourite, Jeong is an Ansan lad who had previously been plying his trade for Suwon, helping them win promotion in 2016. He netted five for Gyeongju in the National League last season. He has already endeared himself to Ansan fans by promising to score against Suwon this season. Ansan need to get their Korean players firing after their over-reliance on Raul last season, and Kiwoon will hopefully break into the squad and provide those goals.
Choi Seongmin
Another grab from the National League, Seongmin was part of the National League's best eleven last season, playing in Gimhae colours. With Ansan conceding so many late goals last year, we are hoping that Choi can provide the extra defensive discipline to transform some of those defeats into points this year.
As potent as Raul was, Ansan's other two overseas attackers, Nasimov and Baka failed to hit it off in the K2. Conneh is a Liberian international coming in from the US second tier. With the growing standard of football in the US, Conneh's double figures for Bethlehem Steel last season are notable. Ansan need more goals, and if Conneh can replicate his feats in America, Ansan should have the firepower to target mid-table.
Needs
Defensive Discipline
It cannot be reiterated enough how many teams Ansan conceded in the final twenty minutes last season, giving up leads or conceding a match winner. Ansan must maintain their concentration. It is surprising given that the spine of the team is the same as that which dominated the National League for years for Ulsan Mipo, but Ansan's defensive frailties must be addressed. It is a big seasons for goalkeeper Hwang Seongmin, and his ability to marshal Ansan through the closing stages of games will play a big part in deciding where Ansan finish in the table.
Goals from Other Sources
Raul Tarragona was an absolute beast least season, becoming the most prolific striker to ever represent Ansan. However, no other player managed to net more than three times. The midfield needs to get firing and we are hoping that new boys Jeong Kiwoon and Seku Conneh can do that. It is the same story for supply, with few players chipping in with more than a few assists. Simply, Ansan need goals across the team, as without Raul last season Ansan struggled.
Key Player
Jang Hyeokjin
Raul is the easy pick here but I am actually going to go for Jang Hyeokjin. He managed a couple of goals, but it was his supply that ensured Ansan had the chances to pick up points. With thirteen assists, Hyeokjin was Ansan's key creative talent and he was just as essential as Raul for Ansan picking up points. If the new attacking players can start scoring, it will only increase Hyeokjin's crucial role in this Ansan side.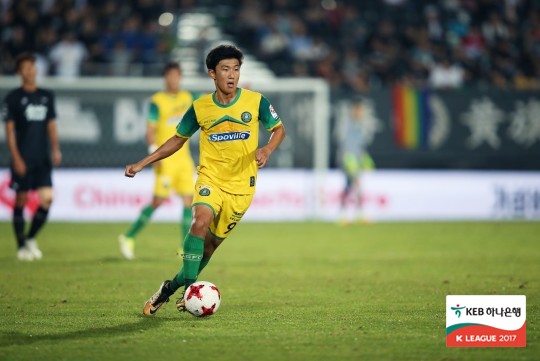 Jang Hyeokjin driving the midfield [image via v.sports.media.daum.net]
Biggest Question
What is the Target for Ansan this Season?
An odd question it seems, but last season can be seen as a success despite a 9th place finish, so what is the benchmark for progress for this Ansan project. Do Ansan simply want another solid performance to continue evolving the team from a K3 one into a K2 one or is it time to aim higher? Also, with Mokpo's cup run last season, could that be the target to get Ansan noticed and attract better players? At AFSC we think mid-table is a must, with 6th or 7th being a marked improvement over last season and put Ansan in a position to plan a play-off push in the future,
The spine of this Ansan side is the same as the Ulsan Mipo side that dominated the National League. They know how to win, even if this is a step-up. In Raul they have the second most deadly striker in the K2 from 2017 and in Jang Hyeokjin, one of the league's most creative. Manager Lee Heungsil also has pedigree, winning the 2016 K2 with Ansan, then in their police guise. He was also part of the Jeonbuk set-up that that went to the Champions League Final in 2011. His experience as being one of the breakthrough youth players in the mid-80's also points to an understanding of bringing in young talent into this side, and evolving this project into a successful one in the future.
TAGS
Ansan
K League 2