Preview: Sangju Sangmu FC v Jeonnam Dragons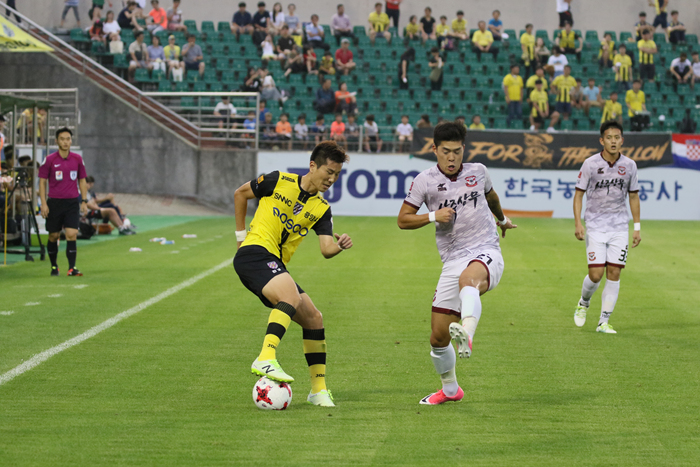 The Jeonnam Dragons head to North Gyeongsang province this weekend to take on Sangju Sangmu in a game that could go a long way in defining their future. Stuck in 11th position, and facing the prospect of either relegation or a relegation playoff, it's a case of now or never for Noh Sang-rae's misfiring Dragons. But a victory will be a tall order for the visitors who are low on confidence after losing their last five games in succession. Can the Dragons find form when it matters most or will their season continue to unravel? Aodan Halligan previews this Saturday's eagerly-awaited game.
(
image via dragons.co.kr)
Stick or Twist?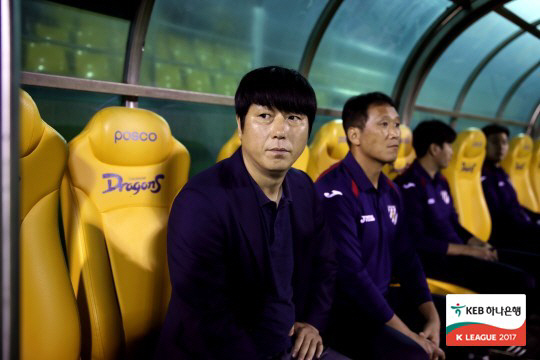 Under-pressure Dragons' head coach, Noh Sang-rae
(image via sports.chosun.com)
The Jeonnam Dragons, who are mired in a relegation battle, haven't won a game since their last meeting with Sangju on August 2nd (almost four months ago.) Thus many fans are wondering why they haven't replaced head coach Noh Sang-rae. Maybe it's because he's built up such a good relationship with the board or maybe the owners feel, with three games to go, it's too late to do anything now. But is it? Does it make sense to sack a manager at this stage? What do the stats say? (We'll come back to this later...)
Last Time Out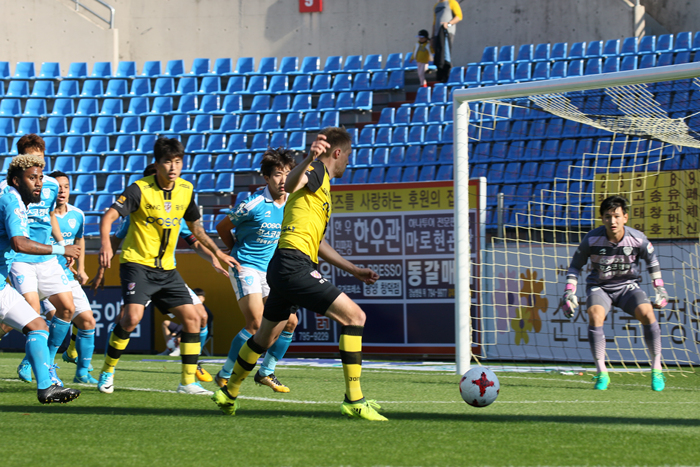 Jeonnam Dragons v Pohang Steelers last Saturday
(image via dragons.co.kr)
Despite a bright start, the Jeonnam Dragons were swept aside by the Pohang Steelers in the fourth and final Posco derby of the season last Saturday in Gwangyang to leave them winless in their last 12 games.
The Dragons were fast out of the blocks and threatened to breach the Steelers' defense early, with the home side looking particularly dangerous from corners. And it was from one of these in the 11th minute, that Jair almost gave them the lead.
The 29-year-old Brazilian attacker, met the ball beautifully on the edge of the six yard box, but his header, which was heading into the bottom right corner of the net, was diverted to the opposite corner of the goal by fellow striker Robert Feczesin - allowing Pohang's 27-year-old Brazilian Lulina to clear the ball off the line. Feczesin atoned for his error in the 26th minute, however.
There was a touch of good fortune about the 31-year-old striker's opener, though, as his volley, which was saved by Pohang's 22-year-old keeper Kang Hyeon-mu, ricocheted back off the striker's shoulder and nestled in the top right corner of the net.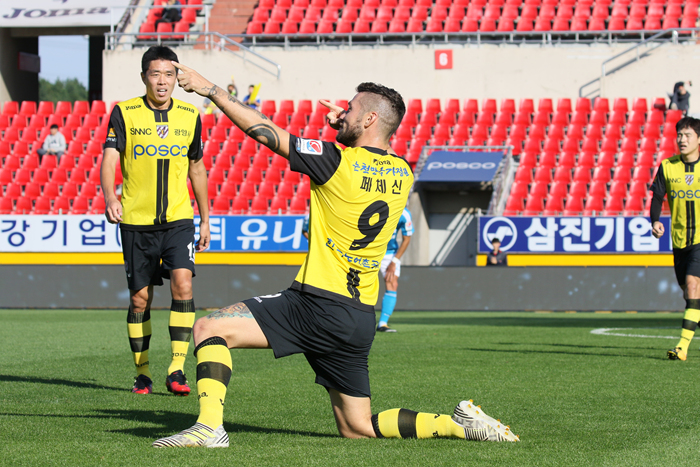 Feczesin celebrating after giving Jeonnam the lead versus Pohang last Saturday
(image via dragons.co.kr)
However, the Hungarian deserved his luck as he had shown great awareness to intercept a headed backpass to the keeper around 4 yards out from goal. One-nil Jeonnam.
Jeonnam's 28-year-old Croatian midfielder, Vedran Jugovic, then went close with a backheader, yet the best chance of the first half fell to Feczesin once more.
The Dragons' 23-year-old right winger Choi Jae-hyun started the move off by curling in a beautiful left foot cross to Jair at the back post and the Brazilian's header across the goal was inch-perfect for Feczesin, who was advancing into the six-yard box. Unfortunately for Fec, and the Dragons, the striker couldn't get enough on the ball and Kang Hyeon-mu saved with his legs.
There was more bad news for the Dragons as Pohang decided to introduce the K-League's second-top goalscorer - 31-year-old Korean striker, Yang Dong-hyun. Still, at least the Dragons went in at half-time one goal to the good.
The second half was a different story, however, as the visitors stepped it up and the Dragons shot themselves in the foot whenever possible. And once again, Jeonnam couldn't deal with crosses. Yang Dong-hyun's header at the start of the second half, which was beaten out by Dragons' keeper Lee Ho-seung, should have served as a warning but the Dragons didn't take heed.
And in the 64th minute, an unmarked Lulina, about eight yards out, was the first to profit - heading a left-wing cross into the bottom right corner of the net. 1-1.
Around 15 minutes later, Dragons' 24-year-old center-back, Go Tae-won, diverted a left-wing cross into his own net under pressure from Pohang's Yang Dong-hyun. 2-1 Pohang.
Lulina then made sure of the points in the 90th minute, heading into an empty net from just inside the center of the penalty box after Jeonnam's 27-year-old keeper Lee Ho-seung had flapped at a routine cross. Another gift from the Dragons' dismal defense and another depressing defeat for Jeonnam.
Full-time: Jeonnam 1 Pohang 3 (highlights can be seen
here
).
Sangju FC (in white) in action versus Jeonnam in August
(image via dragons.co.kr)
The Adversary
Just one point separates the Dragons and this week's opponents Sangju FC. Sangju, who are two places above Jeonnam in ninth, aren't in the best of form either, though, with no wins in their last five games. Nevertheless, the army team drew three of those five matches and are thus three points better off than Jeonnam over this period. What's more, Sangju recorded back-to-back victories before this winless run and have home advantage in this week's meeting.
Previous Meetings this Season
Sangju FC destroyed Dragons' coach Noh Sang-rae's three-man defense in the Dragons' first home game of the season in March - running out 3-1 winners (if only the ten-won coin had dropped then). The shares were spoiled in the second fixture in North Gyeongsang province in July after the teams played out a 1-1 draw. The Dragons evened things up in the next meeting between the sides in August ,though, courtesy of a two-nil victory. So after three matches, the teams are deadlocked with one victory and one tie each.
Prediction
The rot has got to stop for the Dragons and since Sangju haven't kept a clean sheet in their last 19 games, I think it can stop here. Of course, after conceding 66 league goals this season (1.89 per game), Jeonnam's defense is even worse off than Sangju's (who've shipped 60 goals thus far - 1.71 per game). Plus Dragon's coach Noh Sang-rae has reverted to three at the back and the Dragons never win with this system so I'm going to go for a score draw.
2-2.
The Stats behind Sacking Soccer Managers
After analyzing football manager turnover over an 18 year period in the Dutch soccer league, economist Dr Bas Ter Weel concluded that "changing a manager during a crisis in the season does improve results in the short-term."
And a 10-year study conducted by researchers at Sheffield Hallam University on managerial changes in the Premier League between 2003 and 2010 produced similar results. In fact, researcher Dan Plumely suggested that "clubs who may be in a relegation dogfight may benefit [more] from managerial change."
But of course, the right manager has to be available and with no changes in sight ahead of this week's crucial clash, we can only assume that the Dragons have decided to stick with Noh Sang-rae till the end of the season.
After such an appalling run of form, is this the correct course of action?
And will the board, the players and indeed everyone associated with the Dragons come to regret this decision?
Only time will tell - starting with this Saturday's 3 pm game versus Sangju.
Until, next time!
TAGS
Classic
Jeonnam
K League 1