Preview: Jeonnam Dragons V Gwangju FC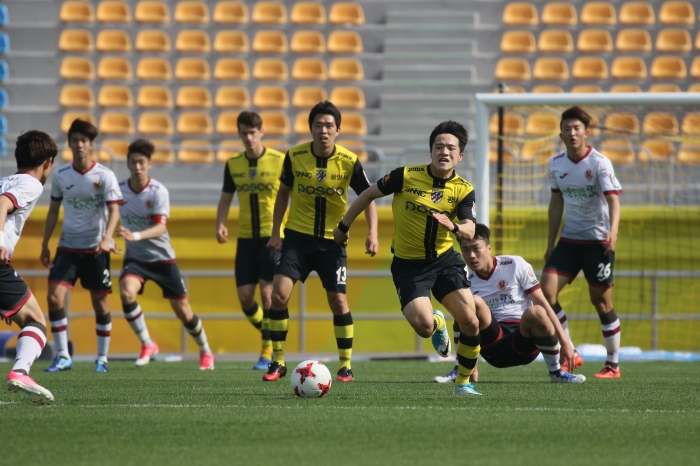 The Jeonnam Dragons welcome bottom-placed Gwangju FC to Gwangyang this Sunday at 3pm in a battle of the K-League Classic's most out-of-sorts teams. Hosts, Jeonnam, haven't recorded a league win in their last ten fixtures, while vistors, Gwangju, haven't been able to secure three points in their last eleven games. Aodan Halligan and Alex Meyer preview today's big game.
(image via dragons.co.kr)
Last Time Out (Aodan Halligan)
Ten-man Jeonnam Dragons were on the wrong side of a 4-1 drubbing in Gwangyang last Sunday as visitors Daegu United made the most of their numerical advantage in what was another disappointing result for the hosts and head coach Noh Sang-rae (who seems to have more lives than an exceptionally large litter of kittens).
The first half was pretty tight and the Dragons, who reverted to their
ill-fated three-man defense
in a 3-4-1-2, even managed to take the lead in the 30th minute, courtesy of a beautifully struck penalty kick from 31-year-old Hungarian striker Robert Feczesin that sailed into the top left corner of the net.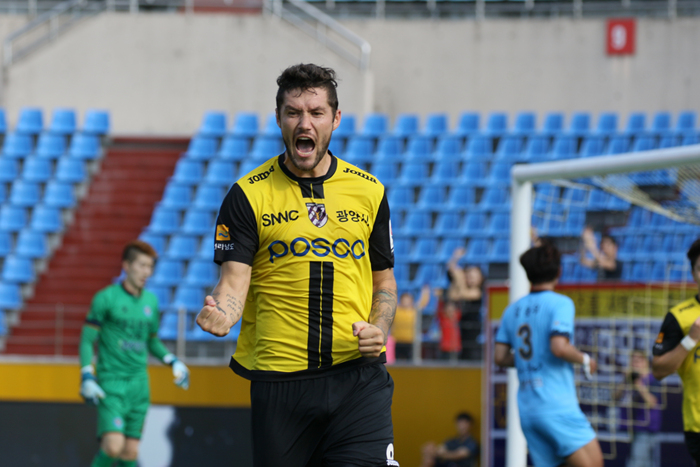 Robert Feczesin celebrating after he put the Dragons in front
(image via dragons.co.kr)
But the game was turned on its head just 10 minutes later as Jeonnam's 27-year-old Australian center-back, Tomislav Mrcela ('Tommy'), picked up his second red card of the season for a reckless sliding tackle on Daegu's 30-year-old Brazilian striker Evandro Paulista.
It was a ridiculous red card as Tommy and two other Jeonnam defenders were goal side when Daegu's Brazilian forward was trying to deal with a bouncing ball far out from goal. Of course it's far easier to say it from here, Tommy, but why didn't you stay on your feet?
Nevertheless, it wasn't to be and Jeonnam, even though they managed to hold on to their lead till half time, were about to be put to the sword.
It took Daegu just one minute to level things up in the second half - Junior Negao's fiercely struck left foot drive inside the penalty box almost busting the top left corner of the net. 1-1.
Two minutes later, Jeonnam's 28-year-old midfielder Vedran Jugovic, who had been hacked down for Jeonnam's penalty earlier, then almost made the most of a misplaced pass just outside the Daegu penalty box. Winning a 50-50, the Croatian then curled the ball past the Daegu keeper Cho Hyun-woo. But agonizingly for the Dragons, the shot struck the inside of the right-hand post and bounced away to safety.
Dragons' Korean midfielder Kim Young-wook then missed an excellent opportunity to put the home side back in front. The 26-year-old latched onto a clearance and raced past three Daegu defenders to leave himself one-on-one with the keeper. The speedster then struck the ball towards the bottom left corner of the net; however, Cho Hyun-woo made an excellent save with his legs.
Once again the Dragons were made to pay for their missed chances, with Junior Negao in inspired form for Daegu. The 30-year-old Brazilian scored his second goal of the game in the 61st minute, expertly finishing off Hwang Soon-min's through ball with a low first time shot that trickled into the bottom left corner of the net - as accurate a finish as you're likely to see this season. 2-1 Daegu.
And the game was virtually over as a contest 20 minutes later when Junior Negao completed his hat-trick. This time, however, he had enough time to take a touch to trap Jung Woo-jae's low cross just inside the penalty area, before wrong-footing Dragons' 27-year-old Korean keeper, Lee Ho-seung - the ball ending up in the bottom right corner of the net. 3-1.
In the 87th minute, Daegu's Jeon Hyeon-chul, then intercepted a header from Jeonnam substitute Kim Kyeong-jae near the halfway line before setting of an a lightning-quick counter. Opening up his body as he approached the penalty box, the 27-year-old Korean midfielder then curled a delightful chip into the top right corner of the net - clinical finishing from Daegu once again.
And when the referee blew his whistle for full time moments later, Jeonnam were left to reflect on another disappointing defeat. Truth be told, the visitors were good value for their victory, but the home side's ill-discipline and defensive frailties no doubt helped their cause.
Final score: Jeonnam 1 - Daegu 4. (Highlights of the game can be seen
here
.)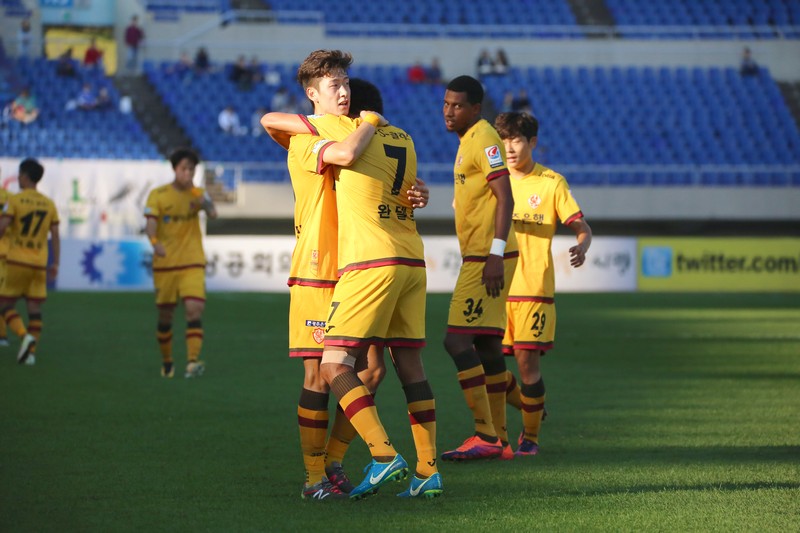 Gwangju FC
(image via gwangjufc.com)
The Adversary (Alex Meyer)
The one team playing worse than the dragons at the moment has got to be Gwangju. They've been at the bottom most of the season and having watched them played, that's exactly where they belong. Although they've had ties in their last 3 games, they still haven't found that W since July 22nd. Needless to say this is a must win game for the Dragons as they are facing a relegation battle and Gwangju, with any self actualization, already know relegation is inevitable.
As stated earlier, Gwangju have gone 3 games without a loss (which is a big deal for them) so I am expecting a strong performance today considering the form that the Dragons have found themselves in lately.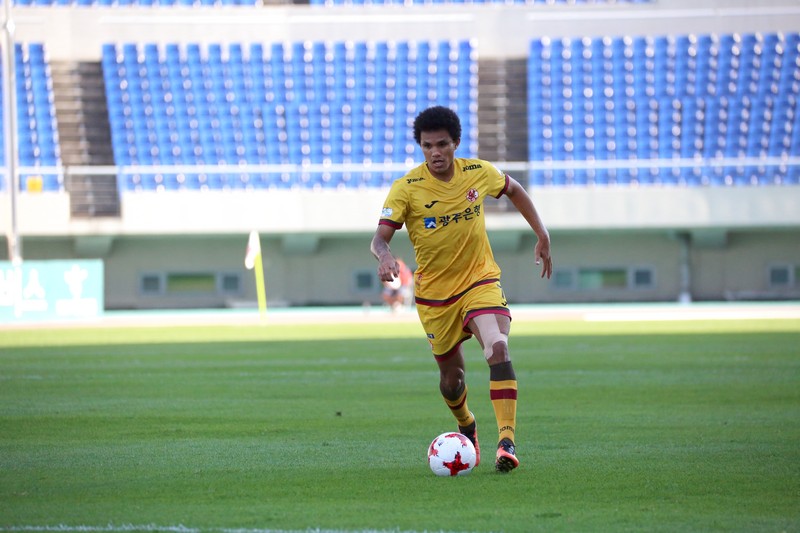 Wanderson in action for Gwangju last time out
(image via gwangjufc.com)
Player to Watch
Gwangju's 25-year-old Brazilian forward, Wanderson (above), has been in good form recently. The six-foot-one striker has scored in his last two games and could prove a handful for a defense deprived of the services of the suspended Tommy. The Dragons often struggle with high balls in their own box without their Australian center back and if Wanderson's on the receiving end of a few good crosses, he could do some damage.


Predictions
Aodan:
Logic tells me this one will be a draw, but I've a funny feeling there'll be a winner here and since Jeonnam's attack - on paper - is a little more potent, I'm backing them to score more.
Jeonnam 2 Gwangju 1.
Alex:
It'll come down to which team makes the fewest mistakes - which is practically the way the K-League is all about.
Jeonnam 3 Gwangju 2.
TAGS
Classic
Jeonnam
K League 1