Preview: Pohang Steelers v Jeonnam Dragons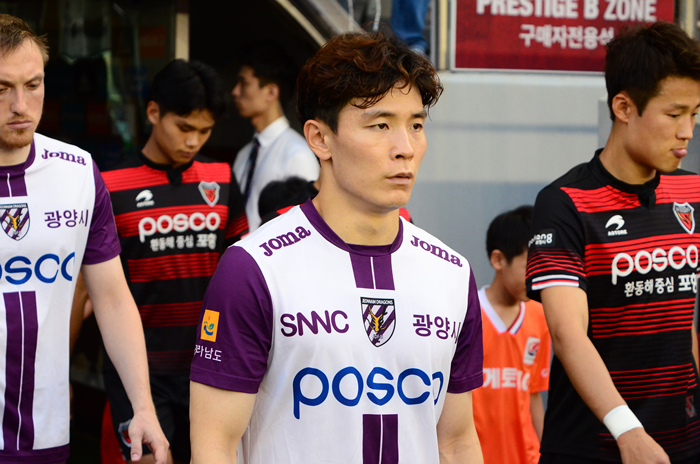 Steelyard Stadium's the venue for the third Posco derby of the season this Sunday, pitting the seventh-placed Pohang Steelers against the eighth-placed Jeonnam Dragons. The battle for the top-six playoffs is really starting to heat up and thus both teams will be looking for all three points. Gangwon FC, who currently occupy sixth spot, are in free-fall and both the Steelers and the Dragons are now within touching distance. Jeonnam reporter Aodan Halligan previews Pohang versus Jeonnam in round 25 of the K-League Classic.
Quiz Questions
"

Why is soccer so enduringly, so ubiquitously, popular? What is it about soccer that people love?"
We'll come back to these questions later...
The Dragons Last Time out
The Jeonnam Dragons were seeking to record their first victory in three games when they entertained Sangju Sangmu on Wednesday evening in Gwanyang.
And the Dragons got off to a perfect start after just 13 minutes, courtesy of 26-year-old Korean midfielder Kim Young-wook.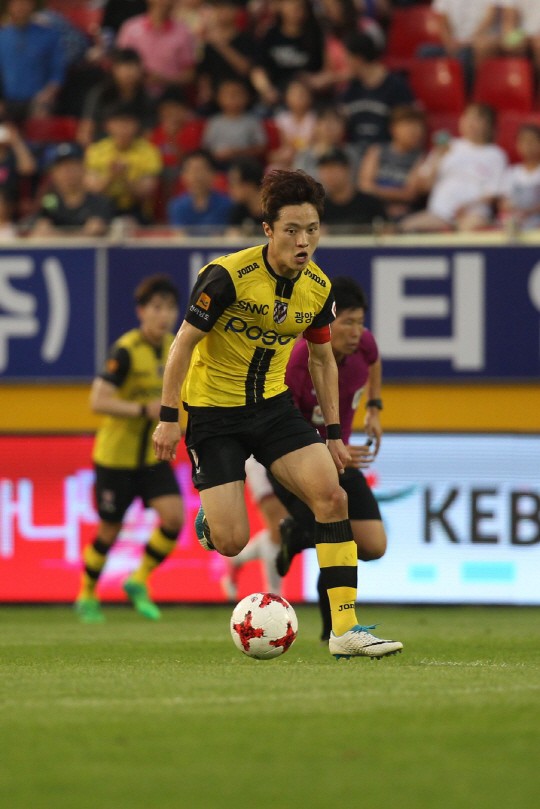 Kim Young-wook gave Jeonnam the lead
(image via imgnews.naver.net)
It all started when Jeonnam's

27-year-old Croatian midfielder Vedran Jugovi

ć

blocked a Sangju clearance with his head.

Th

e ball then rolled unattended across the field around 10 yards outside the S

angju penalty box, prompting

Jugovi

ć to urge

Kim Young-wook to give chase.
Quite why

the

Sangju defense was so slow to react remains a mystery, but Kim wasn't complaining

.
The midfielder won a 50-50 challenge and
kept his cool while
waiting
for the ball to settle down (after it had ricocheted off a defender's leg)
before side-footing it beautifully into the bottom right corner of the net.
One nil the Dragons.
Sangju put Jeonnam under a little more pressure after that with a few crosses and set-pieces, yet Dragons' keeper Lee Ho-seung was largely a spectator for the remainder of the first half.
Jugovi

ć

intercepted another ball in midfield at the start of the second half and fed it out to 28-year-old Brazilian number 10, Jair, on the left. The fleet-footed Samba star then cut in on his right and sent a high ball into the box to 31-year-old Hungarian striker

Róbert

Feczesin, who nodded it back to the penalty spot for the in-rushing

Jugovi

ć - t
he Croatian finishing off the move he started with a lovely side-footed volley that ended up in the bottom left-corner of the net.
A terrific team goal from the Dragons!
Jugovi
ć
, who had been first to the tackle all evening, was then caught with a late sliding tackle and had to be stretchered off the field - his injury being the only blot on Jeonnam's night. Nevertheless, the Dragons held on for the win and kept only their third clean sheet of the season.
Full Time: Jeonnam Dragons 2 Sangju Sangmu 0 (Highlights of the game are available
here
).
Jeonnam (left) v Pohang (right) last time out
(image via steelers.co.kr)


Previous Meetings
The Pohang Steelers have had more joy from the Posco derbies so far this season, taking four points from a possible six. The first tie in Gwanyang in April saw Pohang emerging with all three points after a relatively comfortable 3-1 victory. However, at the time, Jeonnam Dragons' coach Noh Sang-rae was in the midst of his ill-fated three-man defense formation - an experiment which resulted in five consecutive defeats.

Noh's switch to a flat back four started to bring results and in the second Posco derby in Pohang last month, Jeonnam were very close to securing a one-nil victory after a first-half Vedran
Jugovi
ć
strike (which can be seen
here
).

But Pohang's 31-year-old veteran Korean striker Yang Dong-hyun (who else?), who had helped himself to a goal in the first derby, popped up again in the 94th minute to head in the equalizer and the match finished 1-1.
The Pohang Steelers
(image via steelers.co.kr)
The Adversary at Home
The Pohang Steelers have won 6 (50%), lost five (42%) and drawn one (8%) of their 12 home games, helping themselves to 19 points out of a maximum 36 in the process. That one draw, of course, came against the Jeonnam Dragons last month.
And whenever the Steelers are in their own backyard, you can expect goals, and lots of 'em - so far 40 have been scored at Steelyard Stadium. 40 goals in 12 games works out at 3.3 per game. The goals have been fairly evenly split, too. Pohang have scored 21 (53%), while visitors have been responsible for 19 (47%).
Pohang, like Jeonnam, find it hard to keep clean sheets and have only managed four in 24 games (17%) - two of those coming at home, all the way back in March and April. So it's safe to say it's highly unlikely this Sunday evening's game's going to end up as a no-score draw (the dreaded commentator's curse, no doubt!).
Prediction
Goals, goals and more goals!
I think it'll be a high-scoring derby that should see both teams sharing the spoils. 26-year-old Australian center back

Tomislav Mrčela's still suspended after the red card he picked up against Gwangju on July 22nd and

Jugovi

ć's likely to be missing for a few weeks, but I'm backing Fec and Jair to bag a few.
I wonder what the odds would be on a 2-2 or even a 3-3 draw?
Quiz Answers
Now getting back to the quiz mentioned earlier...
Chris Anderson and David Sally asked those two questions in their critically-acclaimed soccer book -
The Numbers Game: Why Everything You know about Soccer is Wrong
.
In case you can't remember, let's look at the questions again:
"
Why is soccer so enduringly, so ubiquitously, popular? What is it about soccer that people love?"
And do you know what their answer to both questions is?
T

he goal.
Yip, the "goal is soccer. It's
rarity
is its magic," Anderson and Sally conclude.
But why then do football purists like yours truly love cavalier teams - teams that appear to make a mockery of the aforementioned authors' exhaustive research - such as the magnificent Brazilian squad in the 1982 World Cup, Kevin Keegan's swashbuckling 1996 Newcastle United side, or the 2017 Steelers and Dragons teams?
Answers in the comments section, please!
TAGS
Classic
Jeonnam
K League 1