Interview: Róbert Feczesin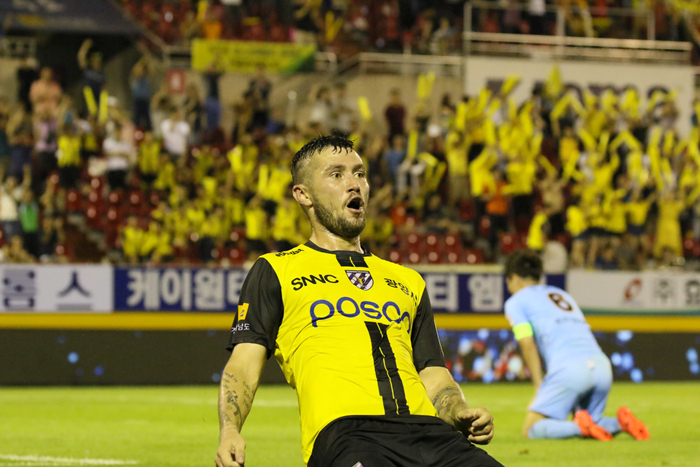 A
fter a lightning start to his K-League career when he scored away at Jeonbuk Hyundai for his new side Jeonnam Dragons and caused all sorts of problems for the league leaders and favorites, 31-year-old Hungarian international striker Róbert Feczesin went through some tough times and found himself out of the starting eleven for a lengthy period. But, he's back in favor now and in his best run of form. So, Jeonnam Dragons columnists Alex Meyer and Aodan Halligan decided the time was right to sit down with the fearsome forward to find out how he's been enjoying his experience so far.
(image via jeonnamdragons.co.kr)
Thank you for agreeing to sit down with us for an interview. We would like to start off by asking you to tell us a little bit about yourself.
My pleasure! Well, as you know my name's
Róbert Feczesin and I'm 31 years old. I come from Dabos in Hungary and
m
y family and friends are obviously the most important things in my life, but I also like reading, watching movies, fishing and hunting.
How did you end up playing for the Jeonnam Dragons?



I got a phone call from the Jeonnam Dragons out of the blue one day about seven or eight months ago and after a little thinking I decided to accept their offer to play for the team and made my way over.
How does your new home, Gwanyang city (in South Korea), compare to your hometown, Dabos, in Hungary food-wise, weather-wise, etc.?
Dabas is a small city, but I didn`t live there that long as I moved to Budapest (the capital of Hungary).
Gwanyang is quite chilled and relaxed compared to Budapest, but I I love the food here. The weather is a bit strange, though!
A lot of foreigners struggle when they first come to the K-League. What has been the biggest surprise or the biggest adjustment you've had to make here in Korea?
The biggest surprise is the lack of communication because not many people here speak English, unfortunately. Also I played in Italy where tactics were the most important thing in football, but they're not that important here.
As you probably know I speak Italian and that`s why communication was a lot easier in Italy. Also, it's just a few hours away from my home and the food is amazing there too!
Nevertheless, my agent (who lives here) helps me lot in Korea and my two Croatian team mates are always willing to lend a hand, too.
You played for Hungary under 17s, under 19s, under 21s before going on to win 11 caps and scoring 4 goals with the senior team. How proud are you of representing your country?
Yes I had a chance to play in the national team on every level and I scored a lot. And
obviously to play in such a big team is the proudest moment in my career.
You're in fine form lately and enjoyed your best performance of the season at home to Daegu a few weeks ago when you scored a hat-trick and the game winner in a pulsating 4-3 victory.
Yes, that was definitely my best game in Korea so far, and I'm working hard every day to maintain this form.
I
have to ask you about your goal celebration (above). Is there any meaning behind it and I sure hope we see it much more often in the weeks and months to come.
My goal celebration... My father was a hunter and I decided to dedicate every single goal of mine to his memory.
Even though you've won titles back home, one of the highlights of your career must have been a game you played in Budapest in 2007 when you scored a goal against the 2006 World Cup winners Italy, who had the likes of Andrea Pirlo and the then Ballon d'Or, Fabio Cannavaro, playing. How did it feel to score the goal that helped clinch victory against the best team in the world and which famous player's jersey did you take that day?
I really enjoyed that match and at the time I was already playing in Italy. So to score against Gigi Buffon was really special as not many players can say that! After the game, I swapped shirts with Luca Toni.
You've played with and against some amazing players in your career. Who's the best player you've ever shared a pitch with?
The best player I've played alongside is Alessio Tacchinardi (with Brescia), but the best I've played against is my favourite player - Alessandro Del Piero.
How much have you enjoyed your experience with the Jeonnam Dragons and the K-League so far and what do you hope to achieve here?
I really like it here, but since this is my first season in the K-League, I would like to score more than 10 goals and help my team to be as high as possible in the tabl
e.
TAGS
Classic
Interview
Jeonnam
K League 1