Preview: Jeonnam Dragons v Jeju United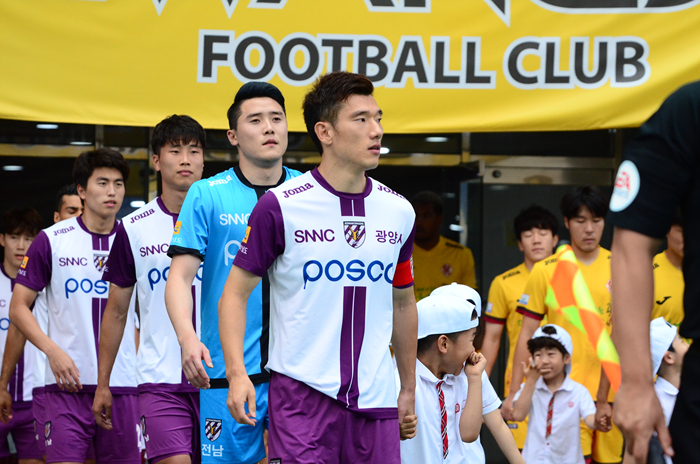 Jeju United are the visitors to Gwanyang today in week 18 of the K-League Classic. United, who have a couple of games in hand over some of the teams above them, will move back into third if they take all three points. A victory for the Dragons, meanwhile, will be enough to steer them into seventh, and ever closer to a coveted top-six finish before the table splits. Jeonnam reporter Aodan Halligan discusses the Dragons' form, transfer news and prospects for this evening's eagerly-awaited game.
(image via dragons.co.kr)
The Jeonnam Dragons were in action twice since our last report, away to Gwangju last Saturday and at home to Seoul midweek. And even though four points from those two games looks good on paper, the Dragons could have helped themselves to two more.
Away to Gwangju
Jeonnam headed to Gwangju last Saturday desperately hoping for victory over their fierce rivals.
It started off so badly for the Dragons, however, as they were a goal down after just fourteen minutes - Song Seung-min rising highest to head home a corner for the home team.
And it almost got a lot worse as Gwangju were awarded a dubious penalty a few minutes later, but Jo Ju-young's effort struck the base of the right post, before bouncing away to safety.
Thankfully, the Dragons then began to play and in the 31st minute, Jair's clever pullback across goal was diverted into the net by Gwangju defender Lee Han-do - leveling the scores.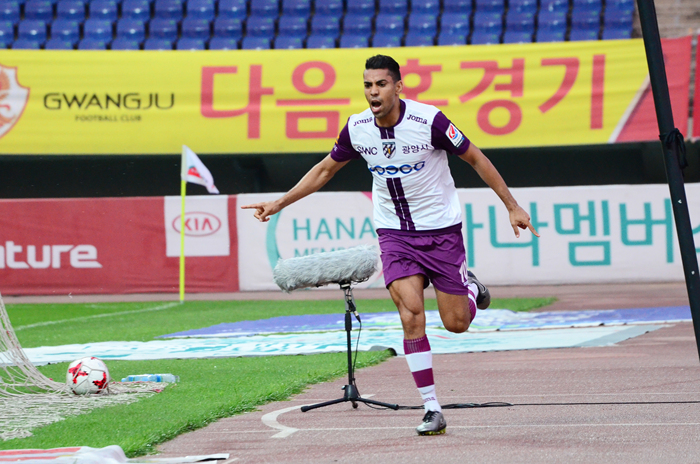 Jair celebrating Jeonnam's first goal
(image via dragons.co.kr)
And Jair was involved once again 11 minutes later, this time cooly slotting home a penalty awarded after Gwangju goalkeeper Yoon Bo-sang's mis-timed sliding tackle on Choi Jae-hyun.
Amazingly, Yoon, who hurt himself in the challenge and played no further part in the game, didn't receive a red, despite being extremely late and high with the tackle - his injury, perhaps, drawing sympathy from the ref.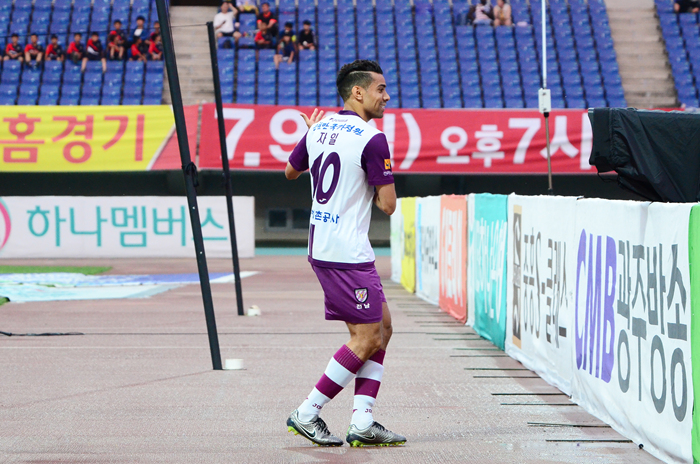 Jair dancing after giving Jeonnam the lead
(image via drgons.co.kr)
The Dragons weren't too bothered, nonetheless, as moments later Jair was given the opportunity to put their noses in front from the resulting penalty kick.
And the Brazilian, after punctuating his long run up with a few smart shimmies, stroked the ball low to the left to give the Dragons the lead - a lead they wouldn't relinquish for the rest of the game.
Final score: Gwangju 1 Jeonnam 2.
Home to Seoul
So with the hard part done - three points earned on the road - next up for the Dragons was a home tie versus low-scoring FC Seoul.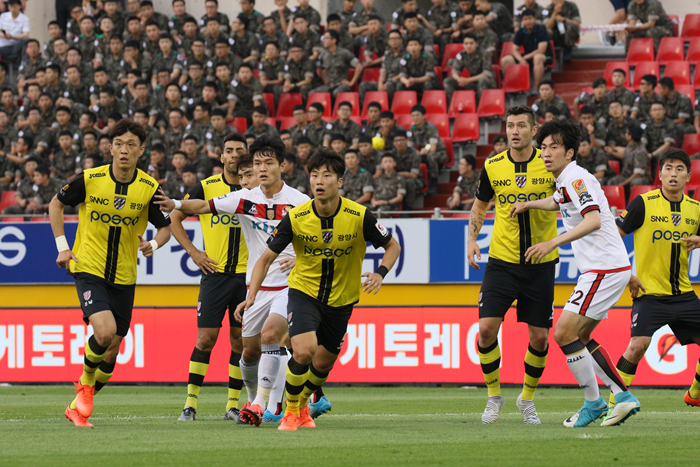 Jeonnam in action on Wednesday at home to FC Seoul
(image via dragons.co.kr)
And this time things started off positively with right-back Lee Seul-chan helping himself to a trademark screamer from around thirty yards out after just nine minutes, the beautifully struck left-foot volley, a certain contender for goal of the month, sending the ball to the top-right corner of the net.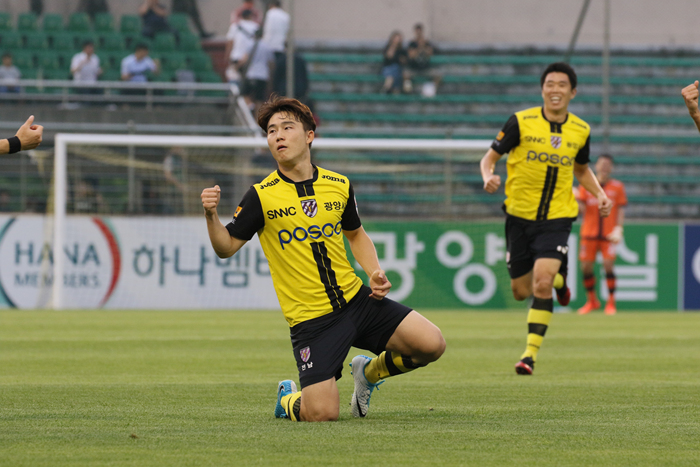 Lee Seul Chan celebrating his wonder-strike v Seoul
(image via dragons.co.kr)
But Seoul hit back a mere 20 minutes later, courtesy of Yun Il-lok's slightly deflected side-foot finish. The attacker, who was in acres of space on the left side of the penalty box, finished off Ju Se-jong's beautifully-weighted reverse pass that had wrong-footed Jeonnam's static defense.
In the 63rd minute of the second half, Jair was yet again on target for Jeonnam, though, finishing off a brilliant cross from recalled Hungarian striker
R
ó
bert Feczesin.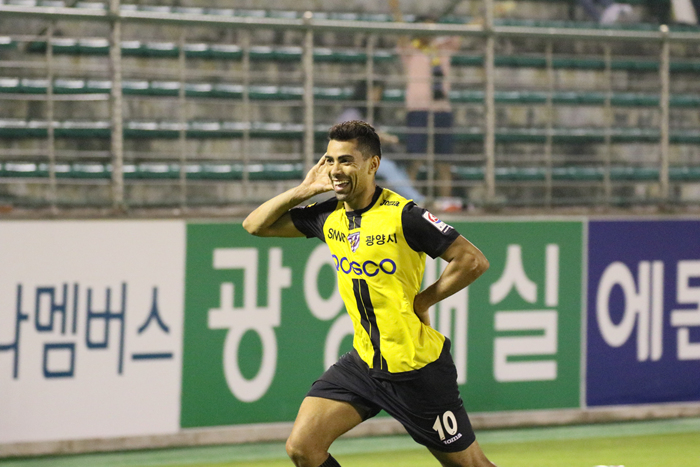 Jair celebrating Jeonnam's second goal
(image via dragons.co.kr)
The Brazilian, top goalscorer in the K-League with 12 goals, needed just two touches, despite receiving the ball at full tilt - the first with his right foot, taking him past two defenders, the second, with his left, a clinical finish into the bottom right corner of the net. Superb!
The hero turned villain 19 minutes later, however, his late tackle needlessly ending Ko Yo-han mazy run at the edge of the penalty box - a stonewall penalty kick. Ko had been heading away from the goal and thus Jair's intervention was such a waste. The Brazilian, to make matters worse, picked up a yellow card for his troubles.
Former Arsenal striker Park Chu-young drowned out the catcalls by leveling from the penalty spot, his effort getting the better of Jeonnam keeper Lee Ho-seung and sailing into the bottom-left corner of the net.
Lee Ho-seung made some important saves late on, however, keeping the Dragons in the game. Yet, after the final whistle, it was the Dragons who felt most aggrieved, after once again failing to see out a lead.
Full Time: Jeonnam 2 Seoul 2.
The Jeonnam Dragons have snapped up former Pohang Steelers' star and Asian Champions League winner, Kim Jae-sung. The 33-year-old midfielder, who represented South Korea at the 2010 World Cup, spent the last five months with Adelaide United in Australia.
Kim Jae-sung signs for the Dragons
(image via imgnews.naver.net)
Welcome aboard Kim Jae-sung and hopefully you'll feature in today's game!
Feczesin will probably return to the bench and Jair will be given the job of spearheading the attack. But once again it's our defense that's most worrying, especially against a top team like Jeju.
Even though the Dragons have scored 20 goals at home (an impressive 2.2 goals per game), we've shipped 17 in those nine league games - an average of 1.88 goals per game.
Jeju, in contrast, have been mean at the back away from home, conceding just six goals in 7 away games - 0.85 goals per game. So it might be hard for us to score.
On the plus side, the islanders have only scored nine goals on the road, an average of 1.28 a game. Yet our opponents last time out, FC Seoul, who have had similar problems up top - at home and away all season - helped themselves to two goals midweek. Thus, once again, there's a good chance the away team will score - and in all truth, Jeju are a lot more dangerous than Seoul (sorry Ryan).
Nevertheless, today's game is hard to predict, particularly now that monsoon season has kicked in. So I'm going to be brave and opt for the underdog for a change - Jeonnam 2 Jeju 1.
TAGS
Classic
Jeonnam
K League 1