Preview: Gwangju v Jeonnam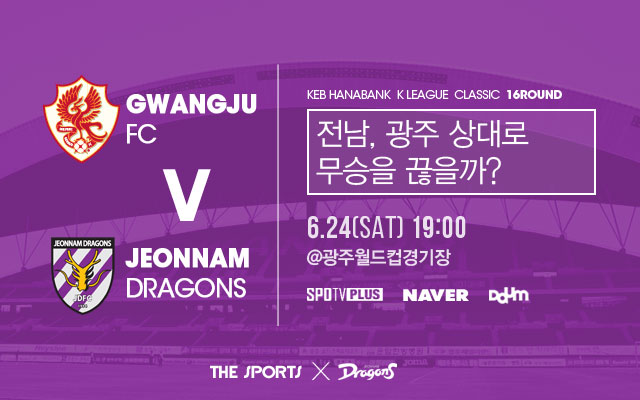 Gwangju FC host near neighbors and fellow strugglers the Jeonnam Dragons in week 16 of the K-League classic. The home side, who are winless in their last six K-League games, suffered a humiliating defeat in the reverse fixture last month. However, the Dragons aren't in great shape themselves, after securing just one point in their last two games. Jeonnam columnists Alex Meyer and Aodan Halligan take a look at both teams and preview this Saturday evening's game.
(image via dragons.co.kr)
The Last Two Games (Alex Meyer)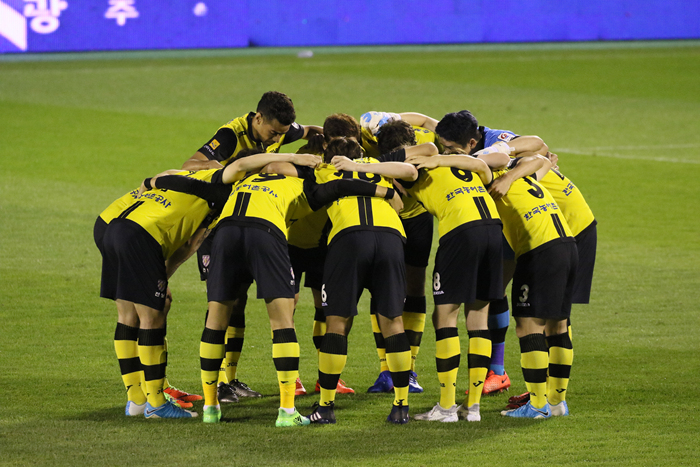 The Dragons in a pre-match huddle before the Jeonbuk game last Saturday
(image via dragons.co.kr)
The Dragons had two home games in the last week and they looked exactly like who they are, a 9th place team in the league of 12.
Two very uninspiring performances putting the home crowd to sleep with the only audible noise coming from the visiting fans.

They did escape with their first draw of the season on Wednesday evening, though, to a lackluster team - Sangju. Let's take a look at each game separately, starting with the three-nil loss last Saturday to Jeonbuk.
After a three-week break, the Dragons looked like they were still on holiday giving up a goal in the first minute and not even coming close to giving us a competitive game. Their ridiculous defense was shredded for three in the first 45, their offense didn't produce a single chance, and they didn't connect more than four passes all 90. They definitely did not play like the Dragons I have become accustomed to over the years. There was no show of heart, no fight, heads were hung after 30 minutes. The lack of a field leader is apparent and becoming more apparent is a lack of a locker room leader.
One could chalk up this loss to going up against a superior team with more fire power but I would have to disagree with that.
The Dragons are a talented team with talented players - the inconsistency on the field leads me to believe changes now need to be made from the top down. To make matters worse, one of Jeonbuk's forwards stepped on Tomi's ankle off the ball - ending the Dragon's Australian center back's involvement in the game - and making it hands down, one of the worst Dragons game I've seen in years.
On Wednesday, it was much of the same - a boring performance on the field but with flashes of brilliance from a few individuals. However, the coach did go back to a line up that had been working for them, leaving Feczesin on the bench, allowing Jair to have more space and time with the ball to do what he does best - take players on, create chances and score goals.
This move paid off as it resulted in Jair scoring in the 35
th
minute. Unfortunately the Dragons lack of concentration or lack of leadership saw them give it right back in the 38th minute. A red card in the 47
th
minute on Chan-Hee Han made what was already a boring game more so as the Dragons locked down on defense ending in a 1-1 draw. In the end, the Dragons were lucky to come away with a point.
A Look at the Opposition: Gwangju FC (Aodan Halligan)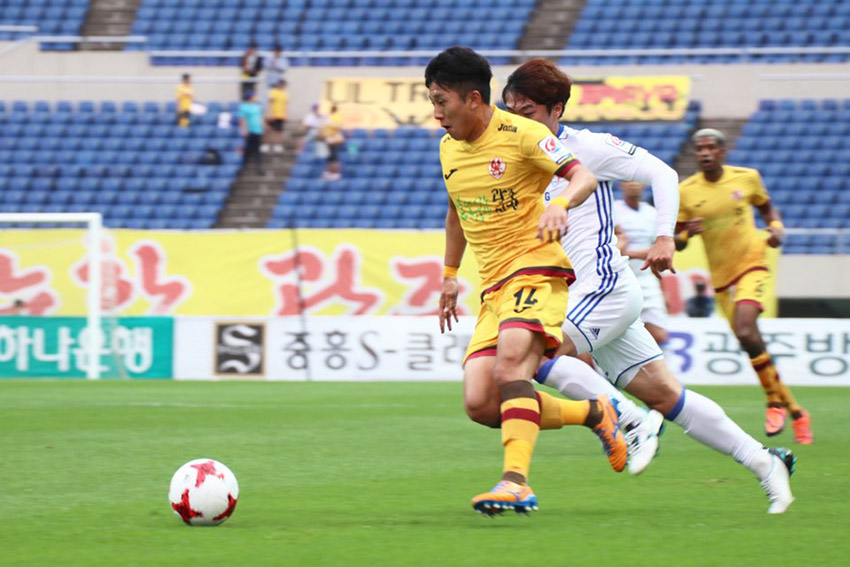 (image via gwangjufc.com)
Form
Although Gwangju FC shocked the K-League on April 30th with their one-nil victory over current leaders Jeonbuk Motors, they've been pretty abysmal since, picking

up just three points, and failing to register

a single victory in their last six league games.
On Wednesday at Guus Hiddink

Stadium

, they held Suwon Bluewings scoreless till halftime, but were comprehensively outplayed in the second half, ending up on the wrong side of a three-nil defeat.
They fared a little better at Daegu World Cup Stadium last Saturday, though, helping themselves to a share of the spoils at fellow relegation strugglers, Daegu. The two evenly-matched teams served up an entertaining 2-2 draw.
But with no wins in six, relegation bells are ringing and long-serving coach Kim Il-nam will be hoping for a drastic upturn in fortunes over the next few games.
Yet since the Dragons have lost 71% of their away fixtures, and have conceded at least one goal in every road game so far, Gwangju should fancy their chances this weekend. The bookies do, making them slight favorites for the game.
Second bottom in the league after 14 games, with just nine goals scored and 20 conceded, Gwangju aren't exactly swimming in the strengths' department!
However, having earned 75% of their points on their own turf, and having taken the scalps of Daegu and Jeonju there, it's safe to say home form is an obvious plus.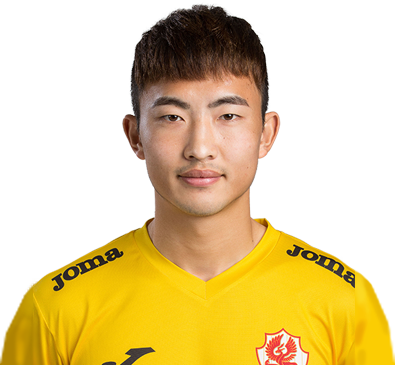 (image via gwangjufc.com)
Player to Watch
24-year-old Korean attacker Cho Ju-young (above) has helped himself to three K-League goals this season and has been responsible for four of Gwangju's points. The six-foot-one striker returned to the first eleven in midweek and Jeonnam will have to keep an eye on him - particularly in the air.
Predictions
Alex: As you may have noticed my optimism has slightly turned. I still do believe in this Dragons team and for a spot in the top 6, but moves need to happen or a leader needs to rise up. On the bright side they do have Gwangju this Saturday and I am going with a win. 2-0.
Aodan: A draw seems like the most logical outcome here; however, I fancy the Dragons to score a few and don't think Gwangju have enough firepower of their own.
Gwangju 1 Jeonnam 2.
TAGS
Classic
Jeonnam
K League 1