Preview: Ulsan Hyundai v Jeonnam Dragons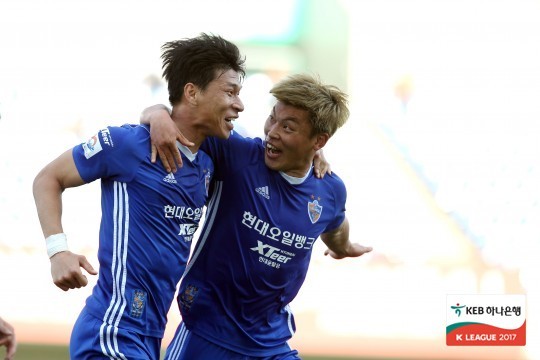 Ulsan Hyundai welcome the Jeonnam Dragons to Munsu Stadium for week 12 of the K-League Classic. Ulsan, unbeaten in the Classic since the reverse fixture in April, will no doubt have revenge on their minds after the five nil spanking dished out by the Dragons in Gwangyang. The Dragons, buoyed by their cup triumph in Daejon midweek, will be looking to return to winning ways in the league after their disappointing home defeat to Suwon Bluewings last weekend. Can Ulsan continue their title charge or will the Dragons let loose once again and leave Ulsan's title hopes up in flames? Jeonnam columnists Alex Meyer and Aodan Halligan preview this Saturday evening's game...
(image via sports.news.naver.com)
The Dragons Last Time Out (Aodan Halligan)
Week 11 started out promisingly for the Dragons as the sun was shining and Dragons' fans were in full voice for the tie against 2017 Asian Champions League (ACL) participants, Suwon Bluewings. And after Choi Jae-hyun finished off some brilliant wing play from Heo Yong-joon to put the Dragons in front, some Suwon fans feared that they were about to become the latest victims of a Dragons' mauling.
However, the Bluewings then sent out a warning shot of their own, which ultimately wasn't heeded, when
Park Gi-dong's
beautiful volley
struck
the underside of the Dragons' crossbar, with Lee Ho-seung comfortably beaten. And Santos Junior's equalizer in first-half injury time, ensured that the Dragons went in at halftime a little deflated.
Admittedly, were it not for the Dragons' captain Choi Hyo-jin's inexcusable flick on the edge of his own penalty area - what in the world was el capitano thinking? - the Dragons would have enjoyed their halftime cups of green tea a lot more.
Nevertheless, the Bluewings emerged with a spring in their steps for the second half and their supporters, backed up by an endless supply of drums and horns, started to dominate the battle off the pitch, just as their heroes were dominating the one on it. The only surprise being that it took the Bluewings 14 minutes to breach the Dragons' rearguard once again.
Meanwhile, three-time domestic cup winner and 33-year-old Dragons' captain Choi, who also has ACL and K-League Classic winner's medals to his name, was having one of those days he probably wishes everyone will forget as he was responsible for Suwon's second goal, too. For not only did he obstruct Australian teammate, Tomislav

Mrčela ('Tommy'), when he was trying to clear the ball, he also

mistimed a follow-up tackle on the Bluebirds' number nine, Park Gi-dong, gifting Suwon a penalty kick and Brazilian striker, Santos Junior, his second goal of the day. It was a well-deserved goal for Suwon, nonetheless, whose

boa-like

grip on the ball was threatening to

strangle
the life out of the game.
And as the Bluewings' supporters
rendition
of
One More Joy to my Heart
reverberated
around Gwanyang stadium, a few fickle Dragons' fans decided to sneak off home. Thankfully, a sprinkling of the
die-hard home
supporters, refusing to give up the ghost, started a chant of their own: "
Let's Go Dra-gons!".
And this resilience in the stands almost rubbed off on the team immediately as Croatian midfielder, Vedran

Jugović, put it on a plate for

Jair; unfortunately, the only thing Jair, who was barely seven yards from goal, managed to kick was the air. Jair was then nearly made pay for his

prolificacy in front of goal

by Suwon's, Yeom Ki-heun, who struck the

crossbar -

when it looked easier to score.
At this stage,
Dragons' Coach, Noh Sang-rae, could take no more, sending
on Hungarian striker
Róbert
Feczesin for holding midfielder, Kim Young-wook, pushing c
entral defender Tommy up top, and moving K-League top-scorer and Brazilian number 10, Jair,
out to the left wing.
The changes reaped dividends as the Dragons camped in Suwon's half for pretty much the rest of the game.
Choi Jae-hyun missed a glorious chance to score his second from a half-volley 12 yards out as his shot hit the inside of post. Tommy had an even better opportunity to restore parity from just outside the six-yard box, but his weak outside-of-the-boot effort, which easily beat Suwon's goalie, Yang Hyung-mo, was cleared off the line (he should have used his left foot!). And Jair, who was heavily involved in the buildup play for both of the previous chances, had obviously left his shooting boots somewhere in Suncheon, after the hat-trick there the week before, because he missed the target completely with Jeonnam's last shot of the game from deep inside the penalty box.
Suwon then added sea-salt to the Dragons wounds in the 96th minute when Yeom Ki-hun brushed aside three Jeonnam defenders, after getting a second bite of the cherry, and nutmegged Dragons' keeper Lee Ho-seung for the win. Jeonnam 1 Suwon 3.
Dragons' captain Choi Hyo-jin (left) in action versus Suwon Bluewings last Sunday
(image via dragons.co.kr)
Ulsan Hyundai (Alex Meyer)
Ulsan is playing up to expectations, 5 wins in the last 6 games, throwing in a tie with Jeonbok. They have done it on the road at home in the league, FA Cup, and Champions League. Their last poor performance was in the Champions league against Kasima, a 4 nil loss on the road on April 26th. Preceding that loss was their 5 nil shellacking to the Dragons, and don't think for a moment they have forgotten. Ulsan is sitting in 4th but with a goal differential of -4. This highlights that Ulsan wins the tight games which bodes well for them, considering that the Dragons tend to struggle with those. The Dragons lose close or win big, it seems. Ulsan is definitely a team's team; their goals are spread out evenly, not relying on any one player to get the job done. Two ex Dragons' players are, in my opinion, the players to watch - Mislav

Oršić

and Lee Jong Ho.
Ex Jeonnam Dragons' star Mislav Oršić (left) in action for Ulsan Hyundai
(via uhfc.tv)
Predictions
Aodan:
Even though the Dragons were unlucky last time out, and destroyed Ulsan in the reverse fixture in Gwanyang last month, I can only see one outcome here. Ulsan are at home, their form has improved dramatically (since their elimination from the Asian Champions League) and the Dragons will not be able to live with them.
Ulsan 3 Jeonnam 1.
Alex: The Dragons are going to get their first draw of the season, I see a tight game for 90 minutes. 1~1.
TAGS
Classic
Jeonnam
K League 1