Preview: Jeonnam Dragons v Gangwon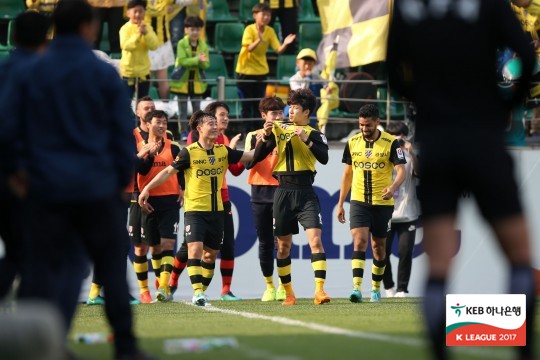 Week eight of the K-League Classic pits the in-form Jeonnam Dragons against Gangwon at Gwanyang on Saturday April 29th at 3. The Dragons, who up until last week were rooted to the bottom of the table, can leap above 6th place Gangwon by securing a fourth consecutive win. Jeonnam columnists Alex Meyer and Aodan Halligan preview this weekend's game…
by Aodan Halligan
Round eight's upon us and the Dragons have finally found their footballing feet. With three wins on the spin, and two of those coming in the K-League, the omens are looking good for this weekend. Of course, some of us are still scratching our heads, wondering why it took five consecutive K-League defeats to spring us into action.
And even Jeonnam's Croatian midfielder,
Vedran Jugović
, joked about our tendency to crawl out of the blocks in our interview last week: "It looks like we're slow starters every year -haha!"
So why are we such notoriously slow starters?
Well, as mentioned in a previous article, injuries to key players plus a few tough opening fixtures managed to drain our confidence and start us on the wrong foot. Indeed, after week five Jeonnam were looking odds on for relegation and some of our fans were starting to lose hope (bar Alex, of course).
Other Dragons' fans argue that last season was actually worse as we waited until week seven to record our first K-League victory, but at least we'd registered a few points on the board before that game.
Nonetheless, two slow starts in succession may force coach Noh Sang-rae to alter his pre-season training plans for next year (otherwise we may as well ditch the Dragons part of our name and replace it with the name of a certain green animal with a shell on its shoulders).
The change in formation as recommended here a few weeks ago (it wasn't exactly soccer science), coupled with our first victory of the season away to Incheon in week six, has brought about a massive change in fortune and another three points versus Gangwon this week will tempt some of us to start dreaming about glamor fixtures around Asia and Australia via the Asian Champions League (ACL), God forbid!
As a matter of fact, last week's performance versus Ulsan was the best I've seen from a Dragons' side for a couple of seasons. Of course, beating a Champions League side was no mean feat in itself, but the manner of victory – five nil – and the team performance were a joy to behold.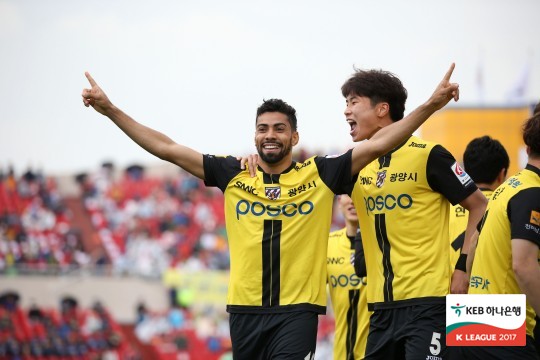 Jair celebrating one of his goals versus Ulsan Hyundai
(image via sports.media.daum.net)
Jair, scorer of our first two goals (albeit via the penalty spot on both occasions) was exceptional. His running and dribbling scared the life out of Ulsan's defenders and only a crossbar prevented him from taking home the match ball.
Vedran Jugović
was like a tiger in midfield and Choi Jae-hyun was a handful all day (well, at least until he was substituted late on) on the right wing.
The Dragons are now joint top goal scorers in the Classic, boasting a record of 12 goals in seven games – not bad for a team who were up until last Saturday bottom of the table and leaking them in at the other end (13 goals in six games).
But we also kept our first K-League clean sheet of the season against Ulsan and a lot of credit for that must go Lee Ho-seung, making his long-awaited return between the sticks after a lengthy layoff. Lee made a couple of vital saves to keep Ulsan at bay and was barking instructions at his defenders throughout the game.
What's more, our new center-back pairing of Go Tae-won and Tomisla
v Mrčela, (who started together in a four-man defense for the first time in a K-League game this season) looked far more assured at the back, and surely now after helping us shut out Ulsan Hyundai should retain their places for the match against Gangwon.
The defenders weren't the only ones doing the dirty work against Ulsan, though. In fact, one of the most impressive things about the performance was the Pep Guardiola-style pressing applied by our forwards on the Ulsan defenders when they were in possession. Choi Jae-hyun was particularly effective at this.
Of course, one of the criticisms aimed at Guardiola's teams, who tend to dominate the ball, is that they enjoy 'sterile' possession (possession without any end product) and indeed the Dragons have been guilty of such ball-hogging with the three-man defense employed in the first five games of the season.
For instance, we had 62% of the ball in the 3-1 home defeat to Pohang and 55% in the opening day away defeat to league leaders Jeonbuk. Our shot coversion rates in those games were poor, too, as we scored only one of our 21 shots against Pohang and one of the fifteen versus Jeonbuk.
So it was refreshing to see us giving up more of the ball against Ulsan (the Dragons enjoyed only 38% of the possession) and being far more clinical in front of goal - 5 goals from 13 shots. More of the same against Ulsan and myself and Alex can start saving up for those ACL flight tickets….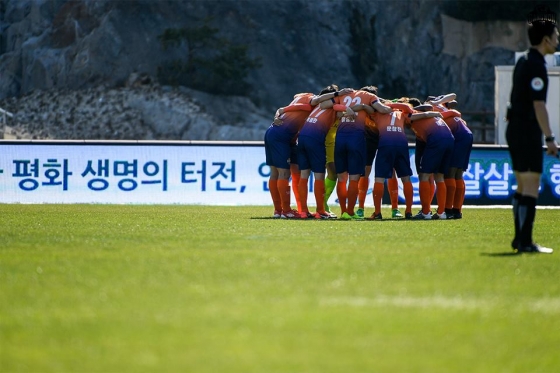 (mtstarnews.com)
Alex's Take on the Opposition
Gangwon FC has to be considered one of surprises in the early goings of the season. They have taken points off the top three teams, a 2-2 draw with the Steelers, a 1-1 draw with Jeonbok, and most surprisingly a 2-1 victory away to Jeju. Their strong play has been followed up with some uninspiring performances seeing them drop what would be considered easier points at home. This inconsistency from week to week could be seen as inexperience at the top level, or the fact that they have played six different formations in their first seven games.
By all numbers Gangwon FC is a better road team, posting two wins and one loss, while scoring five goals and conceding four. Meanwhile Gangwon hasn't won a game at home, notching two draws and two losses. This is a bit perplexing considering they might have the most unique and advantageous home stadium in all of football, the Alpensia Ski Jump stadium. But then again playing up in the Taebaek Mountains on a pitch more suitable for Eddie the Eagle might not create the greatest home atmosphere. Considering Gangwon are newly promoted and have fielded six different formations ranging from 5-3-2 to 3-5-2 to last week's 4-1-4-1, they still currently sit mid table in 6th on 8 points with a respectable record of 2-2-3. No doubt they are an interesting team to watch, if not for the 120 meter ski jump behind the net for the fact you don't know what you're going to get on the field.
Gangwon has some talent. 32-year-old Lee Keun-ho (#11), who has 75 appearances with the Korean National team, is still a serious threat for any back line in the league. What he has lost in pace he sure makes up for in work ethic. He has shown this season he can still create space and get a quick shot off. Additionally there is the dangerous 25-year-old Brazilian Diego Mauricio (#10). He has been in the starting 11 the last two league games after coming off the bench prior to that and looks like he belongs. Diego is not afraid to take on anyone, he can dribble both ways and has found the back of the net three times so far. He plays fast, hard, and with confidence. As a Dragons fan I sure hope we have four at the back and limit his space. I am looking forward to seeing Lee and Mauricio in person along with others on Gangwon F.C. this Saturday.
Aodan Halligan:
I think it's going to be a much tighter affair than our game last week, but I still fancy us to win:
2-1 the Dragons.
Alex Meyer:

One chiasmus that I enjoy is winning creates confidence and confidence creates winning. This is the fortunate cycle the Dragons find themselves in and I don't see it ending this weekend. Gangwon will be tricky and can cause some headaches but no slowing down for the Dragons at home. 3-1 Dragons for the win.
TAGS
Classic
Jeonnam
K League 1