Tale of the Transfer Tape: Seoul vs. Jeonbuk
Using K-League United's handy Transfer Tracker, I see that Ju Se-jong has joined FC Seoul. In my transfer talk piece, I
mentioned
that this is a guy that FC Seoul should sign and they did, which makes me fairly psyched. Someone in the front office is finally listening to me. Next, this person in the front office can pass on my tactical advice to Choi Yong-soo.
Even better, they managed to shift on the player that identified as someone they should loan out, Kim Hyun-sung, on as well. I was fairly critical of Kim last year, but he had his moments. I think if he has a coach that is patient with him, he might do well. Unfortunately, I think Choi was not very patient with Kim, and why should he be when he was not doing much up front, and this affected his confidence as he was often yanked off the field at half-time.
So now, he is off to join Busan. I was flipping through some of the older new stories on this website to find what I wrote about FC Seoul's transfers, I came across this
picture
. Initially, when I read this last week, nothing registered. However, looking at it yesterday, something clicked.
Add caption
Being a massive grouch and curmudgeon, I can say with the utmost sincerity, that I hate K-pop. I think 90% of it is rubbish and it astounds me that there are so many fans of it internationally. I dislike, for lack a better word, how manufactured it feels. I know this is sacred ground for many and fans out there who feel offended, I apologize.
That being said, I love this photo because it looks like the promo for a Korean boy band. I do not know what they would be called (
Boy City?
), but I am sure that via the
strict hierarchy
, each member would have a rigidly defined role.
Here they are, from right to left:
Park Byung-hyun: the dancer
Lee Dong-il: sensitive one, sings the ballads
Kim Hyung-geum: leader, in charge of group harmony
Lee Joon-seo: maknae (youngest one), the other singer
Kim Jong-min: the rapper/bad boy/rebel, etc.
Even if the going is tough for Busan in the Challenge, the I-Park corporation can count on these guys to take care of the half time performances. Genius, if you think about it. They combined the synergy of football and shitty pop music into one entertainment package.
Now, I will use that to segue into Seoul's recent capture of Ju Se-jong. He was the
league leader in tackles and third in key passes
, which is pretty impressive considering the team he played for was relegated. Then again, being a standout on a team of dross might be why he excelled statistically, but nonetheless, I feel as though he will add some bite to Seoul's midfield. I feel as though this signing is a statement of intent that Seoul is not willing to concede the title to Jeonbuk.
Jeonbuk's off-season has been pretty impressive, but I feel as though Seoul has stayed fairly close. Of course, if Jeonbuk capture
Fernando Torres
or
Robin Van Persie
, then I guess that changes the equation. Part of me hopes it is Torres, because I found him to be exciting when he was with Liverpool, but I am really looking forward to jeering RVP. I can't stand that bastard ever since he switched from the red of Arsenal to the red of Man Utd. Personally, with their injury histories, I expect that both will see the treatment table with a fair amount of frequency and it will be a case of six million dollars not well spent.
Teams have been active in the K-League, but I feel that the marquee signings have been with Seoul and Jeonbuk, especially juxtaposed with the inactivity of Pohang and Suwon Samsung, . So, let's compare the signings of Seoul and Jeonbuk.
| | | | | | | |
| --- | --- | --- | --- | --- | --- | --- |
| Jeonbuk | | | | FC Seoul | | |
| Player | Pos. | From | | Player | Pos. | From |
| | | | | | | |
| | | | | | | |
| | | | | | | |
| | | | | | | |
| | | | | | | |
| | | | | | | |
| | | | | | | |
| | | | | | | |
| | | | | | | |
Jeonbuk Signings
On quantity alone, Jeonbuk is definitely winning the race. It seems as though Jeonbuk realized that their strategy of relying on a 37 year old striker might come back to bite them in the ass at some point in the future, even if he was the league MVP. Even though they were champions, Jeonbuk only managed 57 goals last season, which is the lowest total they have scored in five years. If it was not for a great start and some dodgy refereeing decisions/late-game heroics, Suwon or Pohang might have been the league champions in 2015. Therefore, management seems to have focused on adding more offense and they have went and signed four forwards with a fifth being rumored to be on the way.
Obviously, Ricardo Lopes showed his quality from his stint in Jeju last year. Likewise, Lee Jong-ho has been an up-and-comer for a bit and this is probably him taking the next step up. He did well in Jeonnam last year, netting ten goals, so he should equal that with ease if he can crack the starting line-up. On a personal note, I am a big fan of Lee Jong-ho since he helped Cambridge United win the Champions League in FIFA 2015. He was a scorer of big goals and one of the few players who never bitched about wanting to play somewhere else or being paid more. However, FIFA 2015 Lee Jong-ho seems to be a different breed than flesh-and-blood Lee Jong-ho as Jeonnam fans can attest to.
I know almost nothing about Ko Mu-yeol, except that this is a really terrible
photo
. I know that Ko has been at Pohang for five years (maybe more) and that his best season was probably in 2013 when he scored eight goals to help the Steelers win their improbable championship because that is when he played the most games and minutes for the Steelers. During the time he played for them, he has averaged 6.8 goals a season and since 2011, has never scored more than once in a game. He seems like a back-up/reserve striker at best. I know even less about Kim Shin.
I remember watching Kim Bo-kyung play against Lebanon in a national team game when he scored 13 times. It was in Goyang, I paid 50 K Won for a scalped ticket (no need to tell me how massively I got ripped off- I know), and I had to drink beer out of a paper bowl that they put nachos in. After that, he went to Wales and played for Cardiff City in their one and only year in the EPL.
Since then, it seems like he has struggled to make an impact anywhere and has bounced around a bit. His career reminds me a bit of Park Chu-young's, so it will be interesting to see if he finds a measure of redemption with Jeonbuk or if he ends up sitting on the bench there as well. Their midfield seems quite crowded at the moment.
Defensively, based on what Ryan has said about Lim Jong-eun, I am quite excited that Jeonbuk have signed him. I hope he continues to put in poor performances and Jeonbuk suffer for it. Unfortunately, Jeonbuk have signed the RB that Seoul had purportedly had their eye on. Like Ko Mu-yeol, I know very little about
Kim Chang-soo
other than that he played in Japan for Kashiwa Reysol and has a bit of K-League experience.
Seoul Signings
I feel as though this is the most proactive that Seoul has been in the transfer window since 2010. I felt as though midfield was a problem creatively last year, and so must have the front office, because it has been an area that Seoul has been upgraded the most in. Since selling
Koh Myong-jin
to Al Rayyan last summer and bringing in Takahagi, Seoul have signed three more midfielders.
The first two are
Cho Chan-ho
and
Shin Jin-ho
. Both played for Pohang, but neither was an integral player for them. Both are in their late twenties and seem like they are their to add depth to the midfield. Of the two, I feel like Cho has the most potential. He was great in 2013, leading the team with nine goals, but since then his career seems to have fallen on hard times. He was injured for almost of all of 2014 and struggled to come back in 2015 before eventually being loaned to Suwon Samsung mid-season. If he can rediscover his form, then Seoul might have quite a steal on their hands.
As I mentioned above, the player I am most excited about is Ju Se-jong. I think he was Busan's best outfield player last year and I think he will form a strong trio with Osmar and Takahagi. With his addition, I feel like Seoul have one of the top three midfields in the league. As I have said before, this was an area that was often times frustrating, so let's hope that these signings will fix that.
One player leaving the midfield is Molina and coming into his place is Dejan. Dejan is a legend and probably my favorite player of all time. He was spectacular in the six years he played for Seoul, but I have reservations about his return.
On the one hand, he is a legend and my favorite FC Seoul player of all time. On the other hand, there is an old saying about how you can't go home and reunions in sports hardly ever work out. Plus, he is 34 years old now. That being said, he still scored 15 goals for Beijing Guoan last year and there is no reason why he should not equal that in the K-League this year. Lee Dong-gook has shown that age is not necessarily an impediment against success.
Conversely though, Seoul has Adriano (who lit it up for them when he joined last summer), Park Chu-young (their big signing last year, a bit of legend as well), and Yun Ju-tae (expected to break out soon if his 4 goal game against Suwon is any indicator) as forwards already. Did they really need to sign another? Still, Dejan is quality and some competition among the four can't be that bad, can it?
Another knock on effect with the Dejan signing, besides Molina's departure, is Jung Jo-gook joining Gwangju. He did not play very much last year, and at 32, he probably does not want to warm the bench for another year. There might have been some gripes about Jung, but I for one will always remember his goal against Gyeongnam in 2010. I feel as though he was a big reason why they won the title that year as he got hot down the stretch and scored quite a few important goals. Also, he could be quite nifty on the ball with his foot work and passing.
Formation
Choi Yong-soo loves three in the back, so I cannot see that changing, especially if Osmar stays. Of course, he might opt to with a diamond 4-4-2/4-1-2-1-2, which I like much better. If he does that, then it might look like this:
This allows for Seoul to play their strongest offensive line-up. This is assuming that Park Chu-young would and could play as an AM rather than as a striker. I think he has good vision and he can carry the ball, so that would help Seoul's attack. Unfortunately, I think Seoul would suffer from a lack of width in attack, although that could be compensated for with Adriano, Dejan, or even Park Chu-young shuttling back and forth out wide. Defensively, the full-backs Ko Kwang-min and Sim Sang-min would receive no cover, so I could not see Choi choosing this formation. He might go with this instead: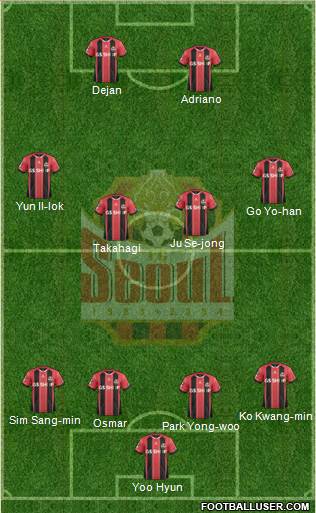 If he did play 4-4-2 or some variant of it, then he could have cover for his FBs, but he would have to cede the midfield since it seems to be conventional wisdom a 3 man midfield beats a 2 man midfield. Because Choi loves possession and Seoul seems to base much of their set up on having the ball rather than allowing their opponent to, I can't see Choi choosing to go with this formation unless Seoul was losing.
Instead, I think he will opt for a 5-3-2/3-5-2. If played well and Seoul attack, then it can be quite exciting. If the opponent chooses to remain behind the halfway line and defend in numbers, then teh game can be quite dull as Choi often opts to leave a CB on rather bring in another attacker.
Conclusion
Jeonbuk seem to be killing it in the transfer market. Signing Lee Jong-ho, Lopes, and Kim Bo-kyung all seem like coups. However, I would argue that Seoul have done well to match them. Dejan is no slouch and Ju Se-jong was probably one of the league's best midfielders last year and at 25, still has his best years ahead of him.
Of course, if Jeonbuk sign Torres or Van Persie, then that might change things. Both were, and still might be, at a level above any thing else in the K-League. From what I have read, Torres has lost some of his explosive power, but he might not need that against K-League defenders. Then again, he might struggle to adapt to the game here.
Van Persie, who doesn't rely on speed but instead his innate understanding of where the ball will be and positioning, probably will do well if he signs for Jeonbuk. However, being an Arsenal fan and seeing him on the treatment table for pretty much every season but one, I know that it is impossible for him to stay healthy. Maybe he can hook up with Peyton Manning's HGH provider and rectify that problem.
I still think that Seoul need to sign a RB and a CB. Ko Kwang-min is adequate as a wing-back, but I am not sure how he will function as a fullback defensively. I also think that Seoul need another CB. Their best one, Lee Woong-hee is off to join Sangju Sangmu and neither Kim Dong-woo nor Kim Nam-chun make me think of Beckenbauer. Osmar can play as a CB, but I think he is better as Seoul's DM/destroyer.
Whatever happens, I think that 2016 is shaping up to be an exciting season. It is evident that Jeonbuk believe in the old adages that to make money you must spend money and that you get what you pay for.
Having outspent every other team last significantly last year
, they won the title easily. It feels as though Jeonbuk thinks that money leads to success, and obviously it does, so they have not let up in the off season.
However, Seoul are not far behind and if they get an RB and a CB, I think they can take the title from Jeonbuk. As I have said before, I was not impressed with how they finished last year. I think that this is the year that they will falter.
What is sad though is happening to Pohang. They spent the fifth most last year, but finished third. Every year, I feel like they have overachieved. However, with the departure of Hwang Sun-hong, I feel like many of their players are following the manager out of the door. Kim Seung-dae moved to China, Ko Mu-yeol joined Jeonbuk, and Cho Chan-ho and Shin Jin-ho are now members of FC Seoul.
With the exception of Kim Seung-dae, none of these three players were integral to Pohang's success. Still, I would see it as an alarming trend. Maybe their new signing Yang Dong-hyun blows up and leads the league in scoring, but based on the stats, this is doubtful. He scored 11 goals in 2013, but that was for the Ansan Police in the K-League Challenge. Other than that, he has never had a season in double figures, so I expect that there will be many forlorn fans at the Steelyard this year. Should Pohang fall from the top six, what team will take their place?
TAGS
Classic
FC Seoul
K-League Classic