Ulsan Hyundai FC vs. FC Seoul: Preview and Prediction
(from youtube.com)
There has not been a K-League Classic game since the 25th of last month, so it is good that things are finally getting into the swing. It is just disappointing that it has to be, yet again, on a weekday when it is difficult to make the four to five hour journey down to Ulsan because your boss expects you to be at your post and finish out your shift. Speaking of disappointing, there are five home games left and two of those are on a Wednesday.
I do not know why the K-League continues to have weekday games. Is it to satisfy TV? I am going to assume that it is obvious they make more money from TV contracts then they do from the gate, so if that is the case I can see why they schedule games on weekdays if that is what the broadcasters want, but I digress.
Seoul travel to Munsu World Cup Stadium to take on Ulsan at 19:30 this Wednesday night. Last time I wrote a preview for these two teams, this is what I said:
Unfortunately, for Seoul and Choi Yong-soo, there is no rest this weekend. They will play Ulsan on Sunday and it is the cliched six pointer. Both teams are tied at 15 points apiece, but Ulsan is 5th in the table and Seoul is 8th because of goal differential.
How things have changed for those both teams. Even though Seoul has been dull, disappointing, and absolutely inconsistent for a good bit of this year, they have not been Ulsan. Seoul have moved up to fourth place right now, two points behind Jeonnam.
Jeonnam play on the road against Gwangju. With their current form, I expect that Jeonnam will take all three points, but if they slip up and draw or lose, then Seoul could either be tied or ahead in the league afterwards. Therefore, it goes without saying, Seoul need to get a result if they want to remain in the race for the top three.
(from Facebook)
Seoul- 2015 Season
It has not been the easiest season this year. As I have said before, the only consistent thing has been their inconsistency. They have won nine, drawn eight, and lost six. That is just not good enough if they want to win the title. Seoul finally has a positive goal differential and it only took 23 games for them to achieve this.
Speaking of goals, with just 26 scored in 23 games, this makes for an average of 1.13 goals a game and that is slightly below the league average of 1.2 goals a game. So yeah, Seoul is around the league average but so what. The league, on the whole, has been dull this year and being anemic offensively is not something to aspire towards. If Seoul was on top of the league of course, I would be singing a different tune but they struggling in fourth place, so not winning and playing dull football makes for a criminal combination.
Most frustrating however is when I think they will do well, they shit the bed and when I write them off, they are brilliant. For example, they really should have beaten Ulsan, Busan, and Gwangju at home but drew in all three of those games. I thought they would lose on the road to Jeonbuk and Jeju and in both those games they won and played pretty well.
After losing to Pohang on July 11th, I expected for Seoul to not do well against Incheon, especially considering that Incheon had the top defense at the time. However, Seoul was absolutely brilliant the last time they played. Sure, they were a bit lucky with the penalty save, but Seoul absolutely deserved to beat Incheon. They attacked the whole game and should have scored more than two goals. If you want to read the recap, here it is (
http://www.kleagueunited.com/2015/07/fc-seoul-2-0-incheon-recap.html
).
Yojiro Takahagi made his debut that game and while quiet, was on the whole, decent. I am very excited to see what he can do in the midfield when paired with Molina. I hope that he will help make Seoul more dynamic in attack. Even if they do not score more goals I am crossing my fingers that they will create more than the standard four chances that seems to be part-and-parcel of the FC Seoul experience in the last two years.
(from K-League.com)
Ulsan- 2015 Season
Ulsan's season, to put it mildly, has been pretty shit. They sit in 10th place currently, four points above Busan. If Busan catch them, then Ulsan will have to take part in the play-off game at the end of the year to see if they go down to the K-League Challenge. With such a big sponsor, whose name is on the damn league masthead, I find it unfathomable that this will happen.
Why have Ulsan, only two years ago were one kick away from winning the league, done so poorly in 2015? At home, they have been decent, winning four, drawing six, and losing three. That is not great, but it is on par with a lot of the other mid-table teams this year.
On the road, it is where they have really suffered. Ulsan has six losses and three draws, but what really jumps out is that they have won only once and that was all the way back in week two against Pohang. Since then, they have not won in the road in ten games and counting.
Ulsan started so well this year, taking ten of twelve points in their first four matches. From there, Ulsan's form has fallen off precipitously and they have yet to recover it. After beating Gwangju 2-0 at home on April 5th, they did not record another win for two months until they beat Jeju 2-0 on June 7th.
Here are the results for the span of those nineteen games:
| Date | Team | Score | Result |
| --- | --- | --- | --- |
| | | | |
| 04/11/2015 | Daejeon (A) | one : one | Draw |
| 04/15/2015 | Suwon (H) | one : one | Draw |
| 04/19/2015 | Incheon (A) | one : one | Draw |
| 04/25/2015 | Busan (H) | one : one | Draw |
| | | | |
| 05/05/2015 | Jeju (A) | two : one | Lost |
| 05/10/2015 | Jeonbuk (H) | one : two | Lost |
| 05/16/2015 | Seongnam (A) | one : nil | Lost |
| | | | |
| 05/25/2015 | Pohang (H) | two : two | Draw |
| 05/31/2015 | Seoul (A) | nil : nil | Draw |
| 06/03/2015 | Busan (A) | one : nil | Lost |
| 06/07/2015 | Jeju (H) | two : nil | Win |
| | | | |
| 06/17/2015 | Jeonbuk (A) | two : one | Lost |
| 06/21/2015 | Incheon (H) | one : one | Draw |
| 06/27/2015 | Seongnam (H) | nil: one | Lost |
| 07/01/2015 | Suwon (A) | three : one | Lost |
| 07/05/2015 | Jeonnam (A) | two : one | Lost |
| | | | |
| 07/08/2015 | Daejeon (H) | four : one | Win |
| 07/11/2015 | Gwangju (A) | nil: one | Lost |
| 07/25/2015 | Seongnam (H) | nil : nil | Draw |
What jumps out is the run of ten games from April 11th until June 3rd where they drew six and lost four. However, after beating Jeju 2-0, things did not get better. In their next eight games after that victory, Ulsan only won once, drew twice, and lost five times. That type of form is enough to cost a manager their job
(from kimcoop.org)
Head to Head Match-Ups
Team
Played
Win
Draw
Loss
Goals Scored
Goals Allowed
Seoul 40 11 16 13 1.15 1.15
Ulsan 40 13 16 11 1.15 1.15
(http://www.soccerpunter.com/soccer-statistics/Korea-Republic/K-League-Cup-2011/head_to_head_statistics/all/1381_FC_Seoul/1374_Ulsan_Hyundai_Horang-i)
Date
Results
06/24/2012
Seoul 1 : 1 Ulsan
09/26/2012 Ulsan 1 : 2
Seoul
11/15/2012
Seoul
3 : 1 Ulsan
04/06/2013
Seoul 2 : 2 Ulsan
06/30/2013
Ulsan
2 : 0 Seoul
10/20/2013 Seoul 0 : 2
Ulsan
10/30/2013
Ulsan
1 : 0 Seoul
03/29/2014
Ulsan
2 : 1 Seoul
08/06/2014 Seoul 0 : 1
Ulsan
10/09/2014 Ulsan 0 : 3
Seoul
11/16/2014
Seoul 2 : 2 Ulsan
03/08/2015
Ulsan
2 : 0 Seoul
05/31/2015
Seoul 0 : 0 Ulsan
Christ, Seoul has done really terribly against Ulsan recently. They have won only once in the last ten games and have been outscored 14 to 8. Ulsan have won four out of the last five home games they have played against Seoul.
(from m.korea-press.com)
Last Match
Here is a recap I wrote about the game last time
(http://www.kleagueunited.com/2015/06/fc-seoul-0-0-ulsan-hyundai-horang-i.html).
If you are interested in reading about the game, give it a perusal but if not, then I will hit the highlights since there were not many. In sum, Seoul really should have won this game.
I remember taking my seat in the stadium, looking up, and watching the ball deflect off the bar from Park Chu-young's free kick. Neither team created anything too much of note until the end, when Seoul really should have won the game. Jung Jo-gook had a glorious chance to snatch all three points, but Ulsan keeper Kim Seung-gyu dived low to his left and knocked the ball against the bar.
Players to Watch
This one is tough because even though Ulsan has not been very good this year, they still have some quality in their team. That is why I find it so perplexing that they have been such shit this year. I will choose five players that Seoul should watch out for.
(from newstomato.com)
First, there is new boy Everton. Unless there is something contractually barring him from playing against his former team, I am sure that he will be well up for this game considering the circumstances of his departure. He cannot have been happy being bumped for and replaced by former Daejeon striker Adriano.
As I have said earlier, by no means was Everton terrible this year and in some ways, I think he has been made the scapegoat for Seoul's offensive troubles. It remains to be seen if Adriano is an adequate replacement for him and worth the risk. I cannot see Everton going on and lighting up the league scoring wise, but if he does, then I think questions should be asked of Seoul's coach Choi Yong-soo.
(from K-League.com)
Second, I think Seoul need to watch out for their other new signing, Croatian Ivan Kovacec. His pedigree as an Austrian league player does not set hearts aflutter, but the goal he scored against Seongnam in the FA Cup will. Kovacec is brand new, so not much is known about him, which is why I am highlighting him as a player to watch.
(from douzesport.com)
Third, if he starts and/or plays, Seoul will have to do well to keep Yang Dong-hyun on a tight leash. The striker started the year for Ulsan so well, scoring seven times for them, but he has not found the back of the net since their loss against Jeonbuk on June 17th. So even though he is in a bit of a slump, he might be due for a break out.
(from youtube.com)
Fourth, obviously, is Kim Shin-wook. The Wookie always seems to kill Seoul, or at least every time I watch Seoul play Ulsan he does. Even if he does not score, he gives the defense fits with his strength. I am glad that Kim Yong-dae is probably not going to start since the Wookie seems to be his personal nightmare.
In his career, he has scored six of his 71 one goals against Seoul. That is not really an impressive statistic, but it has been the last three years that the Wookie has killed Seoul. In 2013, he scored three goals in four games against Seoul and in 2014, before being injured, he had two goals in two against Seoul. I do not think it is a coincidence that Seoul's only victory in the last ten games against Ulsan came when he was not playing.
This year, it seems like he has not played well or done much, but he has come on as of late. Since the beginning of June he has scored seven goals in all competitions and he has scored ten goals in 25 games. I am assuming that scoring in 40% of games played is a decent rate for a striker.
(from youtube.com)
Finally, Ulsan's Keeper Kim Seung-gyu will be difficult to beat. In the last game these two teams played, he was the reason that Ulsan walked away with a point. His confidence should be high after helping the national team win the East Asian Cup as Korea only conceded one goal in 270 minutes of play.
Line-up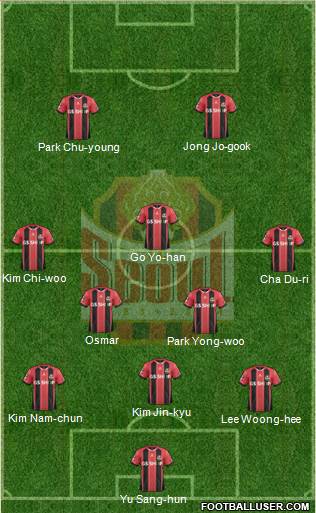 I am not really sure what Choi Yong-soo will do. Will he leave newcomers Adriano and Takahagi on the bench? I think so. I also think Molina won't get a starting nod either.
I think Choi will play it safe and choose to go with power in the midfield, especially in the first half. That is why I chose Osmar and Park Yong-woo together. If Kim Shin-wook plays, I think Choi will be worried about his power and want to give the CBs as much cover as possible, although five players is a bit excessive.
In the second half though, I think that is when we will see the flair players such as Molina and the new boys Takahgi and Adriano as well.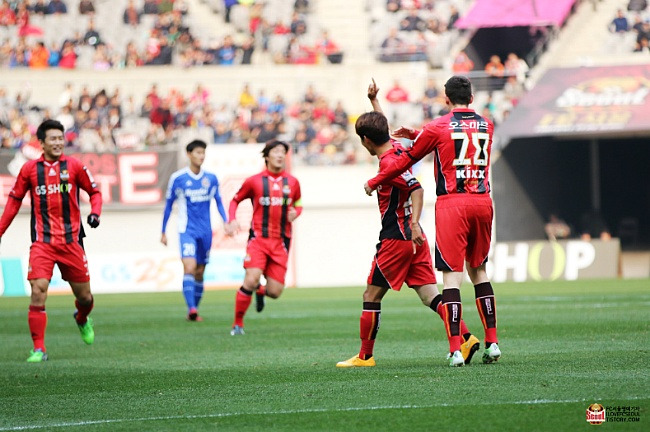 (from ilovefcseoul.tistory.com)
Prediction
Banging on with consistently inconsistent theme, Seoul has been maddening in their travels. On the road, their record is decent with four wins, three draws, and four losses. That is not great, but that is better than a lot of teams in the K-League this year.
However, when they travel down south, I feel as though it is a bit of a toss up as to how well they will do. They won in Jeju and Busan, but have lost in Jeonnam, Pohang, and Ulsan as well. So who the hell knows how they will do tomorrow.
This feels like a trap game if there ever was one. On the one hand, Seoul should win this game. They have a better record than Ulsan and in my opinion, a better team as well.
On the other hand though, Ulsan has a great record against Seoul recently. Also, Kim Shin-wook is usually good for a goal against Seoul. Let's hope he has the stomach flu or something.
So it is hard for me to decide who to choose, but I am going to be optimistic this time. Outside of June, Seoul has yet to have a good run of games and I feel as though they are due. Hopefully, after having a long break the players are refreshed and energized to go.
I think the first half will be a dull and insipid affair with neither team doing much. However, if Seoul goes into the break tied, then I think they will come out and attack more in the second half.
Final score: Ulsan 1 - 2 Seoul
TAGS
Classic
FC Seoul
K League 1