FC Seoul vs. Incheon Utd.: Preview, Prediction, FA Cup Recap
This post is quite long, so if you want to just see the predictions, scroll down to the bottom.
It has been two weeks since FC Seoul has last played a league game. Back then, they were sitting in third place and had a great chance to hurt their rivals Pohang, who were in sixth place. As anyone who went to the game knows, this did not happen.
Instead, Seoul shit the bed and loss to Pohang 3-1. They tumbled from third to sixth place. Incheon, who sit in seventh place, come to World Cup Stadium on Saturday looking to break into the top six. They are two points behind Seoul, so if they win, then they can leap into the top championship round while Seoul will be mired in the relegation round.
Of course, there are still a lot of games left, but as I have said 173 times before, this is a critical match that Seoul cannot afford to sleep on. If they want to finish in the top three, then they need to defeat their direct challengers and they need to do it handily. Even though Seoul beat Pohang in their FA Cup contest on Wednesday, I cannot imagine that confidence is too high after losing their last league game.
Seoul vs. Pohang- Recap
Two weeks ago, Seoul and Pohang played on a humid Saturday night in World Cup Stadium. Seoul lost 3-1, with their defense and midfield being passed to death. On the first goal, Lee Woong-hee was out of position, which enabled Kim Seung-dae to run into space and put himself in a great spot to cross while simultaneously dragging Kim Dong-woo over from the left to open up space for Park Sung-ho to tap the ball in.
Even the second goal happened on Lee Woong-hee's side. Pohang's players executed a nice triangle and their CB banged it in from distance. It was a nice goal that the neutrals could applaud, but was symptomatic of Seoul's defensive deficiencies.
Park Yong-woo did not cover himself in glory that day either. The "pass master" should have done better on the first goal and was fairly anonymous the whole game. It was much to the chagrin of the FC Seoul supporters behind the goal that it was not his name being called when substitutes were made.
Finally, for the topper, Kim Yong-dae deflected in a cross for an absolute clanger. So as I said in my FA Cup preview, Seoul was not terrible, but they couldn't get anything going. I hoped that Choi Yong-soo would go away from playing 3-5-2 and include some more offensive orientated individuals in his starting line up such as Molina, Yun Il-lok, and Everton. What did Choi do? He gave me two gigantic middle fingers and sent out this formation.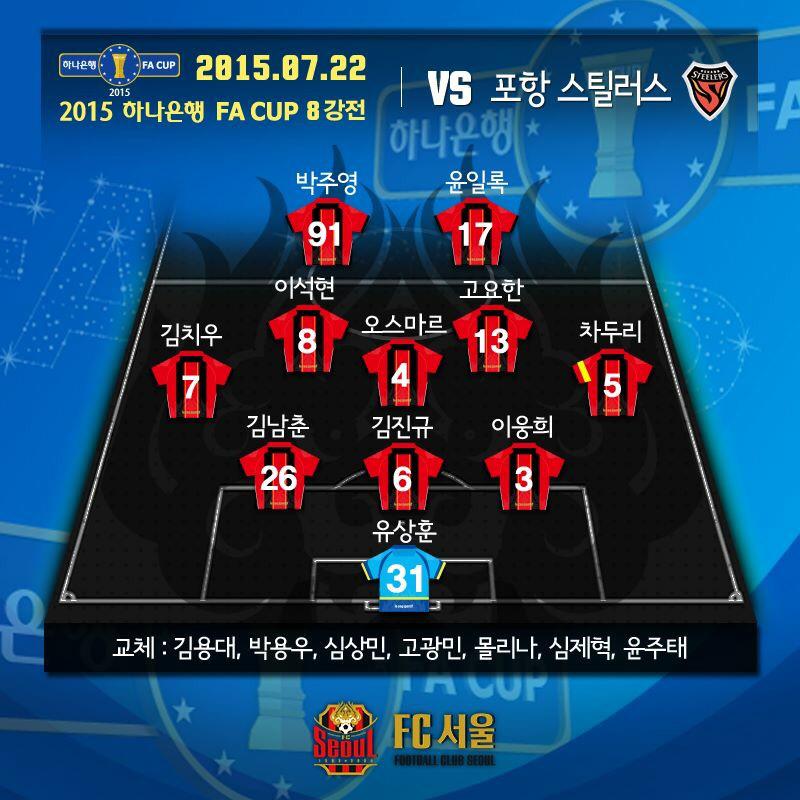 (from Facebook)
However, Seoul did beat Pohang 2-1 to advance to the semifinals of the FA Cup. I had to work until 8:30, so I missed the game and therefore, cannot really give an account of the match.
That being said, according to a friend who went, Seoul won because they beat Pohang "tactically". He gave credit to Kim Jin-kyu and Osmar and their ability to read games.
Watching the highlights, Yoo Sang-hun really flapped on the first goal and Kim Seung-dae was unlucky not to score in the first half when he hit the post. Outside of Park Chu-young's wonderfully headed goal off of a Kim Chi-woo free kick, Seoul really did not do anything of note. They had one more chance, but Kim Chi-woo's shot did not trouble the keeper.
I am sure Choi felt fortunate not to be done 2-1 or 3-1.
They seemed a bit better in the second half. The winning goal had an element of luck to it, but Park really did kick the shit out of the ball. I am pretty sure if it didn't deflect in off of the defender, handball would have been given. Defensively, they did well to limit Pohang's chances to a free kick and a shot outside of the box.
If you want to watch the video, here is the link:
http://sports.news.naver.com/videoCenter/index.nhn?uCategory=kfootball&category=kfootball&id=139901&redirect=true
I feel as though
Pohang have a bit of the Arsenal in them. They seem to dominate games but somehow, through poor luck or shit defense, they don't win. Their passing is wonderful to watch at times and the movement of their forwards is sublime. It leaves me wondering why they are not at the top of the league or at least challenging Jeonbuk and Suwon.
All I know is that this is a big win for Seoul and the FA Cup represents their best way to qualify for the Champion's League if they want to visit China, Japan, and whatever other country is thrown into their group. Unfortunately, with Jeonbuk and Suwon knocked out of the FA Cup, Seoul will have to win it to get the automatic A.C.L. spot rather than finish in fourth. The other three, Jeonnam, Incheon, and Ulsan realize this as well, so whomever Seoul draws will give them a tough contest.
Anyways,
Park Chu-young got both goals in the game.
Where would we be without him? I was very critical of him earlier this year, but I am glad that I was wrong.
I have said before if he brings back ten goals this year, that it will be a good return for someone who hasn't played very much in the last three or four years.
(www.incheonunited.com)
Incheon- 2015 Season
In the seven years that I have been watching Seoul, I cannot think of too many great Incheon teams. In 2013, they were quite good. They made it into the championship round and played Seoul tough that year, even beating them in World Cup Stadium early in the campaign.
However, they are usually mired in mediocrity and stuck somewhere in mid-table or fighting off relegation. Last year they were dreadful in the beginning, looking as though they would be one of the teams that would make the drop. A late season surge saved them and they were able to finish four points above Gyeongnam, thereby avoiding the relegation playoff games.
This year, they are doing much better. Symptomatic of the league, they sit in seventh place but are only four points behind third place team Jeonnam.
I can't decide if it is parity or the league is just a pedestrian affair this year. So, h
ow have they been able to be competitive this year?
Obviously, by fielding the best defense. They average a goal a game, but give up only 0.82 goals per game. They allowed the fewest goals this year, eighteen, in the league. So even though they do not score much, they do not concede much either. Their biggest losses have been to Suwon and Jeonnam by a score of 2-1.
Looking at their record, it is very similar to every other team that sits in the three-through-nine spot. They have won seven, drawn nine, and lost six. Incheon started the season terribly, alternating between drawing and losing their first four games. After that, April saw a run of four straight draws and they really hit their stride in May, winning three in a row. From there, Incheon has leveled off somewhat. They won two games in June, but lost one and drew one.
Their recent form has been similar. They have won three, drawn once, but lost their last game at home to Seongnam.
Incheon is a team that travels fairly well. They have won three on the road, drawn three, and lost four. They have scored eight goals away from home, but have conceded eight as well. However, they have only kept two clean sheets.
What really jumps out at me is their record against teams in the top six. They only have one win. That was against Pohang in the Steelyard. They have drawn five times and lost six times. That really is woeful for a team with designs on finishing in the top six and maybe even qualifying for the A.C.L.
I do not really know much about this team. Other than Matej Jonjic and Kevin Oris, there are not any players who are readily identifiable. In the past there was Seol Ki-hyeon, who I would say is a bit of a legend having played with Reading and Fulham. Then there was Yoo Byung-soo, who lit up the K-League in 2010 with 22 goals, but he left to go play in Saudi Arabia. Finally, Han Gyo-won played there for a bit, but he transferred to Jeonbuk last year and contributed 11 goals to help them win the league
(koreajoongangdaily.joins.com)
Head to Head Match-ups
Team
Played
Win
Draw
Loss
Goals Scored
Goals Allowed
Seoul 36 17 12 7 1.86 1.22
Incheon 36 7 12 16 1.22 1.86
(http://www.soccerpunter.com/soccer-statistics/Korea-Republic/K-League-Cup-2011/head_to_head_statistics/all/1381_FC_Seoul/1380_Incheon_United_FC)
Based on the match-ups in the past, Seoul has gotten the best of this derby much more frequently than Incheon. So, let's look at the league results since 2012.
05/28/2013
Seoul
3-1 Incheon
07/15/2012
Incheon
3-2 Seoul
030/9/2013 Seoul 2-3
Incheon
08/10/2013 Incheon 2-3
Seoul
10/06/2013 Incheon 0-0 Seoul
11/17/2013 Seoul 2-2 Incheon
05/03/2014
Incheon
1-0 Seoul
08/16/2014
Seoul
5-1 Incheon
09/13/2014
Seoul
3-1 Incheon
04/12/2015 Incheon 1-1 Seoul
06/03/2015
Seoul
1-0 Incheon
Last year, Seoul spanked Incheon in both their matches at World Cup Stadium. They won the first quite easily, 5-1, but I thought they played better in the second, which they only won 3-1. For many, these two contests were the high points of the season.
In the eight matches that I have seen Seoul play against Incheon at World Cup stadium, they have won five, drawn two, and lost just once. This is a game that Seoul almost always wins. That being said, I am worried about this contest. The only consistent thing about Seoul this year has been their inconsistency. Also, ever since beating Jeonnam 3-0 back in May, they have not played very well. Nil-nil draws are not a great way to get the fans to pack the stadium.
(from Facebook)
Last Match
Seoul and Incheon have played twice this year. The first time was in early April and Seoul, from what I could remember were absolute dog shit. They won a PK, which Park coolly dispatched for his first league goal, but were dominated thereafter.
I watched the video on youtube to confirm this and I was right. In the first half, Incheon had six great chances and Seoul only had one, not counting the PK. In the second half, Incheon had four really good chances and equalized off of one of them. Seoul had two chances, but they did not come until after the 75th minute. Seoul really was absolute shit that day.
They played again in June and Seoul was a bit better. They created more chances in the first half, but only two were from open play. Seoul was not lucky to be down 1-0 in the first three minutes and then Kim Jin-hwan gifted Seoul the game with a woeful back pass to Yoo Hyun.
Rather than write about it again, I will just quote my old post
The moment of the match arrived early. In the 16th minute, Jung Jo-gook scored off of a calamitous defensive error. Jung Jo-gook nominally pressed the defender, but the defender panicked and passed back to his keeper. He did not put enough on the pass, so Jung Jo-gook was able to easily intercept the pass and score. The keeper came off of his line, but he could only get a foot on the ball and it popped back into Jung Jo-gook's path and it was an easy tap in.



Anyways, Seoul won 1-0. They created some chances but couldn't finish, a recurring theme for Seoul's season. They were much better in this game than the one in April. In that one, they were lucky to escape with a point. In this, I would say they probably deserved to win. Here is the link to that game if you want to watch it.
Players to Watch
I am not too familiar with Incheon's team, so I will name a few players. The most obvious player to watch will be Jonjic. He has been there rock in the back this year and was Incheon's only representative (I think- he was the only starter at least) in last week's all-star game. I am sure Park Chu-young will find it difficult to get past him on Saturday.
Their other CB, Kim Jin-hwan- the one responsible for Jung's goal last time out, has scored four goals this year but has not played since July 8th. Is he injured? I am not sure. Their fullbacks Gwon Wan-gyu and Park Dae-han don't have gaudy stats, but they are part of the back four that has been almost impenetrable this year.
Up front, Kevin Oris will cause Seoul's CBs problems with his strength. In the game in April, i thought he was brilliant. He attempted an overhead kick, had a knockdown on a FK for Incheon's equalizer, and consistently played the battering ram for Incheon's offense. Whomever starts in defense will have their hands full.
Line-up
As I have said before, Choi is a creature of habit and generally doesn't change things up much. On occasion, he will pull a switch, but I expect that he will go with the same formation and pretty much the same personnel as he trotted out on Wednesday.
I expect Yoo Sang-hun to continue to be the first choice goalkeeper after Kim Yong-dae's clanger against Pohang two weeks ago. I also expect that he will keep Kim Jin-kyu in the middle. Even though he is coming off an injury, I expect Choi will want his experience, especially with trying to marshal Kevin. Finally, I think he will give one of his wing-backs a rest. I feel like he will want Cha on the field, but it wouldn't surprise me if Kim Chi-woo started as well or instead.
In the middle, Osmar and Go Yo-han are the obvious choices, but I am not sure who the third midfielder will be. I would like to see Yojiro Takahagi get a start, but I don't expect to see him play until sometime in August. That is why I chose Molina.
Up front, I am sure he will go with Park Chu-young after Wednesday's performance and I think he will pair him with Jung Jo-gook.
(from Facebook)
Prediction- "Let's Hold the Porch Down"
Incheon's coach, Kim Do-Hoon, has set his team up to utilize the long ball and why the hell not. They have a beast of a striker in Kevin and he can knock the ball down for a speedy winger such as Kim In-sung to run onto. I expect that will be Incheon's game plan on Saturday.
They will be full of confidence after having won at Seogwipo on Wednesday. I am sure that will carry over for tomorrow's match.
Seoul on the other hand, will probably come out cautiously and defend in the first half. They will sit back and play it safe and try to score in the second half. That is usually Choi's M.O.
Seoul are in sixth place and only two points behind the Jeonnam. Both teams know that a win is absolutely crucial if they want to make it into the championship round when the split occurs, but Seoul has more to lose and a point would serve them well.
I imagine that the team talk will go something like this.
The game will be played as though both coaches were eight. years old. Neither will want to the leave the safety of their porch. As soon as Seoul ventures past the halfway line, they will lob it back to Incheon's defense and retreat to the safety of the halfway line. I would like to predict that Seoul will win 3-1, but I imagine that it will be much closer.
Also, every time Seoul takes one step forward, for instance winning an important game like Wednesday's FA Cup match, they immediately proceed to take a step back. They haven't won at home in five games, which coincidentally was the last time these two teams played way back on June 3rd. Since then, they have drawn four times and lost once, only managing to score twice.
Until they start putting in better home displays, I am not going to fall into the trap. This is a game they should win 2-0, but instead they draw.
Final score: Seoul 1-1 Incheon
TAGS
Classic
FC Seoul
K League 1