FC Seoul vs. Gwangju FC: Preview and Prediction
(from www.ilovefcseoul.tistory.com)
Speculation is mounting that Choi Soo-yong is off to Jiangsu Sainty. From what I understand, it is pretty much a done deal. I am not sure if he is leaving now or in mid-season. Here is a link from rokfootball.com (
http://m.sports.naver.com/kfootball/news/read.nhn?oid=076&aid=0002763746). It is all in Korean, so I will not pretend that I know what it says.
If so, then this might be his last game coaching for FC Seoul, who play Gwangju FC this Sunday at World Cup Stadium.
Seoul was brilliant going forward Wednesday night. They put four in the back of the night, but even better created fourteen quality chances to score. However, a lot of that is probably down to the opponent. Jeju's defense has been leaking goals of late, so this was as good a time as any to boost the stat sheet and play attacking football.
Unfortunately, I do not see this Sunday's game being nearly as entertaining. Gwangju FC is not as potent offensively as Jeju, play better defensively, and do quite well on the road. Therefore, I think Seoul will struggle on Sunday to get a result.
2015 Season- Gwangju FC
It has been a great season for Gwangju in the K-League Classic so far. Right now, they currently sit in ninth place, one point below Jeju United. More importantly, they are eight points above Busan, who sit in 11th place and currently look like contenders for relegation. For a team that just got promoted from the K-League Challenge last year, I would say that is pretty damn good.
How have they done it? I am not really sure. I would say with a little bit of everything. They have been fairly solid defensively, scored timely goals, and have gotten results on the road.
Gwangju FC has allowed 22 goals this year (1.16 per game), which puts them in the middle of the pack defensively. The most Gwangju has conceded in one game has been three goals, and that was against league leader Jeonbuk in the 5th week. Looking at that defensive record, it seems as though they are perfect where they are.
Also, Gwangju FC has a knack for scoring at the end of games. In the first week against Incheon, they scored in the 94th minute to get a draw. Next, in the third week against Busan, they scored in the 81st minute to win it 3-2. Then, in the 9th week against Jeonnam, they scored in the 90th minute to win 3-2. Finally, in the 15th week, they beat Suwon on an own goal in the 79th minute.
Gwangju FC has been done quite well on the road. They have won four, drawn three, and lost four, which I think is respectable. In fact, Gwangju FC has done better on the road at home, where they have won two, drawn four, and lost four. However, they have lost their last road games against Pohang and Incheon.
(from www.footballjournal.co.kr)
2015 Season- FC Seoul
I have said about Seoul this year- their tactics, their form, their lack of offense, defensive mistakes, etc. Therefore, I am going to try and keep it short. The one thing that remains true about Seoul is their lack of consistency. When I think they are going to play well and win, I have been wrong. When I have predicted doom and gloom, my
prognostication has come back to bite me in the ass. In other words, who the hell knows how it is going to be.
That being said, Seoul has done well at home this year. In the nine games they have played at Seoul World Cup Stadium, they have won four, drawn four, and lost one. They have outscored their opponent 10-3, but the game against Jeonnam has, in my opinion, inflated their statistics. Seoul has difficulty scoring, as I have said so many times, especially at home.
The last time they scored at home was against Incheon on Jung Jo-gook goal. It has been 254 minutes plus whatever stoppage time since Seoul has found the back of the net. That has to weigh heavy on the players mind, regardless of Wednesday's result.
(from mnews.joins.com)
Head-to-Head Match-ups
Because Gwangju was not one of the original K-League teams, their is not much history between these two. They have only played five times. Seoul has usually come out the better team in this contest. Here are the results.
04/24/2011 Gwangju 1-0 Seoul
07/23/2011 Seoul 4-1 Gwangju
03/12/2012 Gwangju 1-2 Seoul
07/01/2012 Seoul 3-2 Gwangju
04/26/2012 Gwangju 1-1 Seoul
(from www.gwangjufc.com)
Last Match
Here is what I wrote in my last preview:
"This weekend Seoul travels a very long way to play Gwangju, one of the newly promoted teams in the K-League Classic. Currently, they are sitting at 8th place in the table with 8 points, a point and one position above Seoul. Therefore, this could be considered an important match for both teams, particularly Seoul if they want to climb the table and be a part of the race for the top six."
Things have changed considerably since then. Seoul's form improved greatly and they have only lost once in their last twelve games and subsequently, has climbed the table. They now sit in fourth place, tied with Pohang on points.
However, when the teams met up back in April, it was right after Seoul had been destroyed by Suwon. For whatever reason- a lack of confidence, a desire to not lose, the heat- Seoul did not play well that day. In my opinion, Seoul was lucky to come away with a point as they were outplayed by Gwangju.
Fabio Neves scored in the 23rd minute off of a ball over the top. Osmar and Kim Nam-chun had difficulty clearing it and Fabio made them pay. Seoul equalized in the 41st minute as a Go Yo-han scored.
At halftime, Kim Nam-chun was subbed off for Kim Jin-kyu, but in turn, Kim Jin-kyu injured himself seriously and has been out since then. Afterwards, neither team did much, but Gwangju was closest to scoring the winner.
(from gwangju-fc.com)

Player to Watch
Last time, I had difficulty deciding who this would be, and it is no better this time. Five players on the team have scored two goals and four have chipped in with one goal. Their leading scorer is their defender Lee Jong-min with three goals. However, he has not scored since May. Therefore, I think Seoul must watch out for Gwangju's center backs on set pieces. They seem to score a lot of their goals that way.
Line-up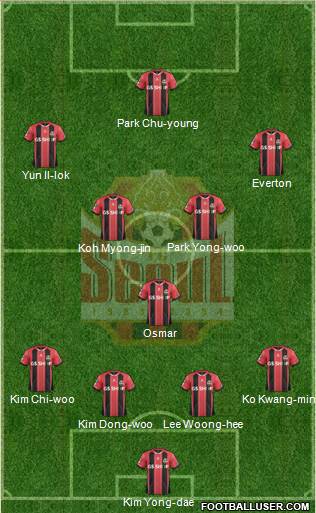 Who the hell knows?
Before the Jeju game, Choi Soo-yong had played with a back three in his last seven games. I would say that Choi usually goes with what works and this formation worked well in Jeju on Wednesday, so I envision he will trot it out again. A lot of fans were not happy with the way the Super Match was played, so I think Choi will be conscientious about that and try and go for goals.
However, I am often wrong about what Seoul will do, so I will probably be wrong about this as well. Cha Du-ri, who is the leading vote winner for the All Star game, has not been seen playing for over a month. I am not sure why, but if he is healthy then I think he might play. I think Park Yong-woo might be on the bench, but I also think that Choi might want to rotate his midfield a bit. Koh Myong-jin sat Wednesday, so then he might think it is Go Yo-han's turn to have a break.
Molina played a full 90 on Wednesday, so I do not think he will get a start. I think he might reward Everton and Yun Il-lok however, since they both had good games.
Prediction


In the last five games that Gwangju has played, they have not done well. They have lost their last two games and have not won in five weeks. Seoul's form has not been much better, but they did win on Wednesday and played quite well. I am hoping that carries over into Sunday and Park Chu-young gets a fifth goal.
Final Score: FC Seoul 1-0 Gwangju FC
TAGS
Classic
FC Seoul
K League 1