FA Cup: Quarter-Final Preview - Seongnam FC vs Ulsan Hyundai
This post is a preview of a FA Cup Quarter-Final tie that will be held on July 22nd. A preview for The other two matches will be covered in a Writer's Chat that will be posted shortly!
Seongnam FC vs Ulsan Hyundai
The defending champions of the Korean FA Cup, Seongnam FC, enjoyed so much their reward for their victory in the last edition of this cup, a berth in the Asian Champions League, that they seem determined to do it all over again. After slaying FC Seoul on penalty kicks and stunning the home crowd at the Seoul World Cup Stadium last season, Kim Hak-bum's Magpies' have found their way to the Quarter-Final stage yet again.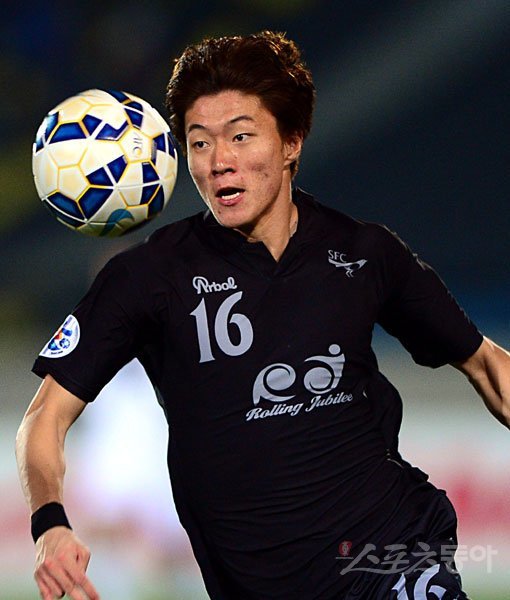 Hwang Ui-jo: FA Cup saviour and joint 2nd-top
scorer in the K League
But it hasn't been as easy as it should have been. The luck of the draw saw them face off against Busan Transportation Corporation and Yeungnam University. The former is a 3rd-tier squad that has seen finer hours; the latter an ambitious university which pluckily made an improbable run to the Quarter-Finals in 2014. Nonetheless, they should have been easy wins, and yet both teams Seongnam were dragged into Extra Time and only triumphed thanks to Hwang Ui-jo winners.
Regardless, Seongnam is in great form. The citizen club have not lost a game since June 17th, collecting 14 points in 6 games and sitting pretty in the K League table in 5th position. Their most recent game was a 1-0 road victory at Incheon. Simply put, Seongnam are on a roll, and it's much easier to see that continuing over the next few matches than see it stopping.
Ulsan Hyundai are a storied club indeed. They have twice won the K League, once won the Asian Champions League and are in the hunt for a spot in the Asian championship nearly every year. The one trophy that has escaped them, despite 8 runs to the final four, is the Korean FA Cup.
This season has been harsh for Tigers fans. A new chapter was beginning in the city and in the career of one man, the new Ulsan manager - Yoon Jung-hwan. Yoon had been playing, coaching and eventually managing Sagan Tosu since 2006, and had been very successful, earning promotion for the once J.League 2 side. However, it's safe to say that despite getting the players he wanted in midfield, including one Server Djeparov, it has been far from a successful season. Ulsan currently sit in 10th place and have collected just 4 points in their last 7 games.
Ulsan, like Seongnam, have had a bumpy road to the Quarter-Finals in the Korean FA Cup part of their fixtures, although they have had to face harder opposition. Ulsan needed spot kicks to defeat Seoul E-Land in the Round of 32, and were brought all the way to extra time by a pesky Daejeon Citizen side on the night of the Round of 16. However, both times they managed to prevail, for victories that have been too few for the taste for fans of the Horangi.
So who will be victorious on this night? Seongnam, despite having the smaller wallets as a citizen club, seem to have the edge. Their lineup will probably be very similar to the ones they have played over their run of good form - one could argue the secret to their success lies in their consistency. They have faced Seoul's 3-5-2, Incheon's 4-1-4-1, and countless 4-2-3-1 systems, but manager Kim Hak-bum has stuck and will stick to his guns on a 4-2-3-1 formation.
I'm tall and I love it. Ulsan center forward Kim Shin-wook
Their starting lineup, if the Magpies' opt to stick to their first team, is also on the predictable side of things. Hwang Ui-jo should start up top, with Kim Do-heon as the creative marshal in the middle. Kwak Hae-seong is the attacking option on the right fullback, often overlapping the right winger, which should be Lucas. Newly signed attacking midfielder Javier Reina and former Busan IPark winger Park Yong-ji are both ineligible. The latter is cup-tied while the former is unregistered for this tournament. (I believe.)
Centreback Yoon Young-seon (left) will have to keep
the Wookie quiet
Ulsan Hyundai, in a mix between pragmatism and blind faith, attack mainly through long balls to Kim Shin-wook. The towering "Korean Crouch" has long been target of speculation to a foreign move, though nothing has materialized. (As I type this, a story came up on KBS about how Kim is learning English to prepare for a possible move abroad.)
Although the return of Server Djeparov from injury brings a long-needed other dimension to their buildup, the key battle in this game will be between Yoon Young-seon and Kim Shin-wook. If the Seongnam centreback can prevail, Ulsan's main point of attack will be nullified, but if Kim can use his aerial ability effectively and avoid being hindered significantly by Yoon, then Ulsan will be left scratching their heads.
Although Seongnam can still realistically qualify for the Asian Champions League through the K League, that ask is a colossal one to trouble Ulsan with. The Tigers will hope to scale the table as soon as possible so as to avoid a nightmarish last month in the bottom half of the split, but even this looks tricky from a Tigers standpoint. In other words, if Ulsan wishes to be playing continental football next season, it will be through this tournament that they will need to qualify. And a trophy to add in the chest will also salvage what has been otherwise a season of struggle and frustration.
Prediction: Despite both teams going at it again this weekend in the K League, it is their first encounter of this week that is the most important to both sides. Seongnam's dreams of a double and another ACL honeymoon, and Ulsan's hopes of silverware to save a torrid season hang in the balance. Ultimately, I think that Seongnam will take the spoils. They are flying high and if they are able to keep Kim Shin-wook quiet - which they have the ability of doing - Ulsan will, barring some Server Djeparov miracle, simply have no other cylinder to fire on. 2-0 Seongnam
TAGS
FA Cup