What the Hell Happened to FC Seoul? Part 2- None Shall Pass!
Post Dejan tactic
In part 1, I gave a brief overview of FC Seoul since 2010 and Dejan's contribution to the team (
http://www.kleagueunited.com/2015/05/what-hell-happened-to-fc-seoul-part-1.htm
l). Now, I will look at the team since Dejan's departure. How much did Dejan's departure affect FC Seoul? Here are the teams stats for 2013 and 2014.
First, let's compare the league records from 2013 and 2014.
Year
GP
Won
Loss
Draw
Points
Finish
2013 38 17 10 11 62 4th
2014 38 15 10 13 58 3rd
GF (Avg)
GA (Avg)
Leading Scorer
59 (1.5) 46 (1.15) Dejan 19; Molina 9
42 (1.1) 28 (0.74) Yun Il Lok 7; Escudero 6
Based on the table, the team did almost as well without Dejan as they did with him in 2013. The records are pretty close with regards to wins, losses, draws and points. Of course, the reason they finished with a similar record was because of a renewed focus on defense. They scored 17 less goals in 2014 but they also conceded 18 less goals.
This was obvious a shift by Choi to focus more on defending than scoring. I am going to assume that Choi Soo-yong consciously pursued this route because he knew that Dejan, Ha Dae-sung, and Adi were irreplaceable and that contributions had to come from the team as a whole rather than individual. Arsene Wenger tried to do the same thing with mixed success after Robin Van Persie left Arsenal for Manchester United.
turtleboysports.com
However, they were much duller to watch than in 2013. Looking at the statistics, it is obvious that they missed a player of Dejan's caliber offensively. They averaged slightly over a goal (1.1) and nobody notched double figures in goals. Their leading scorer was Yun Il-lok with seven. They scored seventeen less goals (42 vs. 59) than the year prior.
I came across this website (tablesleague.com) which had some interesting data. Unfortunately, it does not separate League and AFC games, but it still shows some common trends. I am going to focus on the most common results for 2013 and 2015.
Year
Most Common Results
2013 1-0 (7 times); 2-2 (6 times); 1-1 (5 times); 2-0 (4 times); 0-0 (4 times)
2014 0-0 (6 times); 0-1 (9 times); 1-1 (5 times); 1-2 (5 times)
Looking at the most common score, in 15 out of the 38 league games Seoul failed to find the back of the net. That is pretty dire and it would often result in a coach being fired in a European league. Should they have been this bad without Dejan?
There was still Dejan's partner Molina, who also carried a significant part in Seoul's offense. Molina did not play for the first part of the year due to injuries and/or the team trying to get rid of his salary. In the first twelve games, all played without Molina, Seoul only won twice, lost six times, and had three draws. Upon Molina's return, they won twelve games, lost four, and had ten draws. That is quite a significant improvement. How much of that is based on Molina's return?
I would say not as much as one would think. Of course, it made a difference when Molina came back since he has obvious quality, but I think more of it had to due with the team reaching their form and the finish of the AFC qualifiers and first round knockouts. As I mentioned prior, in the past two years their league form was abysmal in the beginning of the season.
In the first ten games of 2013, they won two, drew four, and lost four. They did not win their first game until number eight, beating Daegu 4-0. In 2014, they were even worse. They won two games, drew three, and lost five. In both seasons, after the thirteenth game, they found their form and began to accumulate points.
In other words, Molina did have an impact but it was more the team playing its way into form rather than his return.
It is evident that there are differences between the 2013 and 2014 teams, but that 2013 was not significantly better via statistics. They scored more goals, but conceded more, and the points and league finish were pretty much the same. I still think the 2013 team was better than the 2014 team even though the league finishes were similar.
I would argue that the 2014 team was very lucky to nip into the top three at the end of the season and that had more to do with Pohang's epic collapse than anything FC Seoul did. However, you have to take your chances when they happen, and FC Seoul did do that. Any number of sayings about not looking a gift horse in the mouth may apply here.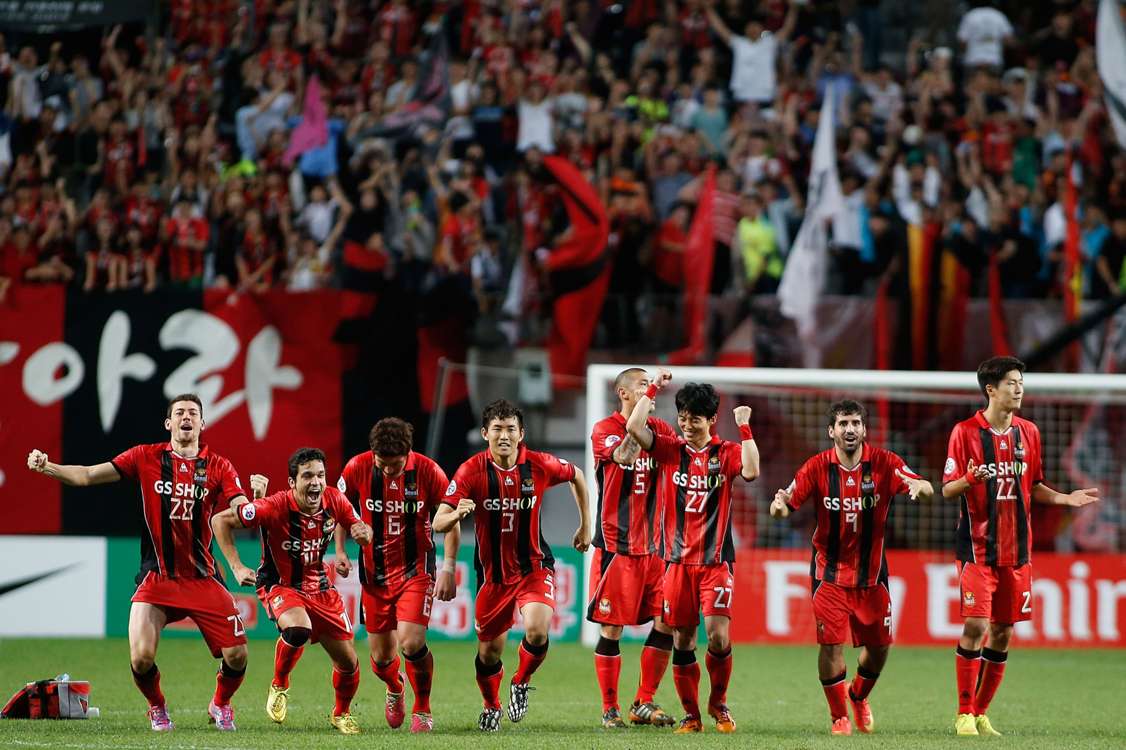 sportal.com.au
Therefore, to answer the question of how much Dejan's departure affected FC Seoul, on the surface it would seem not very much. They had a similar won-loss-draw record, points, and league position. They scored much less, but they conceded less as well.
However, looking at the common score lines for 2014, it is evident that they could have used someone like Dejan. To be shut out in 15 games is not good. Likewise, I imagine at least two or three of those 1-nil defeats would have been reversed if Dejan still played with the team.
I think in many instances, Seoul were quite lucky to finish in the top three. They didn't lose a lot after May, but they didn't win a lot either. It was not so much Seoul's form as it was the inability of other teams to do well. If Pohang had not went to shit, I think Choi Soo-yong would have been sacked after losing to Seongnam in the FA Cup final. However, Suwon did their rivals a great favor and somehow Seoul found a way to win in Jeju and the rest, as they say, is history.
So if one wanted to argue, they could make a strong claim that Seoul were right to sell Dejan and move on. He is over 30 and that is old for a striker. Jiangsu Sianty made a great offer and Seoul were smart to cash in. They could cite the win-loss record and league position as evidence.
However, I would say looking at the results would counter this. Seoul failed to score in 15 games and often could only muster a goal at the most. They did not adequately replace Dejan last year as Rafael Costa turned out to be a bust. He has been lent back to Joinville EC in Brazil and I do not expect that we will ever see him again.
It is too bad that it didn't work out.
In conclusion, here is how I think Seoul's 2015 season will play out. I think that Seoul will begin to pick up points and finish in the top six. If they finish in the top three, then that will be quite the accomplishment. They have yet to find a striker as good as Dejan and I have my doubts about Park Chu-young. He scored against Jeonnam two weeks ago and played well against Ulsan on Sunday, but he has not really played for three years. Also, even though he went to a more prestigious league, I do not think he is half the player that Dejan was.
So yes, Seoul can get through the league without replacing Dejan's contributions by focusing on defense and counting on the abject quality of the other teams compensating for Seoul's lack of offense. They will not win the league, but they might finish in the coveted third spot. It will be tough, but it is feasible even though one day this defensive strategy will catch up with them and bite them in the ass.
There are only three points separating the third place team, Jeju United, from Seoul, who are in eighth place currently. If they got a quality striker in the summer transfer window, then maybe they could even challenge for the top spot. However, I do not expect this to happen in the summer transfer window.
It is in competitions like the AFC Champion's League that Dejan's quality really shines through. In the next post, I will focus on the AFC Champion's League and the difference that Dejan and Ha Dae-sung made then, which is where they really miss those two.
TAGS
Classic
FC Seoul
K League 1