Seoul Theater Returns (Daejeon Citizen 1-2 FC Seoul): A Recap
The "Seoul Theater", a term used to describe the dramatic final minute wins that Seoul was synonymous with, is back. FC Seoul traveled South to Daejeon to take on the Citizen Football Club in a midweek match between one club that is on the rise and another that is probably ready for the season to end. On paper, it looked like Seoul should roll over Daejeon based on form and previous history, but as I predicted, they were forced to work and Seoul had to earn a hard fought and well deserved victory.
That being said, Seoul looked quite good offensively last night. It is the best I have seen them play in a long time. They attacked with verve in the first half and should have been up 1-0.
For example, in the 3rd minute, it should have been 1-0. Daejeon's defense passed the ball back to their keeper, Park Joo-won and he mistakenly passed it short to the defender instead of kicking it long. Park Chu-young did a great job of anticipating this and he was able to steal the ball. His first touch was too heavy however, and the ball went back towards the keeper. Park tried to knock it around the keeper, but the keeper spread his arms out, tripping him. Park Chu-young went down but no penalty was given. Instead, he was booked for diving. Looking at the replays, I think the referee got it right. Park Chu-young's dive was quite theatrical, with all of the judges giving him a 9.5 on form and technique.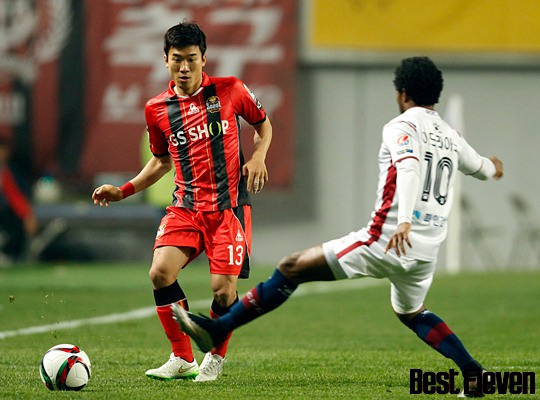 from naversports.com
There were other good chances for Seoul to score as well. In the 11th minute, Go Yo-han's ball across the box was begging for a tap in but nobody could get a foot to it. In the 19th minute, Jung Jo-gook created a good chance for Ko Kwang-min, who shot wide. In the 36th minute, fortune almost came Jung Jo-gook's way while Park Joo-won's nightmare continued. Park Joo-won went to clear, but hit it straight at Jung Jo-gook. The ball deflected off his body and into his the keeper's hands. Daejeon continued to ride their luck.
The second half began and so did the substitutions. Molina came on for Koh Myong-jin in the 46th minute, Yun Ju-tae came on for Jung Jo-gook in the 51st minute, and Lee Hyun-ho made way for Daejeon's Star player Adriano in the 52nd minute. All three players made significant contributions in the second half as well.
Adriano almost scored twice. In the 55th minute he was put through but was whistled for being offside. It was a nice finish though as he hit the ball with the outside of his boot into the far right hand corner. In the 58th minute, Adriano almost scored again. It was a ball over the top (again) that caught the defenders out. Adriano ran on to it, but Yu Sang-hun was off his line quickly as he tried to snap it. Mayhem ensued as Adriano was able to keep the ball from the keeper, turn and shoot, but it hit Park Yong-woo and Seoul cleared.
After that, Seoul began to dominate the game, particularly through Molina and Yun Ju-tae. In the 68th minute Molina put a great ball through for Yun Ju-tae, who in turn provided a sublime back heel for Ko Kwang-min to shoot, but the defense blocked it. It was good work from Seoul and more of that needs to occur if they want to challenge the top teams this year.
Seoul were pushing for all three points, but unfortunately, against the run of play Daejeon scored. In the 81st minute Hwang In-beom created space in the box and shot. The shot deflected off the chest and into the back of the net. Talk about unlucky.
From there, Seoul pushed forward looking for the equalizer. Kim Chi-woo put a great cross towards the right back post in the 83rd minute but no one is there to meet it. In the 87th minute, Park Chu-young did good work to keep the ball, but could only produce a weak left foot shot at the keeper.
Then the magic struck in the 88th and 89th minutes. Molina picked up the ball and crossed brilliantly for Everton to run on to and powerfully head into the back of the goal. Adriano almost pulled off the counter punch but his powerful header was straight at Yu Sang-hun. The ball went to Osmar, who passed it to Park Chu-young. From the Park Chu-young passed it out wide left to Yun Ju-tae and he scored the winner with a low shot. He was probably shown too much space by the defender but still, what a brilliant goal.
This game reminded me of the halcyon days of 2013. Seoul waited until late to hit the winner, but they never gave up and got all three points. It has been a long time since I have watched a game where Seoul created so many chances.
For anyone who showed up on Wednesday, they really do deserve the applause.
Now, they are in second place in the table now. Seoul have come a long way since April 18th. During that time, I have been quite sour about the team's performances, lamenting the lack of moment and creativity in the final third. However, outside of the two games against Gamba Osaka, the team have been getting results. Seoul have not lost in eight league games, won on the road against the league's top team, and looked great on Wednesday night consistently attacking. Of course, they were playing the league's worst team.
Originally, this game was scheduled for May 23rd, and I had plans to travel via KTX to watch it, but it was moved to June 13th. That was a Saturday as well. I was planning to go to that one as well, but then it was moved to June 10th. Because this a week night game and with the worry about MERS, many fans chose to stay home. Only 958 people came out to watch the game, and that is too bad because it was a hell of a contest. I wish the league schedulers would take into consideration that more people go to weekend games than weekday ones and set the fixtures accordingly.
Still, it is great to be straight to the top. Seoul sit in second on the table, seven points off catching Jeonbuk. If Seoul's offense can click and play like that against better opponents, I believe that we can catch Jeonbuk. There are still twenty-three games left.
I am excited for Wednesday's game against Busan. They were fortunate to beat them in Busan last time the teams met up and Busan played them tough at home last year, but I am optimistic. If they win that game and can get a result on the road against Jeonnam, it dovetails nicely to the month's end Super Match against Suwon and a chance for revenge.
TAGS
Classic
FC Seoul
K League 1