How Things have Changed Part 5: Attack
www.goal.com
Last week, I wrote about the defense. I was going to write about the midfield and attack, but the post was too long, so I have split it into three parts. Part five is about the attack.
As with the midfield, it is difficult to pinpoint why the offense has been so woeful. Sure, they miss Dejan's goals and his ability to get into positions to score. They miss Dejan's ability to bring others into position to score and keep the defenses honest.
However, outside of simply saying they do not have any forwards of the same caliber as Dejan, I am not sure what else I can say. It is a fact that the attack has not been as potent since Dejan and Ha Dae-sung left in 2013. They scored less goals in 2014 and have not been very prolific in 2015. It was eleven games before Seoul scored more than one goal in a game. Anyways, onto Seoul's current attack this year.
As far as who was leading the line, there has been quite a bit of variation in the starting lineup. Seoul has had quite a lot of difficulty since Dejan has left, which has resulted in many players being auditioned in the striker role. Jung Jo-gook started the first game, but did not see the starting lineup again until the 13th game against Incheon. Kim Hyun-sung started the next three games, but was rather ineffectual even though he did manage a goal against Jeonbuk.
From there, Park Chu-young started the next two games, but his lack of form allowed for the return of Kim Hyun-sung, who was named the starter in the Suwon game and remained so until the twelth game. Since then, Park Chu-young has been the starter in every game with Jung Jo-gook joining him up front in the Incheon game.
Also, depending on the formation, sometimes Yun Il-lok, Everton, or Kim Min-hyeok have played as attacking midfielders in a 4-2-3-1. When Seoul switched to a 4-3-3, then Molina, Everton, or Yun Il-lok were the wingers. However, it is up front that Choi has been ruthless in deciding whom to play.
Yun Il-lok, who was Seoul's best attacker last year in my opinion, has been relegated to the bench. He was subbed off at halftime in the Ulsan match at home and has not been seen since. It might be harsh, but the player has not had a good season, so maybe some time on the bench might be good for him.
www.fcseoul.com
Molina and Everton have been in out of the line-up as well. Molina's best days, unfortunately, seem to be behind him. He was Seoul's best performer in the beginning of the season, but appears to now be a super-sub as Choi Soo-yong switched playing one forward up front to deploying two.
Everton, who I like, is another player that struggles often to do anything of note. I think he plays hard, hustles, and looks as though he gives a shit, but like Escudero he does not score a lot of goals or create anything memorable. However, both Molina and Everton were great off the bench against Daejeon when Seoul were chasing the game as each had a significant contribution.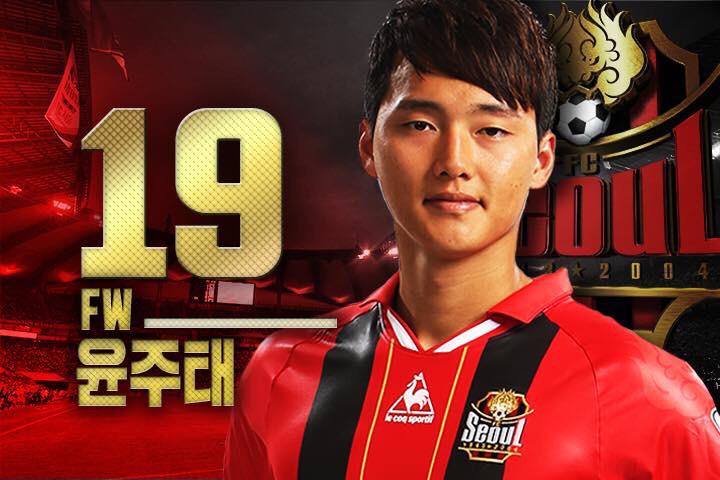 From FC Seoul's Facebook page.
Yun Ju-tae is the other notable attacker. He scored in the AFC Champion's League games against Gamba Osaka in both legs and had the winner against Daejeon last week. In my opinion, he should play more, but with Seoul doing so well in their last five fixtures, I understand Choi's reluctance to alter the lineup too much.
Seoul seem to be finding some form up front with the partnership of Park Cu-young and Jung Jo-gook. Jung Jo-gook might not be scoring, but his hold up play and touches have been great as of late. Jung Jo-gook's play against Daejeon last Wednesday reminded me of him in 2010, when he did well enough to get a move to Auxerre.
Park Chu-young continues to improve as well. I have been critical of him in the past, so I am glad that he is showing why I should never be a pundit. He has only scored three goals in ten games, but more importantly, is getting into good positions to score. Once his finishing touch returns, I could imagine him scoring 20 goals a season. His movement is so much better than Kim Hyun-sung, which I feels offers a glimmer of hope that Seoul can return to being the offensive juggernaut they were in the years past.
(https://www.facebook.com/fcseoul/photos/a.147713995283036.48649.147491315305304/830456360342126/?type=3&theater)




If Seoul's midfield and attack can begin to function as one, then I see no reason why the goals should not return. Park Chu-young, who I have been critical of in the past, seems to be finding some form. He scored against Jeonnam last time, so let's hope he can repeat the feat this Saturday.
Seoul were great against Jeonbuk and Daejeon before coming back to earth against Busan. They are going to need more from there forwards if they want to stay atop with Jeonbuk and Suwon, both coincidentally, have great strikers leading their line.
TAGS
Classic
FC Seoul
K League 1