FC Seoul vs. Suwon: Super Match Prediction and Preview
This Saturday, at 5 P.M., Suwon come to Seoul to take on Seoul in what is called the "Super Match". This is usually my favorite game of the year. The stadium is always packed and both sets of fans turnout and are in good spirits. In other words, it is a great crowd and I wish the experience happened more frequently. Although MERS might continue to keep some fans away, so I am not sure if it will be as full as it usually is.
Still, I am quite excited for this year's match up for a number of reasons. First, after being shellacked 5-1 in Suwon back in April, this will be a good chance to gain a measure of, for lack of a better word, revenge. Only a win will do for there to be any satisfaction in this regard.
Second, I absolutely dislike Suwon. When I lived there, I preferred Seoul. I also hate their colors because they remind me of Chelsea and I hate Chelsea. Of course, disliking someone's colors is juvenile and absurd, but it is okay in sports for whatever reason.
I will give their fans respect. Every time there is a Super Match they turn up and they are loud.
Third, every time I have traveled down to Suwon it has been a nightmare to get back to Seoul. There is no subway stop by the stadium, so it takes at least 40 minutes to get a bus to Seoul. If one tries to be clever and get a bus into the city center to take the train back, it takes just as long. So fuck Suwon and their massive traffic jams.
Finally, the Super Match in April of 2008 was the first K-League game I ever attended. It was pretty awesome. The stadium was filled and the fans were loud. Seoul lost 2-0 as Shin Young-rok scored twice and Suwon's Croatian defender Mota headed out every cross that went into the box. Even though Seoul lost that day, I was hooked.
So yeah, that is why I am always excited for the Super Match.
On a completely unrelated note, it is tragic that Shin Young-rok's career did not work out. On the day I saw him, he was lethal for Suwon. However, after returning from Buraspor in Turkey due to financial trickery and signing for Jeju United, he had a heart attack at the young age of 24 and was in a coma for 50 days. He came to afterwards, but he will never play competitively again.
From www.meetup.com
Origins of the Super Match
If you are familiar with the history of the K-League, then you know about the Decentralization Policy. Because Korea was bidding to host the 2002 World Cup, the KFA wanted the other provinces to become fans of soccer. Therefore, they decided to force the three teams that were based in Seoul to move out of the capital city.
Seoul, who were originally named the LG Cheetahs, were forced to move to Anyang, which is quite near Suwon. Because of their proximity and the concomitant corporate competition between LG and Samsung, it was only natural that they would become rivals. The match was called the Jijidae Derby, which is "named after a hill on South Korean National Route 1" (
https://en.wikipedia.org/wiki/Super_Match).
After much controversy, which can be read about on Wikipedia or numerous other sites, the LG Cheetahs moved to Seoul World Cup Stadium in 2004 and changed their name. Afterwards, the derby between Seoul and Samsung was renamed the Super Match.
Choi Soo-yong and Seo Jung-won (from Facebook).
Seoul vs. Suwon- 2015
It has been 10 games since they last met. After Seoul was annihilated in their last meeting, i
t looked as though Suwon would go on to challenge for the top spot while Seoul, if lucky, would squeak into the top six.
Since then, things have changed a bit.
Before last week, Seoul had not lost in nine games, thereby becoming the league's hottest team. It seemed as though they were playing better and for a day were even second in the table. They had won on the road against the league's top team Jeonbuk and had a dramatic come behind win over Daejeon right after. I thought Seoul had hit their stride.
However, after last Saturday's loss to Jeonnam, Seoul has fallen to fifth place tied on points with Pohang and Jeonnam.
Suwon,
even though they still are in second place,
has suffered bouts of inconsistency.
They have losing streak, but they have dropped points that, to be champions, they really shouldn't. For example, Suwon has
lost games at home to Daejeon and Gwangju while drawing against Seongnam, also at home. That is seven points right there, which is the difference between them and Jeonbuk in the table.
So both teams have struggled with form and consistency this year and it shows in their records. Seoul has won seven, lost five, drawn five, and lost five. Suwon has won eight, drawn five, and lost four.
However, Seoul continues to struggle to score goals, having recorded 17 compared to Suwon's 28. On the other hand, Seoul has conceded only 18 to Suwon's 20, but Suwon has a significant lead in goal differential. Looking at the statistics, Suwon has a slight edge overall, but their offense has been significantly more potent even if we throw out the game that the two teams played in April.
At home, Seoul has been much better than on the road. They have only lost once, and that was the season opener in March against Jeonbuk. Since then, they have won four and drawn three. They have scored in five of the eight games at home and have kept six clean sheets.
Suwon's record on the road is quite good. They have lost only once and that was against Jeonbuk. They have won four and drawn three. They have also scored in every game except for the one against Jeonbuk. Interestingly enough, Suwon has only kept two clean sheets total- one at home and on the road.
Last year, Seoul won this game 2-0. Yun Ju-tae scored the clincher. (www.fcseoul.com)
Head-to-Head Match-ups
(http://www.soccerpunter.com/soccer-statistics/Korea-Republic/K-League-Cup-2011/head_to_head_statistics/all/1381_FC_Seoul/1382_Suwon_Samsung_Bluewings_FC)
Team
Win
Draw
Loss
Goals Scored
Goals Against
Seoul 15 8 21 1.09 1.39
Suwon 21 8 15 1.39 1.09
04/01/2012 Suwon 2-0 Seoul
08/18/2012 Seoul 0-2 Suwon
10/03/2012 Suwon 1-0 Seoul
11/04/2012 Seoul 1-1 Suwon
04/14/2013 Suwon 1-1 Seoul
08/03/2013 Seoul 2-1 Suwon
10/09/2013 Suwon 2-0 Seoul
11/02/2013 Seoul 2-1 Suwon
04/27/2014 Suwon 0-1 Seoul
07/12/2014 Seoul 2-0 Suwon
10/05/2014 Seoul 0-1 Suwon
11/09/2014 Suwon 0-1 Seoul
04/18/2015 Suwon 5-1 Seoul
Looking at the past results, Suwon is one of the few teams that has consistently gotten the better of Seoul. Even though in the years past Seoul was the better team in the league, they could never beat Suwon. From March of 2011 until August of 2013, Suwon did not lose to Seoul in eight matches, winning the first six.
Since then, Seoul has been the more successful team, winning five out of eight. Last year, they won three of four and the highlight of the season was Go Yo-han's winning goal at the end of the game in November.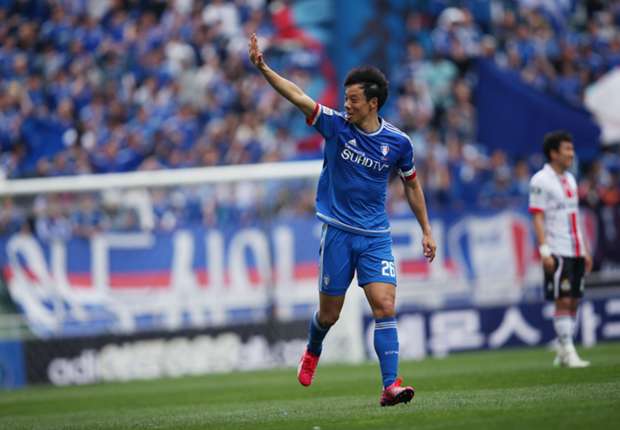 Yeom Ki-hun provides Seoul with the first of many bad memories. (www.goal.com)
Last Match
On April 18th, Seoul traveled to the Chicken Coop to take on Suwon, having won two of three and beginning to climb away from the foot of the table. Optimism was in the air since the Seoul had won twice in the Chicken Coop last year.
However, they were eviscerated that day by Yeom Ki-hun and Jong Tae-se, who took advantage of Seoul's naive defending to put five past Kim Yong-dae. The keeper remained rooted to his spot throughout the whole match, only moving to retrieve the ball from the back of the net so that game play could continue and everyone could go home at a decent hour. It was an abject display of soccer from Seoul that was compounded by the aforementioned lengthy ride home.
Santos- fleet footed and on form.
Player to Watch
I would say there are three players to watch for Suwon. The first is Yeom Ki-hun. He has been Suwon's best player this year. He leads the team with seven goals and has created seven assists as well (kleague.com). In my opinion, I would choose him as the league MVP for the first half of the season.
Next, I would say Jong Tae-se is someone to watch for. He has scored in only two games in the K-League this year, but I still think he will be a danger for Seoul's back line. He absolutely murdered Seoul in their last match, scoring two goals and creating Yeom Ki-hun's. Park Yong-woo, who I expect will start in the center of the 3-5-2 formation that Choi Soo-yong favors these days, will have his hands full.
Finally, there is Santos. Right now, I would say he is Suwon's most in form player. He is their second leading scorer with six goals, but five of those have come this month and he has scored twice in each of his last two games. As I have said in the past, Seoul's CBs are susceptible to speed and Santos is a quick bastard. He usually seems to find the net against Seoul and always gives their back line a torrid time. I expect that it will be the same on Saturday.
Line-up
I expect that Choi Soo-yong will go with the pretty much the same line-up he has chosen for the last five games. Seoul will set out in a 3-5-2 formation. Here is what I think the line-up will be.
Osmar is way too far forward.
I am pretty sure Lee Woong-hee's suspension should be over, but if is not, then expect to see the return of Kim "OG" Nam-chun. Also, I am not sure why Cha Du-ri hasn't played in weeks. Is he injured? If he is available, he will probably start instead of Ko Kwang-min. When he left the field in the last match, Seoul was promptly pounded. Finally,
I expect that Yun Ju-tae will come off the bench to replace Jung Jo-gook at some point.
I am not a fan of this formation. As one can see with Orisic's goal, if the wide players get past the wing-backs, then they will often have one-on-one's with the CBs. Seoul's CBs are susceptible to speed and I think that Suwon will line up in a 4-1-4-1 and go at the wingbacks, especially Ko Kwang-min. Because of the formation, Seoul's wing-backs will go up against a full-back and a winger, which creates a disadvantage for the wing-back.
Last time, when Ko Kwang-min was the left back, Suwon attacked him a lot in the first half since he is not a natural defender, and I expect that they will do the same this time. Rather than Seo Jung-jin getting the majority of the ball in the first half, it will be Yeom Ki-hun instead. This is why, if Cha Du-ri is healthy, I think he will get the nod over Ko Kwang-min.
Also, Suwon only play one striker, which makes having three center backs superfluous. If Seoul needs a goal, it will be interesting to see whether or not Choi takes off a CB for midfielder or forward or instructs the defender to push up and join the attack.
(from Facebook)
Prediction
After Wednesday night's debacle against Hwaseong, coupled with last Saturday's loss to Jeonnam, confidence cannot be high right now. It took a last minute goal by Yun Ju-tae to beat a side that three divisions lower, so the mood in the locker room can't be great.
That being said, even though my head says that Suwon will win, I am going to choose Seoul to prevail Saturday. When the chips have been down, Choi Soo-yong has found a way to rally his troops. I hope he can do it somehow again. I think it will be a close game, but somehow Seoul come out winners.
Final score: 2-1
TAGS
Classic
FC Seoul
K League 1