FC Seoul vs. Busan I'Park: Preview and Prediction
Busan I'Park comes to Seoul tonight to take on the league's inform team, FC Seoul. Based on the previous history of these two teams, along with their current form, Seoul really should win this game. However, Busan played Seoul quite tough at World Cup Stadium in the two fixtures last year. Let's take a look at the stats.
Seoul vs. Busan- 2015
For one team, Seoul, the season is going very well. After a terrible start, Seoul has recovered and climbed the table from last all the way to second for a brief moment. Currently, they sit at third place. Seoul has won three in a row and four of their last five.
For the other team, Busan, the season has yet to start. They are not as abject as Daejeon, but they sit in 11th place, one point below Incheon. In their last five games, Busan has won two, lost two, and drawn once. That draw, in their last game, was on the road against the league's worst team, Daejeon.
Seoul's problems offensively in 2014 have extended in to 2015. They have scored 17 goals in 15 games, for an average of 1.13 a game. They did not score more than one goal in any game until the 11th game of the year against Jeonnam. That being said, they looked great in their last game, but that is probably down to Daejeon being poor defensively than anything that Seoul has tried to adjust for.
Busan has been even worse this year. They have only scored 12 goals in 15 games, for an average of 0.8 goals a game. On the road, they have only scored more than one goal once, against Pohang. However, Busan has scored in five of the eight games they have played on the road.
Head-to-Head Match-ups
http://www.soccerpunter.com/soccer-statistics/Korea-Republic/K-League-Classic-2013/head_to_head_statistics/all/1381_FC_Seoul/1375_Busan_I%27Park
Team
Win
Draw
Loss
Goals Scored
Goals Against
Seoul 20 12 9 1.56 0.98
Busan 9 12 20 0.98 1.56
04/11/2012 Busan 0-0 Seoul
07/26/2012 Seoul 6-0 Busan
09/16/2012 Busan 0-2 Seoul
12/02/2012 Seoul 2-1 Busan
03/17/2013 Busan 1-0 Seoul
06/23/2013 Seoul 1-0 Busan
09/08/2013 Busan 0-0 Seoul
11/24/2013 Seoul 3-2 Busan
03/23/2014 Seoul 0-1 Busan
08/10/2014 Busan 0-2 Seoul
10/26/2014 Seoul 1-1 Busan
05/10/2015 Busan 0-1 Seoul
In the 41 games that Seoul has played, they have been the much better team. Seoul has won 49% of the games the two teams have played, while Busan has only won 22% of the games. In the last twelve match-ups, Seoul has won seven and Busan has only won two, with the remaining three being draws.
Seoul has outscored Busan 18 to 6. If you throw out 2012's game where Seoul put six past Busan, and the difference is a slightly more respectable 12 to 6. Still, if you look at the last five games, it has been much closer. Seoul has beaten Busan twice, lost once, and drawn once. However, the goal differential is still 2:1, with Seoul scoring four and Busan scoring twice.
Last Match
Seoul, in my opinion, were lucky to come away with a victory. It was not a great game by any means. A very dull first half was followed by a slightly more interesting second. Koh Myong-jin scored in the 53rd minute off a great through ball by Go Yo-han put Cha Du-ri to cross low for the goal.
After that, Seoul had some good moments, but Busan probably should have equalized. Seoul sat back and defended and were lucky that Busan could not put anything of note on target. In the 88th minute Yoon Dong-min really should have scored. A ball over the top beat the Seoul defense and he outpaced Lee Woong-hee and slipped Kim Nam-chun's tackle but his shot hit the post. It was, understatement of the year, very lucky for Seoul.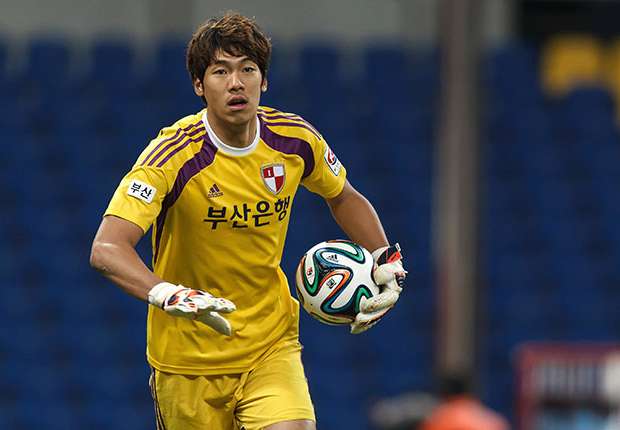 A crafty bastard
Player to Watch
The name that jumps out immediately is Weslley. He is their leading scorer with four goals. Seoul defenders struggle with pace, although looking at his career stats, he is not a prolific scorer. The most goals he scored was in 2012. He had nine that year.
However, I still remember Lee Yong-beom's heroics last year. He saved two penalties in the March fixture and that was the difference as Seoul lost at home to Busan for the first time in who knows how long. I think he is a quality keeper and will ensure that Busan stay in the game. He might even help them steal points again.
Prediction
Based on form and past history, this is a game that Seoul really should win, especially since it is at home. Even though Busan are in 11th place, I do not think this will be a picnic. I think Seoul will have to dig deep, but somehow they will find a way. Final Score: Seoul 1-0 Busan
TAGS
Classic
FC Seoul
K League 1