FC Seoul 0-0 Busan I'Park: A Recap
After a week off, FC Seoul played another midweek fixture. Busan came up north and were hoping to get a point for their efforts probably, but they had a great chance to walk away with all three as Seoul never really hit top gear. Unlike the game against Daejeon, there was to be no magical ending this time.
Seoul lined up with the same starters as the last two games and in the same formation, a 3-5-2. Busan, on the other hand, lined up in a 4-5-1. Busan were quite happy to sit back and defend as they conceded 62% of the possession to Seoul.
Seoul came out strong and started first half attacking. In the 11th minute Koh Myong-jin had a half-chance as he was able to get past his defender. Unfortunately, the ball was cleared by a defender before anything serious happened. In the 15th minute Osmar lofted a lovely ball over two defenders for Koh Myong-jin to find space to run onto. He put in an inviting low cross but no one could get a foot on the ball as it whizzed through the box
After that, the game turned towards Busan. In the 17th minute one of their midfielders punted a speculative ball into the box, but Yu Sang-hun came out to fist it away. He collided with Weslley, making a hash of his clearance as it fell to Bae Cheon-seok, who headed it towards goal. However, the ball was cleared off the line by Park Yong-woo.
In the 23rd minute an omen of what was to come occurred. A great through ball sliced open the Seoul defense and again, Lee Woong-hee was beaten by the pace of Bae Cheon-seok to the ball. Still, with the help of Park Yong-woo, he was able to recover and clear the ball.
Seoul finally woke up in the last ten minutes of the first half. In the 38th minute Seoul had some nice build up play with Park Chu-young found Ko Kwang-min at the edge of the box, but Ko's shot was skied over the goal. Then, in the 39th minute Ko Kwang-min played a great through ball to Park Chu-young, who beat the offside trap and was put into acres of space. Unfortunately, his low shot was too wide to the left. It was a tough angle to shoot from and for Seoul, the best opportunity of the game for Seoul. From what I counted, there were only three or four shots in the first half and very few chances created by either team, particularly Seoul.
No magic like this would occur.
The second half started and it was pretty much just like the first half. In the 48th minute Koh Myong-jin shot, but it was deflected for a corner. Kim Dong-woo headed it wide left.
In the 59th minute Busan's best chance to nick a goal came. How did Weslley not score? Bae Cheon-seok passed out wide to Weslley, who received the ball and with a great first touch was able to sprint past Lee Woong-hee (a recurring theme) and Park Yong-woo. Yu Sang-hun did a good job to come out and get a leg on Weslley's shot to deflect it wide. Busan really should have been up 1-0 and if Weslley had chosen to go towards the far post rather than near, they probably would have been.
Can you find Lee Woong-hee?
In the 71st minute Lee Woong-hee received his second yellow card and was off for an early shower. Lucky for him- he could start his night at the Octagon in Gangnam or whatever place the rich go to. Now Seoul would be a man down and already, they had been less than stellar.
Seoul had a great chance in the 83rd minute. Park Chu-young received a wonderful ball over the top from Molina to run onto. He tried to lift it over the Lee Bum-young, but it hit the keeper's shoulder.
Then the keeper did a great job of colliding with Park to ensure he could not get to the rebound. What a crafty goalie! I think if he had not made contact with the ball he would have been whistled for a foul.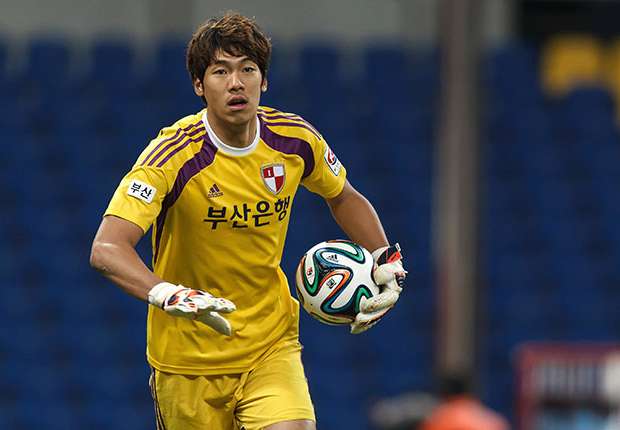 If he had a mustache, he would be the perfect villain.
Oh, what a run by Park Chu-young and a great eye by Molina to find him. Seoul need more of this. Often times they are too static or the midfielders don't spot the runners, which is another recurring theme. Yojiro Takahagi cannot come soon enough.
In stoppage time Park Yong-woo collected at the edge of the box but his shot was low and at the keeper for an easy save. From there, the game petered out and both teams left the field with a point. I would say this was a vintage Seoul performance. They did a lot of running, had a lot of the ball, but created fuck-all. The fact that Seoul's keeper Yu Sang-hun was the man of the match says it all.
On the plus side though, they did not lose again. It has been nine games now without a loss. If they can get a result against Jeonnam, it sets up nicely for the rematch with Suwon on the 28th.
TAGS
Classic
FC Seoul
K League 1