FC Seoul 3-0 Jeonnam Dragons: A Recap
It had been over a year since Jeonnam had played in Seoul. That was a dire game played in the freezing cold where neither team attacked and both conspired to make me question why I followed the K-League. However, Saturday's game was a delightful day in the sun and a better result. Jeonnam came to Seoul and lost 3-0, but the scoreline was a bit harsh to the visitors. They had their chances and on another day, would have come home with a point or three.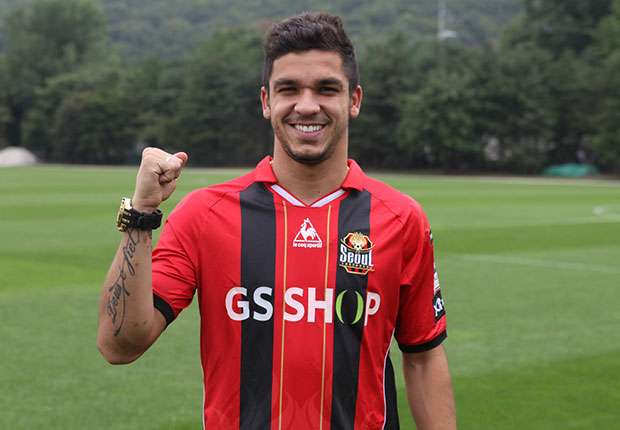 It is nice to finally be able to smile. From goal.com
First Half
Both teams were woeful in the first half, yet somehow Seoul was winning the game 2-0. Ristic had a good chance to score in the first minute, but shot weakly to the keeper. He did well in the build up, but blew his load too early, which was to be a recurring theme throughout his day.
Seoul's first goal was a controversial one. From a Koh Myong Jin corner, Cha Du Ri headed it towards goal but Everton managed to get a head on it and it rebounded off the cross bar. To the chagrin of the Jeonnam players, a goal was given. Watching the replays, it does not look like the ball crossed the line, but you have to take your breaks when they come. 1-0 to Seoul and I was quite happy.
However, Jeonnam only have themselves to blame for the second goal. Koh Myong Jin stole the ball and tried to pass to Kim Hyun Sung in the box. It was intercepted, but a Seoul player (Everton maybe) quickly recovered it and passed it out to the left back, Kim Chi Woo. He sent a low, hard cross into the box and it was deflected by Jeonnam's defender Kim Dong Cheol and off the finger tips of Kim Byung Ji, whose magical mullet could do nothing to prevent the goal.
"How did my magical mullet not stop that?", from wordyphotos.
Second Half
Choi Soo Yong must have been the epitome of praise in the first half. I am sure the team talk consisted of saying "Great job, gents! Now defend." That is what Seoul did in the second half. They worked on keeping their shape and hitting Jeonnam on the break since Jeonnam had to send players forward if they wanted to gain anything on the Saturday afternoon.
Jeonnam came out and attacked in the second half and deserved something for their efforts. In the 51st minute, Lee Chang Min had a wonderful opportunity to score from a cross, but his effort landed on top of the net. It was lucky that his effort was not better and on another day, it would have been a goal.
It seemed as though Seoul would continue to test their luck, just like they did in Busan last week. In the 59th minute, a glorious ball was sent over the top of the defense for a Jeonnam player (Ahn Yong Woo maybe) to run on to and cross into the box. However, Ristic could not score from the cross and it was sent out for a corner. Yoo Sang Hoon did well to clear the corner for a throw in. Jeonnam had a great opportunity, with the ball falling to Ristic to put across the box, but Kim Nam Choon was alert and the danger was diverted.
Jeonnam's best chance fell in the 62nd minute. Seoul tried to play the ball through their center backs and it really should have cost them a goal. Kim Nam Choon had the ball and was about to be pressed, so he sent it forward (to Yun Il Lok maybe). A Jeonnam player immediately recognized what was happening and made a great tackle to intercept the ball. It went to Ahn Yong Woo who played a magnificent ball forward to Kim Young Wook who tapped it back into the path of Ristic.
Ristic's first touch was terrible and Yoo Sang Hoon was able to get a hand on the ball and knock it away before he could shoot. It ping-ponged off a Seoul player and unfortunately, Osmar did not clear the ball, so it trickled back to Ristic who then proceeded to shoot over the goal when he just had to place it in the back of the net. Ristic was falling backwards and it was difficult, but this will surely be a miss that he rued on the ride back to Gwangyang. Yoo Sang Hoon at that point, was out of the play and would not stop the shot, so it would have been a goal and squeaky bum time for Seoul.
Jeonnam's final chance came in the 68th minute off a free kick. Ristic missed his header and it struck the Seoul defender (Kim Nam Choon maybe) and fell to a Jeonnam player to side foot into the goal. However, his volley was high and wide.
From there, Park Chu Young scored Seoul's last goal in the 75th minute. He was played through into space on the right side of the box by Koh Myong Jin. His first shot was blocked by Lim Jong Eun and Lee Seul Chan, but he recovered and scored.
When I initially watched this, I thought it was a very lucky goal and the Park Chu Young did everything to not score. He should have probably shot sooner, but he still did well to keep his head after the initial block from the two defenders and not be put off by Kim Byung Ji's glorious mullet to finally score from open play. The pass was good and Park Chu Young did well to get into a dangerous position. I do not think Kim Hyun Sung could have scored that type of goal. With that it was three points for Seoul and a second consecutive clean sheet.
She still can't believe that Ristic did not score.
Negatives
Seoul continue to have difficulty creating shots. The stats count listed seven, but that feels high. There were not many opportunities for Seoul in that game. Players need to make runs, but more importantly, they need to spot the runs. There were several that were missed.
Also, there were too many defensive mistakes. Kim Nam Choon and Osmar should have done better with clearances. Kim Chi Woo was lucky to not have been beaten by Lee Chang Min in the air for a header. It is never easy to watch Seoul sit back, invite pressure, and then defend. However, it seems nit picky to critique too much since Seoul did keep a clean sheet.
Finally, Go Yo Han left with an injury in the 21st minute. For Jeonnam, former Seoul player Choi Hyo Jin had to leave the field in the 41st minute. Hopefully it is nothing serious for either player.
Fist pumpin'!
Postives
Seoul has won a second game in a row. Usually, it takes them until the thirteenth match to get going. They are now in seventh place, but are tied on points with Jeju, Pohang, Incheon, and Seongnam. They are only five points from second place Suwon. If they can continue this run of form, there is no reason why they should not finish in the top six. Hell, they might even make it into the AFC again.
Next, Seoul have finally scored more than one goal in a league game for the first time this year. It only took 900 minutes or 15 hours for it to happen, but hopefully they can kick off from this. The goals continue to come from set pieces, which is good, but maybe Park Chu Young will play himself into shape and replace what was lost when Dejan left after 2013.
Finally, Seoul have kept two clean sheets in a row. There were too many individual mistakes and just as in Busan, they were quite lucky, but a clean sheet is a clean sheet and a win is a win, regardless of how it has been achieved. If Seoul can continue this form, hopefully they confidence will rise and they quite possibly could begin to challenge Jeonbuk for the top spot.
An old photo, but applicable. From FCSeoul.com
Man of the Match
Koh Myong Jin- he was at the center of everything good today. His corner kick led to the first goal. He made a great run into the box and was unlucky for Kim Dong Cheol to deflect it into the net or he would be celebrating two goals in two games. His pass into space for Park Chu Young to run onto led to the third goal. Seoul need another midfielder, but if he continues to play like this, I may quit pining for Kim Do Heon.
TAGS
Classic
FC Seoul
K League 1