Gwangju vs. FC Seoul- match preview and prediction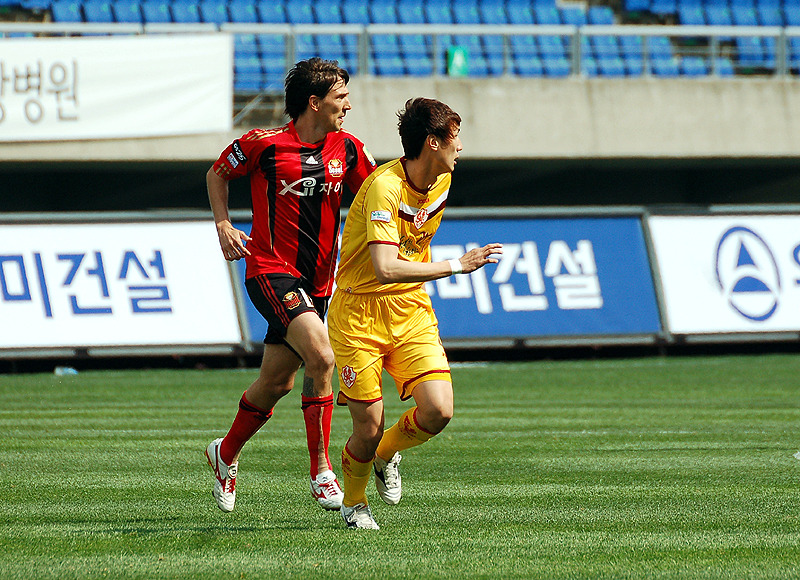 This weekend Seoul travels a very long way to play Gwangju, one of the newly promoted teams in the K-League Classic. Currently, they are sitting at 8th place in the table with 8 points, a point and one position above Seoul. Therefore, this could be considered an important match for both teams, particularly Seoul if they want to climb the table and be a part of the race for the top six.
It would be nice to see Seoul begin doing that now rather than waiting until the end of June to start their customary assent. Performing a cursory glance at Gwangju's results this season via

www.soccerway.com

, I believe that this is a game that Seoul can win. Gwangju got off to a great start, drawing their first one and winning their next two games. However, quality of their opposition improved and they had lost three in a row until last weekend when they drew with Seongnam, no powerhouse by any means.
Unlike the other promoted team, Daejon, Gwangju cannot be written off as an easy 3 points. Against Incheon, they scored in the 94th minute to secure an opening day draw and against Busan, they scored in the 82nd minute. This shows a club that does not give up easily and is willing to fight to the end. Of course, this is a clichéd analysis and true of all clubs, but I cannot think of much else to say about Gwangju.
Looking at their squad, Kim Nam Ho seems like their best player. He has two goals, but so does Lee Min-Jong. Their strikers Gilberto and Cho Yong Dae have each scored once. There does not seem to be anyone in scintillating form.
As for Seoul, , Molina, Everton, and Go Myong Jin should all be back in the lineup since none played in the midweek AFC game, except for Molina who was a 94th minute substitute. Park Chu Young might be given a start this week since Kim Hyun Sung played most of Tuesday's match. Park needs to be given a run of games to recapture his 2010 form and this is a great opponent for him to gain confidence from.
With the exception of Molina, almost everybody has been woeful this year. Everton, like Sergio Escudero, works hard but often times his efforts amount to little other than the occasional goal. Park Chu Young must be thrilled that he is being paid to jog around in this wonderful spring weather. Yun Il Lok has looked a bit better recently, but I would like to see him take on more players with his dribbling. However, I expect that Choi Soo Yong will rotate him since he has played extensively in the last two games.
Defensively, this is a game for Seoul to get their confidence back. Kim Jin Gyu's form has been woeful. He was beat by Jong Dae Se for one goal in the 5-1 rout and made a couple of defensive gaffs that Seoul was lucky not to be punished for on Tuesday. A day of rest would do him well. Sticking with three in the back might help Seoul keep a clean sheet, but I think it will be unnecessary. They should take the game to Gwangju from the start and hopefully, if they score in the first half, put it away in the second.
Seoul has not scored more than one goal in a game this year, so this is as good a time for any for them to break that barrier. Neither team's form is great, but based on the strength of the lineups and a superficial look at the stats, I believe that Seoul will win 2-1.
April 24th, 2011- Gwangju 1: 0 Seoul
July 23, 2011- Seoul 4: 1 Gwangju
May 12th, 2012- Gwangju 1: 2 Seoul
July 1st, 2012- Seoul 3: 2 Gwangju
TAGS
Classic
FC Seoul
K League 1